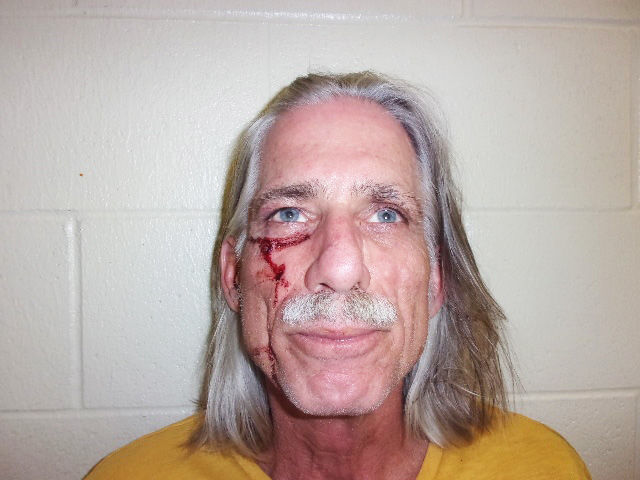 Butte police reports
Taser tirade
Thomas John Doyle, 61, of Helena reportedly went on a tirade Saturday afternoon on the corner of Park and Main.
Officers were called to the area and several people reported that Doyle was harassing another man in front of the Party Palace. Another man stepped in to stop the harassment and Doyle, with a civilian-style Taser, managed to tase two victims and threatened another person with a knife.
The Helena man was arrested and jailed on three counts of felony assault with a weapon.
Knife used
At about 9 p.m. Friday, officers responded to the 300 block of North Jackson Street on a report of a disturbance.
According to the female victim and a male witness, an intoxicated Phillip James Matt Jr., 29, of Butte came into the residence intoxicated, brandishing a large silver knife and waving it at the witness and the victim.
Matt was found outside the apartment and placed under arrest. The knife was in his backpack, along with a syringe and pipe.
He was jailed for felony assault with a weapon and misdemeanor possession of drug paraphernalia
Scream brings cops
On Saturday night, officers responded to an abandoned 911 call in the area of the 200 block of Hobson. The dispatcher could hear a female scream before the phone was disconnected.
Officers were searching the area to determine where the call came from when they heard a woman scream. The residence was located and when officers got in, the woman was lying on the floor and Heath Allen Heston, 42, of Butte was standing over her.
Heston was removed from the residence and an officer spoke with the woman, who stated she and Heston had been arguing and he then pushed her in the chest area. She ran to another room and attempted to call 911, but he entered the room, took the phone and then kicked her in the stomach.
Heston was placed under arrest and transported to the Butte Detention Center for misdemeanor partner family member assault and misdemeanor tampering with a communication device.
Felony arrest
Carlin Fiddler Smith, 35, of Butte was arrested at 2:30 p.m. Friday for felony possession of a firearm by a convicted felon, felony possession of dangerous drugs, felony probation violation, and misdemeanor possession of dangerous drugs.
Officers were on the 300 block of West Copper Street to assist in the arrest of Smith. Upon arrival, they were informed by probation and parole officers that they had located a firearm (.22 caliber Ruger pistol), prescription medication that did not belong to him and a small amount of marijuana.
Shoplifter packin'
Angela Sharon Jester, 34, of Butte was jailed Friday afternoon for misdemeanor possession of a concealed weapon without a permit and misdemeanor theft.
At 2:30 p.m., officers were called to the Dollar Store, 1299 Harrison Ave., after a report of a female shoplifter. Upon arrival, officers spoke with the complainant who informed them the female suspect was also in possession of a firearm.
Officers located the firearm in the suspect's purse.
Sunday disturbance
Officers were called to the 900 block of North Excelsior Sunday night on a reported disturbance between a male and a female.
According to the complainants, they witnessed a male dragging a female up a set a stairs to an upstairs apartment.
Officers confronted Stephan James Scott II as he was walking down the stairs and detained him until they spoke with the victim, who was lying on the apartment floor.
The woman said Scott grabbed her by the hair and arm and dragged her up the stairs. Once they were in the apartment, he threw her to the floor.
Scott was arrested and transported to the Butte Detention Center for misdemeanor partner family member assault 
Money taken
At around noon Saturday, an unidentified male walked into St. Patrick's Church and took two or three envelopes that had money inside.
The store owner at 648 S. Arizona St., was in the back of his store Friday afternoon when an unidentified male entered the business and took an impact driver and an 18-volt battery.
Unit break-in
Police officers were called to the ABC Mini Storage Friday night. One of the storage units was broken into. Items missing included a set of golf clubs.
Failure to disperse
A call came in just before 11 p.m. Friday regarding a man and woman who would not leave the parking lot at the Town Pump, 531 S. Montana St.
The duo refused to disperse and the woman urinated in the parking lot.
Man with a gun
A woman reported that while she and her friend were sitting at Emma Park shortly after midnight Monday, a man drove up and pointed a gun at them.
The two left the area and the car followed them up to Park & Main. As soon as he realized they were headed to the police station, he took off.
The case is still under investigation.
Get local news delivered to your inbox!
Subscribe to our Daily Headlines newsletter.