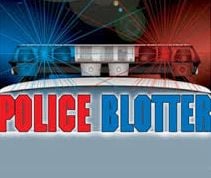 Police reports:
PULLING GUN IN ANACONDA
A man who works as a state correctional officer in Deer Lodge was arrested early Friday morning for allegedly pulling a gun on another man outside of Carmel's Sports Bar in Anaconda.
Witnesses told police that 23-year-old Anthony John Bowman of Anaconda was shooting pool and causing problems all night and was kicked out by a bartender after 1 a.m. Friday.
When a man he had been arguing with followed him outside to his truck, Bowman pulled a gun, police say. He denied it after officers arrived but surveillance video showed him pulling the gun.
Police also suspected him of DUI and a test showed his blood-alcohol level at .215%, far exceeding the .08% mark considered drunken driving.
Bowman was arrested for that and a felony complaint of assault with a weapon. He had bonded out by Monday morning.
ASLEEP AT THE WHEEL PART I
Police found a man suspected of burglarizing several vehicles at Continental Fence sleeping in the driver's seat of a van Friday morning.
According to a witness, a man later identified as 28-year-old Dustin Colby Milstid pulled up in a van at the north gate of the yard at Continental Fence on Lexington Avenue, cut the lock and entered the yard.
He took equipment and tools from vehicles and a fuel card that was later used at the Town Pump, 531 South Montana St. Police then received a call saying the van had been spotted in the area of the former Hennessy Market on Granite Street.
Police found Milstid asleep in the van and arrested him for felony burglary, felony sale of dangerous drugs and a misdemeanor warrant out of Park County.
ASLEEP AT THE WHEEL PART II
A Butte man was arrested early Monday morning on drug charges after police found him sleeping in a car that was blocking an alley near the 800 block of South Main Street.
Officers say 32-year-old James Daniel Wadelton was on probation and during a search of his car, they found syringes and methadone, as well as checks and other items that didn't belong to him.
He was arrested on felony complaints of possessing dangerous drugs and violating probation and misdemeanor complaints of possessing drug paraphernalia and stolen property.
ASSAULT WITH LAUNDRY BASKET
Police say 32-year-old Tyler Alan Storey of Butte threw a laundry basket at someone during an argument late Sunday afternoon, striking the victim in the face.
Officers arrested him for misdemeanor partner-family member assault after responding to the disturbance in the 1900 block of Argyle Street.