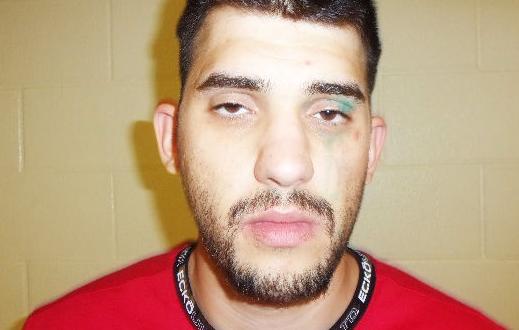 Felony assault
Christian Povrzenich, 25, of Butte was arrested Wednesday morning for felony partner or family member assault (strangulation).
According to police reports, officers were called to a residence in the 2500 block of South Main Street on a disturbance between a man and woman.
The victim told officers she got into a verbal argument with Povrzenich, which then escalated into a physical altercation. He reportedly assaulted her by punching her in the left eye and also choked her to the point that she was going to pass out. The injuries to the victim were consistent with her version of events.
Unlawful restraint
Late Tuesday night, police were called to the 700 block of West Park Street regarding a disturbance between a man and woman.
The woman told officers she had an argument with her boyfriend, Alex Eugene Ames, 38, of Butte, which got physical. According to the victim, Ames attempted to keep her in residence, but she was able to get away and flee to a relative's home.
Later, when she arrived back at her home, there was blood in her kitchen and she called 911. Apparently, while she was gone, Ames had cut himself and then went to St. James Healthcare, which is where officers located him.
Once treated and released, Ames was jailed on two misdemeanors — unlawful restraint and partner or family member abuse (reasonable apprehension).
Unwanted male
At about 6 p.m. Wednesday, an unwanted male was standing outside a residence in the 1900 block of Grand Avenue.
When police arrived, the complainant told officers that Richard Clay Bruce, 56, of Butte had entered his residence about two weeks ago and he was afraid of him.
Officers spoke to Bruce, who appeared to be having mental health issues. He had an outstanding contempt of court warrant out of Butte City Court, so he was arrested and taken to the Butte Detention Center.
DUI arrest
Dylan Jacob Cote, 21, of Butte was jailed Wednesday afternoon for driving while under the influence, driving while his license is suspended or revoked, and careless driving.
Officers responded to the area of the 4200 block of Springfield regarding a two-vehicle traffic accident. The investigation determined that Cote, driving a 2008 Honda Accord, struck a parked van.
According to reports, Cote was visibly intoxicated at the scene and once it was determined that he was the driver, he was placed under arrest and transported to the Butte Detention Center. 
Cote tested over the legal limit in a Breathalyzer text.
Criminal mischief
A call came in Wednesday afternoon that a male was yelling and screaming in the 700 block of Nevada Street.
When officers arrived, they found Christopher Lee Burns, 37, of Butte, who was angry over his vehicle being towed by Community Enrichment. So much so, he went into a neighbor's yard and destroyed property belonging to the neighbor.
Burns was jailed for misdemeanor criminal mischief and misdemeanor criminal trespass to property.
Argument escalates
Larry Daniel Lindquist, 23, of Missoula reportedly got into an argument with a woman Wednesday morning at a residence in the 1100 block of South Nevada Street.
According to the complainant, she and Lindquist got into the argument as he was leaving for work and she had taken his cell phone prior to him leaving.
She stated that Lindquist used force in an attempt to get the phone back and that she was in fear at that time.
Lindquist was arrested for misdemeanor partner or family member assault and taken to the Butte Detention Center.
Truck stolen
A 1995 Chevy truck was stolen before 9 p.m. Tuesday near the Splash and Dash, 3837 Harrison Ave. Just around 12:30 a.m. Wednesday, police officers located the truck in the Walmart parking lot.
Items taken
A man reported Tuesday night that an ex-girlfriend had entered his home in the 2600 block of Argyle Street and took several items. There was no forced entry.
Tires slashed
Sometime between 1:30 and 6:30 a.m. Wednesday, someone slashed the tires of a vehicle in the 2100 block of Farragut. There are no suspects at this time.
Plates stolen
It was reported Wednesday morning that someone took the license plates off a vehicle parked in the 200 block of West Granite. Again, no suspects at this time.
Hot heater
Someone stole a heater Wednesday from a vacant residence in the 1000 block of West Granite Street. There are no suspects.
Taken then found
At around 4 p.m. Wednesday, a 2005 Honda Accord was stolen from a residence in the 1800 block of Monroe. The vehicle was recovered around 8 a.m. Thursday in Powell County. There were three occupants in the vehicle, all of whom took off running. One person was apprehended and is now in custody.
Get local news delivered to your inbox!
Subscribe to our Daily Headlines newsletter.