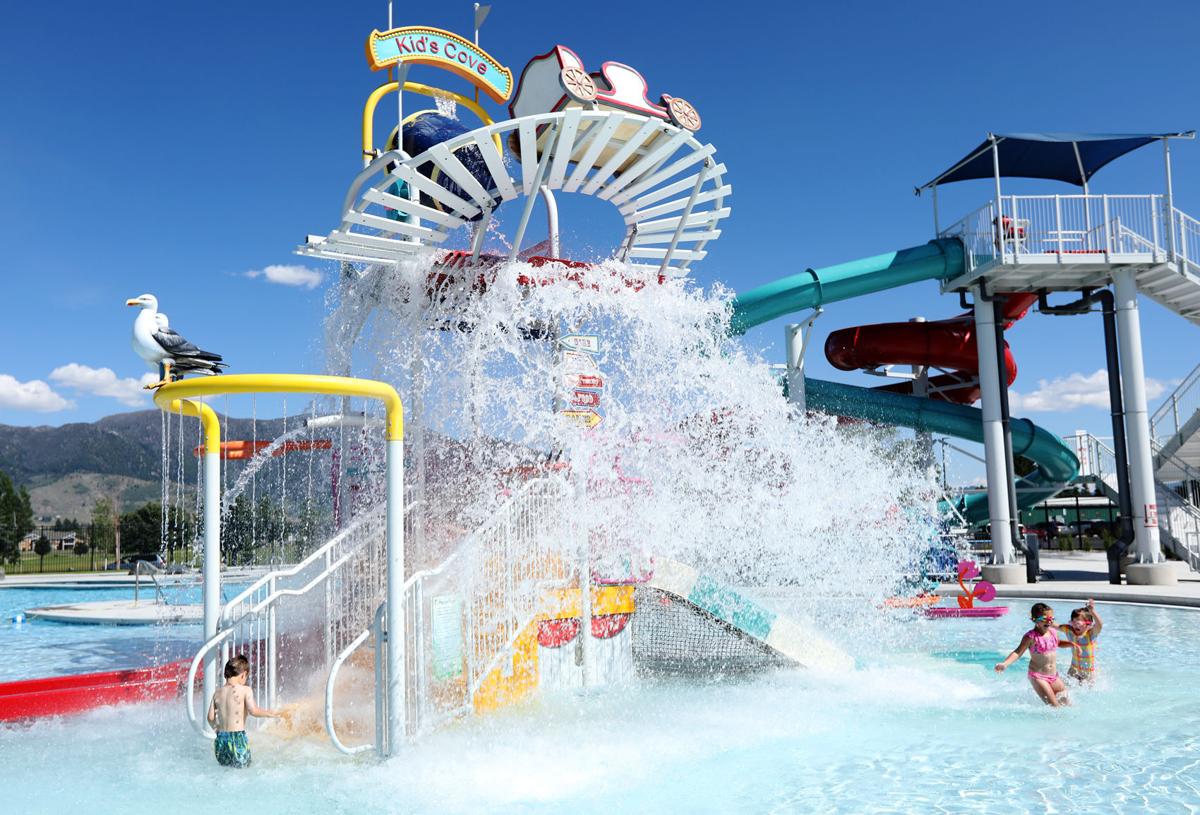 Stodden Park, Butte's destination park, is opening up its Ridge Waters waterpark in June for fun-seekers from Butte and beyond. But hours might be shorter than previous years for one simple reason: There just aren't enough lifeguards.
The pool and waterpark needs 30 lifeguards. Most years, general manager Mark Fischer has up to 50 applicants by this time of year. This year, he has 16, and he has "no clue" why. He also needs 10 inside staff, but only has six applicants compared to the typical 15.
"This is just my opinion, but maybe it's because the youths (are) not vaccinated, so they don't want to work," he said.
Last year, the waterpark was open with limited capacity, and there were no staff shortages. Fischer still isn't sure what, if any, COVID-19 restrictions will be in place this summer. He's more worried about the standard pool safety problems. The water park will operate with whatever hours can ensure a fully staffed pool, but those hours will be shorter than what Butte is used to if they can't get new hires.
 "It's going to be devastating for the citizens of Butte, for taxpayers," Fischer said. "They're probably not going to be happy, but my number one priority is to make sure everybody's safe."
He's hoping that kids are just procrastinating on their applications, as shorter hours would be a blow to the city's effort to maintain Stodden Park as a destination park and would reduce Ridge Waters' revenue.
The shortage isn't just in applicants. Usually, Ridge Waters boasts an 80% employee return rate. Now, Fischer has six returning lifeguards out of 20. Additionally, job offers are less likely to be accepted.
"It's 'when do I start' in previous years. Now 'I don't want a job,'" Fischer said. He's had six applicants turn down their offer.
While many businesses raise wages to attract workers, Ridge Waters can't do so, as its budget has already been determined. Instead, they're advertising on social media and over the daily announcements at the high school to try to reach teens.
"It's a very fun, fulfilling job," Fischer said.
Though the park won't open until June, Fischer needs applicants "ASAP," as lifeguards need to be trained. Usually Stodden Park contracts with the YMCA to train their lifeguards. Fischer is currently in Great Falls training to be an instructor in case the YMCA closes. Hiring will stay open until they get enough workers.
While the waterpark has it worst, Butte-Silver Bow parks and recreation is also having trouble finding park and rec aids.
"Usually, by now we're fully staffed," said Butte-Silver Bow Parks and Recreation Director Bob Lazzari. He's currently looking for 8-10 summer workers. While he has 14 applications, many of the applicants had already taken another job when he called them back.
Due to COVID-19, last year's parks and rec summer staff was a "skeleton crew," according to Lazzari. He said this may account for the reduced amount of returning workers.
Normally, Lazzari said, these jobs are coveted. Most years, the parks and recreation department does a lot of hiring at a career fair at the high school. They weren't able to do that this year, which Lazzari said may be a factor.
Since these positions start after the high school students get out of school, they still have time to fill them. Lazzari said he's been calling around the old-fashioned way, asking kids if they have siblings or friends who'd be willing to work for Butte-Silver Bow.
If the shortage continues and they aren't able to hire enough summer workers, the maintenance of the parks may be altered.
"I'm not sure if we can offer the same service we always have," Lazzari said. "It'll just be different. We'll just have to shift and prioritize what's important."
"At the end of the day, I think we're going to be okay," Lazzari said. "We're looking forward to a great summer."
This issue isn't limited to Butte-Silver Bow parks and recreation.
"Drive down Harrison Avenue, everybody says hiring, hiring, hiring," Fischer said. "I mean, it's pretty scary."
Missoula businesses are struggling to find workers, and their pools are short on lifeguards. The Bozeman Swim Center has been forced to close on Saturdays due to understaffing, with 21 lifeguard positions vacant out of 32 between both of the city's pools. The Bozeman Parks and Recreation Department as a whole has 59 open positions. Gov. Greg Gianforte recently ended federal unemployment benefits to Montana and is now offering a return-to-work bonus in an effort to combat the labor shortage that has surfaced nationwide.
"This is a global pandemic. This isn't a Butte-Silver Bow pandemic," Fischer said.