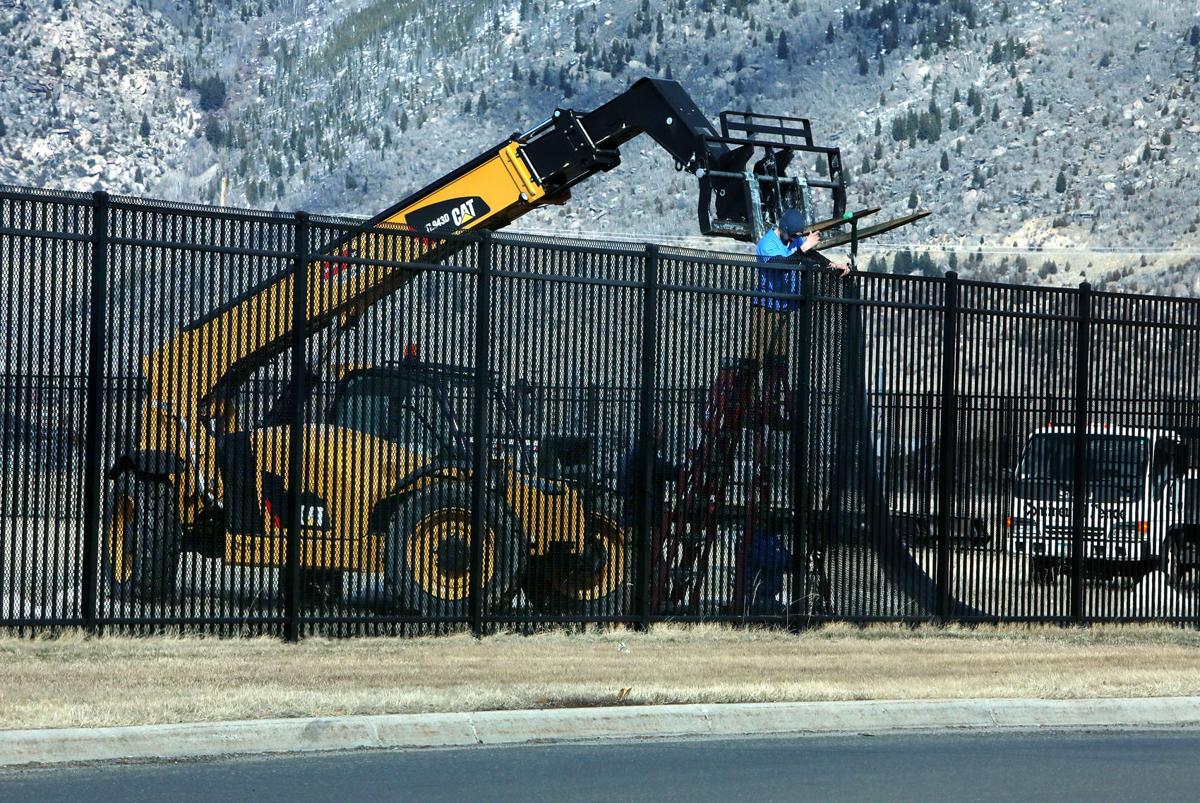 Last in a three-day series.
It got down to 10 below zero on Dec. 7, but that didn't deter three teenagers — one of them not wearing shoes — from kicking open a locked door at Acadia Montana, climbing over a tall fence and running away from the children's residential psychiatric treatment center where they were supposed to be receiving therapy. 
Peggy Cunningham, Acadia Montana's relatively new CEO, was there that night. 
The police were called and a search was started. Around 5 a.m., according to police reports, the missing teens went to a nearby residence seeking help. When officers arrived, the teens were taken into custody.
They were sent to St. James Healthcare to be evaluated, then returned to Acadia Montana. They were required to change clothes to ensure they weren't carrying contraband and were placed on 24-hour restriction.
Their families were told about what happened, Cunningham said, and the incident was discussed with other residents. 
Cunningham, who says she knows "every kid" in the facility and prides herself on her hands-on approach, says she was involved throughout. 
"I don't avoid the situation when there's trouble," Cunningham said in an interview with The Montana Standard two days after Christmas.
For further evidence of Cunningham's willingness to confront trouble, consider that she came to Acadia Montana at all. 
Acadia Montana is a subsidiary of Acadia Healthcare, a publicly traded Nashville, Tennessee-based company that operates a network of 586 behavioral healthcare facilities with approximately 18,000 beds in 40 states, the United Kingdom and Puerto Rico, according to the company's website. 
The company has been the repeated subject of complaints, lawsuits and allegations of abuse.
Earlier this month, for example, another Acadia facility that offered residential treatment for children and adolescents shut down after a series of lawsuits "alleging the company failed to protect its clients from physical and sexual abuse from its workers and other patients," according to the Nashville Post.
The Post notes that the "suits cite internal fight clubs instigated by facility staff members, sex between staff and young patients, the unchecked spread of HIV among patients and excessive use of restraints on children — more than 30 times in 60 days, according to filings."
Also this month, the Chicago Tribune reported that six former patients of an Acadia facility in Illinois alleged "intentional infliction of emotion distress" because the facility hired a therapist who was later charged with 62 felony counts for allegedly sexually assaulting or abusing patients during therapy sessions.
As reports of failures in patient care have mounted, the company's finances have suffered and executives have been pushed out. 
In December, the company's board removed longtime CEO and Chairman Joey Jacobs, replacing him with Debra Osteen, who previously served as president of the behavioral health division of Universal Health Services, another major publicly traded healthcare company. And last month, Brent Turner, Acadia's president, left the company.
According to a November article in Axios, "Over the past few years, Acadia Healthcare has saddled itself with huge amounts of debt, and top executive insiders have sold off stock in droves — a situation that doesn't inspire confidence in the future of the company." 
Acadia Healthcare stock was just more than $81 in 2015. But it has declined substantially since then and was valued at just over $29 this week.
Despite such turmoil, Cunningham said in December that instability at the corporate level had "not trickled down here at this point" and argued that the for-profit model provides benefits over a public model. 
"I think they (for-profits) have the opportunity to provide additional resources that may not be available otherwise," Cunningham said, adding that such companies "can put money back into facilities and improve care" and provide resources and training "that may not be available in a nonprofit model." 
While the facility is private, Montana Medicaid reimbursed Acadia $6.3 million for the in-state services it provides as a Psychiatric Residential Treatment Facility, according to Jon Ebelt, public information officer for the Montana Department of Public Health and Human Services.
Ebelt noted that Acadia also received about $169,000 in Medicaid direct care wage allocations for support of Acadia Montana and approximately $300,000 for outpatient services. 
Montana Medicaid also reimbursed Acadia Healthcare $2.7 million to serve Montana clients in out-of-state PRTF facilities.
The diagnoses Acadia Montana treats, according to Cunningham, include major depressive disorder, generalized anxiety disorder, disruptive mood dysregulation disorder, attention deficit/hyperactivity disorder, post-traumatic stress disorder, oppositional defiant disorder, and autism. It also accepts patients with intellectual and developmental disabilities and chemical-dependency issues.
"Many come from backgrounds of trauma and abuse and therefore they need some skills they haven't picked up in life," Cunningham said in December.
While the vast majority of patients require the consent of a parent or guardian to receive treatment, Cunningham noted that "not a lot parents call and say, 'Will you take my kid?"' Instead, she said, therapists and psychiatrists typically refer children and their parents or guardians to Acadia Montana, "depending on what has worked and what hasn't worked."
In addition, youth courts can order a child to receive care at the facility, though Cunningham noted that no patients had been referred to Acadia Montana from the juvenile justice system during her tenure.
Cunningham said there is a "different goal for every kid," but that there is an overarching aim of Acadia Montana's treatment program: "The goal is so that they (patients) can function better in the setting they return to than they were functioning when they came here."
"I certainly knew that they'd had problems in the past," Cunningham said of Acadia Montana in December. 
But, she noted, she was also aware that "efforts had been made to minimize those problems." 
Her goal during her time leading Acadia Montana, she said, is simple: "I hope to hire an adequate staff, to build our census, and I hope to build a stable atmosphere so the future incidents will be minimized." 
She also acknowledged that those aims will face obstacles. 
"There are days that we have problems. And when we have problems, we're committed to facing them head on," Cunningham said. "And we have problems because we have some tough kids that we work with. But our kids are good kids." 
Cunningham couldn't promise Acadia Montana's road ahead would be trouble-free when interviewed in December, but she was optimistic it would provide a smoother path forward for the patients it serves.
"I believe there's a future where the dips in the road are a lot less severe," Cunningham said. 
She then unlocked a metal door and led two staffers from The Montana Standard through the long, institutional hallways of Acadia Montana, showing off a classroom where residents do schoolwork, pointing to a room where adolescents were in group therapy, poking her head into an empty gymnasium, and unlocking the door of an unoccupied room with a single window located high on the wall, above a bare bed.  
Cunningham oversees about 170 full-time employees who are responsible for the treatment of an evolving number of kids with a range of behavioral, psychiatric and developmental disorders.
"We do good work," Cunningham said. "And I'm proud of the work my staff is doing." 
But she also acknowledged that she has implemented "significant changes" since taking over leadership of the facility from Carter Anderson, the facility's previous CEO and now the Administrator of DPHHS's Quality Assurance Division, which oversees the facility and many other in the state. (See related stories.)
She said she looked at statistics about the use of seclusion and restraint when she got on the job and thought it was "more than we needed." That led to a campaign to reduce the use of these tactics. While she declined to share that data, she did say it has declined "significantly." 
She said she also asked that everyone be retrained in MANDT, the facility's technique of choice, as of December, for preventing and de-escalating threatening behaviors and for restraining those whose behavior might harm themselves or others.
She said she held weekly meetings and trainings. 
"We made sure everybody was trained appropriately," she said. 
She said she hired about 40 additional staff between August and November "across multiple disciplines." 
Instead of looking for people with experience in the behavioral health, Cunningham said she looks for individuals with the right "attitude and commitment." 
"I believe that if you have the right attitude and heart that I can teach you skills," Cunningham said. 
And she said she has worked to give her staff the resources they need to succeed. 
"We have done things to try to make them (the staff) feel real supported," said Cunningham, who has worked in the behavioral health field for some 30 years. "I have to be invested in my staff if I want my staff to be invested." 
She also said in December that the facility was planning to build a second fence to deter escape attempts. As of this month, that work was underway. 
While Cunningham has embarked on a program of reform, problems have continued to crop up at the facility south of Butte. 
In November, a DPHHS complaint inspector found that Acadia Montana did not properly report an allegation of abuse or neglect. 
According to the inspection report, six residents escaped the facility by climbing over or going "through" a fence on Sept. 11, 2018. Two of the residents returned on their own, and four were returned by police. In addition to getting the date wrong, the facility reportedly "did not state staff were unable to control residents. They broke through five doors inside the facility to gain access outside. The residents then climbed the fence" and escaped.
The complaint inspection also found that the "facility had prior knowledge that both residents had the potential to elope (escape) from the facility but failed to implement adequate supervision of the residents to prevent the elopement from occurring on 09/11/2018." 
The complaint inspectors also found on Oct. 1, while investigating "a different matter," that a police investigation occurred on Sept. 21 "regarding the allegations of sexual assault" of one resident by another. 
Then, on Dec. 7, there were the three teens who escaped on a sub-zero night. 
The next week, police responded to reports of four assaults at Acadia Montana. One of the reported assaults allegedly involved one resident punching another. The other three assaults allegedly involved a resident punching three staff members, during and after an escape attempt. 
On Jan. 9, a parent of one 15-year-old Acadia patient called Butte police and filed several complaints against another 15-year-old patient for three assaults allegedly committed at the facility in December. According to police, the parent claimed their son was punched in the face on three separate occasions and members of Acadia's staff agreed to serve as witnesses in the case. 
According to Cunningham, staff who are assaulted by residents get to decide whether to press charges. But, she added, doing so can serve as "a way of making a kid understand consequences." 
Then, in March, lawyers, officials and the mother of a 9-year-old Oregon girl who was chemically and physically restrained began to look into issues at the facility, sparking outcry in her home state and leading to her removal from the facility earlier this month.
Cunningham, who spoke to The Montana Standard in December, declined to comment after the removal of the Oregon child.
Further evaluations of the facility under Cunningham's watch are  forthcoming. 
Inspectors from Alaska completed their annual survey of Acadia Montana on April 8, and a report about their findings should be available soon. 
In addition, the the Montana Mental Disabilities Board of Visitors, which is housed in the Office of the Governor and aims to provide outside oversight of mental health programs in the state, recently completed a site review of the facility and could have a report released as soon as later this month. 
Asked whether DPHHS has conducted a complaint investigation of Acadia Montana in response to recent revelations from Oregon about the injected medication and seclusion, Ebelt said, "We don't comment on in-process investigations." 
Sara Gelser, an Oregon state senator, told The Montana Standard this week that the treatment of 9-year-old Oregon girl and other recent reports of issues at Acadia Montana are "deeply concerning."
When kids try to run away on a subzero night, for example, Gelser said it's a "sign of trouble" that's often viewed as a problem with the young patients rather than with the place and system they are desperately trying to escape.
As such issues persist over the years, Gelser said the problems become abstract, though the effects on children's lives are real.
"The level of risk to these kids is extraordinary," Gelser said. "It will take years to undo the damage done to the kids."
And while she acknowledges the challenges posed by the kinds of kids Acadia Montana treats, Gelser believes the kind of care offered there only exacerbates their issues.
"I look at these kids and people like to say that they're broken," Gelser said. "When I go back and look at the files and the case histories, it's a story of all of the adults in their lives failing them. And then we go back and punish them when they're dysregulated." 
According to Gelser, chemically restraining kids with antihistamines and placing them in locked seclusion are such forms of punishment, though the children being treated this way "don't necessarily know that it isn't right. … They don't even know that they can ask for help." 
And she says that laws and rules that make it difficult for outsiders to see what's going on inside "dark locked places" like Acadia Montana only serve to make it harder for the young patients to get help when things go wrong. 
"It doesn't protect the kids," Gelser said. "It protects the systems and the adults … and leaves the kids powerless and without allies."
Gelser added, "If you're 9, how do you know who to call, if you're even allowed to touch a telephone?"
While Cunningham continues her efforts to improve the facility, Gelser is pessimistic about the prospect of meaningful change.
"It doesn't take a rocket scientist to figure out that something is very, very wrong," Gelser said. "We shouldn't be putting kids there and hoping for the best."
Get local news delivered to your inbox!
Subscribe to our Daily Headlines newsletter.