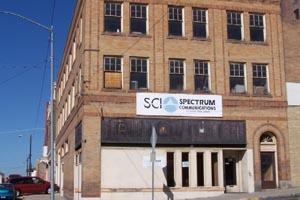 Editor's note: The following is one of a series of columns from the Butte Citizens for Preservation and Revitalization.
Our history's in our trash. In Butte, some of that historic trash is right there on the surface. If you walk around the surviving mine dumps of Germania, south of the World Museum of Museum, you'll see human stories in the broken glass and metal.
Two rusted carbide lamps tell us what we know already — this is a mining town. What's the story told by a pair of tiny soles, the leather and nails, the only survivor of a child's shoes? Or the broken heavy earthenware bowl, marked in cobalt-blue Old English characters "The California"?
As a geologist I'm usually looking at the ground for interesting rocks, arrowheads, whatever. Out there in Germania a flashy spot of purple glass caught my eye. It was a buried chunk of clear purple glass 4 inches by 5 inches. And embossed with a bunch of patent dates from 1897, and the name "Luxfer." Applying modern technology to this broken piece of history, I went home and Googled Luxfer, expecting nothing. But the Luxfer Prism Co., of Chicago, is still happily in business today, going strong since its founding in 1896.
The prism I found was probably used in the skylight or upper course of windows of a big mine building such as a hoist engine room, to bring more light into a huge volume. The Luxfer operation took off in 1897 after it bought a series of patents for prisms, invented by a 30-year-old architect named Frank Lloyd Wright.
Luxfer's square purple glass panes still decorate Butte storefronts above eye level, including the Hennessy Building, Granite and Main, and the Leggat Hotel, Broadway and Hamilton. It's likely that our few surviving vaulted sidewalk glass prisms were also made by Luxfer.
In another dump I found a short dark blue glass jar — the familiar look of Vicks VapoRub. But on the bottom it said "Vicks Va-Tro-Nol." Another small mystery, another product I had never heard of. But Vicks still makes it. The cobalt-blue bottle I found was a style dating to the late 1930s, suggesting when people lived around the Germania mines.
Today, Germania is mostly rubble and wildflowers. Individual house dumps and larger community trash heaps reveal the debris of daily life. The foundations of two brick buildings and a clutch of irises blooming in the spring speak of homes and lives now mostly forgotten.
Dick Gibson is secretary and webmaster for Butte Citizens for Preservation and Revitalization. For more information about CPR, visit www.buttecpr.org or stop by the office on Thursdays from 10 a.m. to 2 p.m., 405 W. Park St., Suite 200.