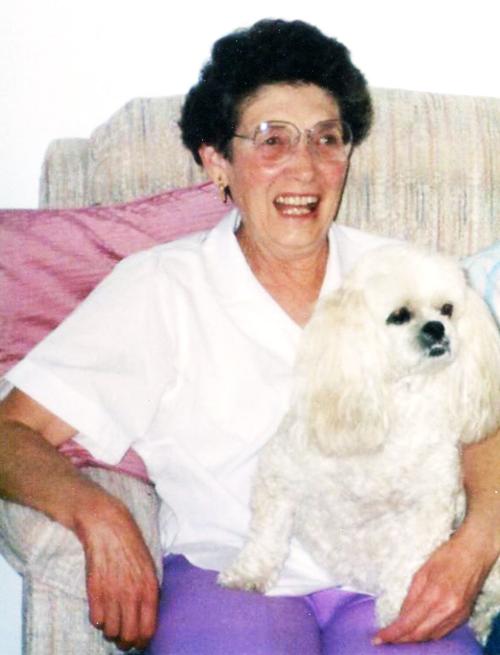 March 23, 1926-May 19, 2020
Virginia Mae (Piazzola) Schleicher passed away May 19, 2020, at the Legacy Assisted Living. She was born in Butte, MT, to Pete and Agnes Piazzola, on March 23, 1926. The first years of her life were spent growing up at the Wise River ranger station, where her father was forest ranger. She often reminisced about those years with great excitement. One of her many childhood stories was about getting into the axle grease – oh, how creamy and smooth it was, so she rubbed it all over her arms, legs, hands and face. A bit later she discovered that it did NOT wash off. 
When Virginia was nine years old, her family moved to Dillon, where she attended and graduated from Beaverhead County High School in 1944. She loved being involved in the operettas back then. After high school, she worked for Dr. David Curry, as a dental assistant.
She met Charles (Charlie) Schleicher at a dance one evening (how she loved to dance) when he was home on leave from the Navy, and this eventually led to their marriage on November 10, 1946. Two daughters were born; Sharon and Jerri.
Virginia loved flowers and had a real "green thumb" for growing some beauties. She was known for her beautiful roses, peonies and violets to name just a few. For many years, she shared her roses with people she knew that were no longer able to get out and about. She did lovely embroidery work on table runners, pillowcases and doilies that are still being enjoyed by many. She also had a big interest in doing and teaching ceramics. 
Animals were a special part of her life; especially dogs. Her last two dogs, Ginger and Heidi, (two very spoiled Lhasa Apsos), were constant companions to both her and Charlie. If the dogs couldn't go, they didn't go. Virginia served on the election board from age 21 to 80. It was with great pride and dedication that she completed this task without one absence. Her father had emphasized how very privileged Americans are to have the right to vote; therefore, this was a very important duty to her. 
Her role as homemaker and mother was always a top priority, having meals served right on time and tending to the household chores diligently.
Virginia was preceded in death by her husband, Charles, in 2009; as well as her parents, Pete and Agnes Piazzola; and sister, Grace Helming of Wisdom. Her son-in-law, Joe Champine, preceded her in death in January of this year.
She leaves behind her two daughters, Jerri Lynn Spotts of Lynden, Washington, and Sharon Champine of Dillon. Also, two grandchildren, Dawn (Stan) Atchley of Charlo, MT, and Charles (Rachel) Miller of Rigby, Idaho; and three great-grandchildren, Victoria Rose Tetherow, Lilly Mae Linderman and Devin Drummer. She recently became a great-great-great-grandma with the arrival of Leona Rose Tetherow. She also is survived by her sister, Betty Mathison of Wilsonville, Oregon; as well as several nieces and nephews. 
Sharon and Jerri would like to sincerely thank Dr. Sandra McIntyre for her wonderful medical services and compassion for our mother's health care. We would also like to thank Kevin Button, Julie Oldynski and the fabulous, caring staff at The Legacy for giving our mother a special "home" for the past 6-1/2 years. A private, family graveside memorial service will be held at the Mountain View Cemetery. 
Virginia would be thrilled if those wishing to make donations would make them in her name to the local animal shelter. Mom, we hope you are surrounded by lots of beautiful flowers, because we know "Roses will Bloom Again".
To plant a tree in memory of Virginia Schleicher as a living tribute, please visit Tribute Store.
Obituaries Newsletter
Sign up to get the most recent local obituaries delievered to your inbox.