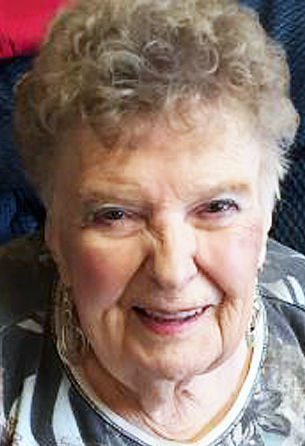 Oct. 15, 1929-June 2, 2020
Shirley Pryor, beloved mother, grandmother and great-grandmother, died on June 2. Born October 15, 1929, in Great Falls, Montana, to Winifred (Smith) and Paul Selstrom. Shirley, an only child, was very close to her cousin, John Selstrom. She attended grade school in Lincoln, MT, boarded in Helena to attend high school and at seventeen attended Montana State College in Bozeman to study art. Shirley married Norman J. Cross in the fall of 1948, and had three children. After being divorced for several years, she married Kenneth Monroe Pryor in the fall of 1959, in Butte, MT. Ken worked for the Milwaukee RR and they maintained a home in Great Falls until the children finished high school.
Shirley had an interest in all things artistic throughout her life. One year she painted the backdrops for the annual performance of the Butte Figure Skating Club. She liked working in watercolors and acrylics, painted ceramics, created original holiday decor, and fostered her children's creativity. She was an active member in Eastern Star while in Butte and was a past worthy matron.
She and Ken retired to Mesa, Arizona, in 1977. Following his death in 1981, she worked as activity director at retirement parks in Mesa and then Tucson, where her son, Paul, and his family lived. At the Voyager RV Park in Tucson, in addition to organizing facility activities, she taught landscape and flower painting, shirt painting and created paintings and murals for some residents. One of her proudest accomplishments was a series of murals depicting the history of Arizona painted on the walls of the Voyager ballroom. She remained at the Voyager on retirement and loved the activities and her many friends in the community.
In the spring of 2013, Shirley returned to Montana to be closer to her daughters. She lived first in an assisted living facility with the two cat companions, who had traveled many miles with her on road trips to art classes or to visit family and friends. Late in 2015, she moved to Immanuel Lutheran Skilled Care in Kalispell. Her mind remained sharp but she truly missed her independence and the physical ability to create her art. In October of 2019, Shirley, her children and their spouses celebrated her 90th birthday together. On June 2, 2020, Shirley was gently "walked home" by her youngest, Carolyn Cosby. She is survived by her three children and spouses, Jennifer Pryor and Bill Crenshaw, Paul and Bonnie Pryor, and Carolyn and Steve Cosby; plus six grandchildren; and 15 great-grandchildren.
Her children are grateful for Immanuel Lutheran, where Shirley spent her last years. The staff treated her with great kindness and were always kind and welcoming to family members, who visited often. Memorials are suggested to an art organization of the donor's choice.
To plant a tree in memory of Shirley Pryor as a living tribute, please visit Tribute Store.
Obituaries Newsletter
Sign up to get the most recent local obituaries delivered to your inbox.