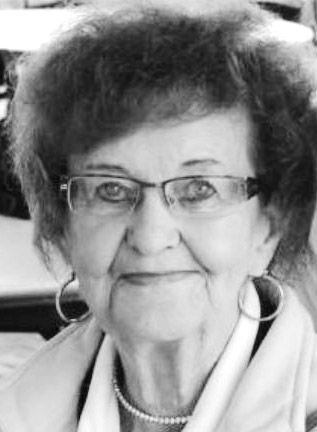 April 11, 1925-Nov. 7, 2020
Ruth Helmo Markovich of Anaconda, Montana, passed peacefully on Nov. 7, 2020, surrounded by loved ones in Yuma, Arizona, after a brief battle with breast cancer. She was 95 years young.
Ruth was born April 11, 1925, to Iver and Ragna Helmo in Butte, Montana. She attended Whittier Elementary and Butte High School. Ruth was an exceptional skier and was a member of the Butte High ski team and was the first girl to earn a Varsity letter at Butte High.
On April 6, 1947, Ruth married the love of her life, Joe Markovich. She went to work for Curry Buick as a book keeper for a number of years. The skills she learned there would serve her well later in life. In 1961, Ruth and Joe moved their family to Missoula, where they resided until 1968.
In January of 1968, they moved to Anaconda, where they purchased a small candy and tobacco distributorship named Roach & Smith. Ruth worked side by side with Joe, where she managed the office and was his financial wizard. Together they were a force to be reckoned with. With hard work and determination, they grew the business and by 1977, had purchased Kenny's Distributing of Butte, a distributor of Rainier, Heidelberg and Schmidt beers. This was added to their existing business but would not be their last acquisition.
In 1997, Ruth and Joe retired and turned the day to day management of the company over to their son, Dale. As owners, they continued to provide their wisdom, guidance and support to Dale. In September of 2000, Roach & Smith purchased the Miller Brewing Company brands as well as Gallo wines from Mile High Beverage. Then in April of 2004, they purchased Earls Distributing in Missoula, and in 2005, changed the name to Summit Beverage. In 2008, they made their last purchase when they bought the Coors Brewing Company brands from Thompson Distributing in Butte. Ruth was immensely proud of the successful business that small candy and tobacco distributorship grew into.
Joe and Ruth had many wonderful trips all over the world, but eventually found their happy place in Yuma, Arizona, where they made many great friends, countless memories and had many good times. Ruth was always a very caring, compassionate and generous person, as demonstrated by the countless organizations and charities that she regularly donated to. She was always available when you needed to talk and was the voice of encouragement in our family, someone you could always look to for the words, "you can do it."
Ruth never forgot a birthday or anniversary and was always one of the last ones to call it quits at family gatherings. She took great pride in her appearance and was always 'dressed to the nines' with her hair done and makeup on. She was simply the most kind, wise, loving, understanding and fun mom and grandmother we could have asked for. We lost our Matriarch, but we will always cherish the memories and unconditional love she gave us.
Ruth was preceded in death by her parents; her beloved husband, Joe; brothers, Arnold and Kinsley; and her lifelong friends, Claire and Lucille Heffernan. She is survived by her son, Dale (Cheryl) Markovich; daughter, Debbie (Mike Devin); grandchildren, Dale (Angela) Malee, Brian Malee and partner, Justin Borchert, Mike (Kelly) Markovich, Greg (Lauren) Markovich, Rachel Markovich (Dan McFarland), Kristen (Jason) Dawes, Dani Lloyd (Kevin Shannon); great-grandchildren, Ella and Ryan Malee, Brynn, Elin, Lacey and Madison Markovich, Ivy McFarland, Easton and Dalton Dawes, Andrew Wade, Cayden and Grayson Gorell; brother-in-law, Don (Marilynn) Markovich; son-in-law, Con (Susan) Malee; several nieces and nephews; and her best friend, Ursula Hawkins.
Our family wants to extend our heartfelt thanks and eternal gratitude to Hector Lopez, who was not only the very best caregiver we could have asked for, but was her very good friend for many years. In accordance with her wishes, there will be a private family ceremony at a later date.
In lieu of flowers, please consider making donations to the American Cancer Society or your local Food Bank.
Obituaries Newsletter
Sign up to get the most recent local obituaries delivered to your inbox.