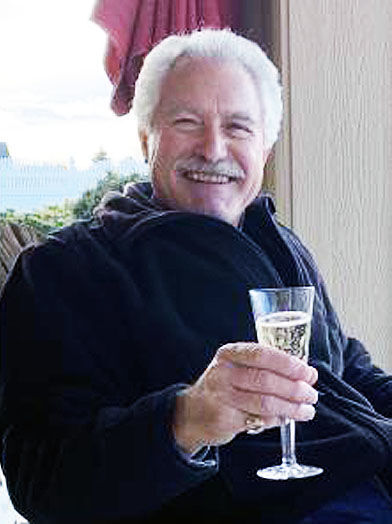 May 26, 1951-Aug. 13, 2020
Dale Wilson left this life after a brief bout with Stage 4 Pancreatic Cancer on 13 August, in his home in Caldwell, Idaho, with his wife, Mary. In his last days he was able to reflect on his life, and insisted on writing his own obituary as follows:
Born on May 26, 1951, in Butte, Montana, to Robert and Rita Wilson, Dale was the younger of two entirely spoiled boys. How privileged he and his brother, Rob, were to have such wonderful, caring parents. And, how lucky he was to be raised in Butte, Montana, during the baby-boom era. Dale always considered Butte to be home. It was there, a mile high and mile deep, where his parents raised him on "The Flats". He attended public grade schools, participated in local athletics, and graduated from Butte High School in 1969.
"The best investment a person can make is in his/her own education." Dale was a strong believer in pursuing education, especially higher education. He earned several degrees and professional certifications in his lifetime including, a BA in experimental psychology from U of M, teaching certification from MSU (he student taught science in Auchinleck Acadamy, Scotland), MA in counseling from U of M, certification in school psychology from U of O, certification in school administration from MSU, and a BS in engineering science from Montana Tech. Later in life as an engineer, Dale became fascinated with Finite Element Analysis for computer simulation of welding processes. As a hobby, he also enjoyed studying gemology at the Gemological Institute of America.
To pay for college in his late teens and early adulthood, Dale worked throughout Montana as a laborer, teamster and heavy equipment operator in construction and mining. During these informative years his values and moral character were shaped by men he had the honor to work with side-by-side, and whom he always considered as truly the "greatest generation". His character was further developed during the 1970s and early 1980s by teaching and coaching in the small rural town of Philipsburg, Montana, working as a Psychologist in the Butte School District for several years and also by bartending part-time at the McQueen Athletic Club.
In Butte, Dale met Mary Stoddard. They married in 1988 and had a fine son, Spar. The easiest and very best thing he ever did was to father his son. Mary remained his loving wife, partner and true confidant to his dying day.
After over thirty years of mostly being a "Butte Rat", Dale moved to Port Orchard, Washington, where he and Mary tried to settle-in while he worked as a nuclear welding engineer for the Department of the Navy, at Puget Sound Naval Shipyard. Although Dale established close relationships with a number of terrific friends and co-workers, he never felt completely at home in Washington State, and after 27 interesting years with the Navy, in 2016, he retired and moved to Caldwell, Idaho – back at last to the kind of country he considered "the real west".
Throughout his life Dale delighted in sports activities and the outdoors. He enjoyed basketball, soccer, handball, long distance running (he completed a marathon at age 50) and golf. For a time, he was practically addicted to golf and was "skilled" (lucky) enough to make a hole-in-one. Throughout his life he also enjoyed riding motorcycles, snowmobiling, hang-gliding, snow skiing, water skiing (he even tried surfing with his son in Hawaii), hunting, river rafting, fly-fishing, shooting pool, weight-lifting, woodworking, metal working/welding, and painting with water colors. Also, Dale successfully coached his son's youth soccer team, "The Retrievers", in Kitsap County, Washington, for several years, even though he had never played soccer previously and had no clue as to how it really should be played. The sportsman's life, a grand life indeed!
All of these sporting activities, however, took a back seat to his favorite past time of sitting down at his wife Mary's decadent table to share an excellent meal and a fine glass of wine with family and friends.
To Dale, living in America as was a lot like winning the lottery... one big candy store. He enjoyed and participated in most everything this American life had to offer, but admittedly never really excelled at anything. A jack of all trades, master of absolutely none. Dale was lucky enough to not get drafted by lottery during the Vietnam War and felt fortunate indeed that he was never coerced into having to harm anyone. His only stated regret was that he had no musical talent — he would have loved to play the blues harmonica professionally. Something that seriously bothered Dale later in life was how so many decent Americans were duped into voting for and supporting Donald Trump for President. This he considered, "A true blight in America's history... a shameful farce"!
During his teens and into adulthood, Dale had a very close relationship with his father and they were more like brothers than father and son. They shared many a shot-and-beer together in Butte's neighborhood bars. Dale also always enjoyed a discussion of politics with his brother-in-law, Frank Stoddard, over a glass of scotch. Through his lifetime Dale formed many meaningful and sincere friendships with a wide range of truly excellent people. His closest friends (most dating back from early grade school years) were Rick Anderson, Tony Bracco, Gail Baccheschi, Tom Casey, Larry and Steve Dobb, Bruce Evans, Bob Martina, Claudine Micone, Joe Jany, Russel Sage, Gary Sells, Sarah Sullivan, Jim Svaldi, Steve Wolstein, and Jim Wempe.
Dale was preceded in death by his parents, Robert and Rita Wilson; uncles, Bill Wilson, Bernie Wilson, and Hal McDowell; and aunts, Delena Radenich and Bethel Dahoud. He is survived by his wife, Mary; son, Spar (Suzannah) Wilson; his older brother, Rob (Karen) Wilson; and several cousins.
Dale was sometimes spiritual, but definitely not religious. He desired no funeral rites/visitation, requesting that Mary, "Just toast my body like a S'more and toss my ashes to the Montana winds as the rustling leaves of the mountain Aspen wave good-bye".
Obituaries Newsletter
Sign up to get the most recent local obituaries delivered to your inbox.