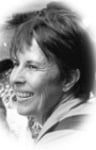 Phyllis Ann Brickert, 56, of Wise River, died July 9, 2009, from complications of cervical cancer.
She was born to Philip and Hulda Haag of Denver on May 8, 1953.
Phyllis began her law enforcement career in North Central Washington as a dispatcher for the Douglas County Sheriff's office and went on to become the first female deputy sheriff hired by Chelan County. She was a longtime Drug Abuse Resistance Education officer and was a member of the Sheriff's Posse.
As a member of the Air National Guard, she served in Iraq during the Gulf War and also competed nationally in biathlon. Phyllis loved all animals, especially horses and enjoyed riding through the back country of the North Cascades. After retiring from law enforcement, she moved with her husband to a ranch in Wise River.
Survivors include her husband, Mike Brickert of Wise River; sisters, Susan Haag of Los Angeles and Mary (Rufus) Woods of Wenatchee, Wash.; brothers, Gary Haag of Waterford, Maine, and Bill (Vicki) Haag of Arvada, Colo.; and father, Philip Haag of Beverly Hills, Fla.
She was preceded in death by her mother.
No services will be held. Phyllis' family is grateful to the awesome ladies of Wise River for their loving care and support during her illness and who remember Phyllis as a breath of fresh air, who swept through the valley.
Donations in her memory may be made to Trusting Spirit Horse Rescue, Box 101, Orondo, WA 98843. Friends who would like to share a favorite story of Phyllis with the family, are encouraged to e-mail mary@thekitchensync.com or mail it in care of Mary Woods, 104 S. Delaware Ave., Wenatchee, Wash. 98801.
A memorial service will be at 1 p.m. Aug. 1 at Ward Funeral Home in Leavenworth, Wash., with a reception to follow.
---
GUEST BOOK:
---
Tina wrote on February 26, 2010:

Miss you mom!
MONTANA COLADONATO (CODZY@AOL.COM) wrote on July 25, 2009:

THANK YOU ALL FOR ALL THE KIND WORDS, THOUGHTS AND PRAYERS. YOU'VE ALWAYS BEEN THERE FOR OUR FAMILY. I AM SO PROUD TO COME FROM A COMMUNITY LIKE WALKERVILLE, MT. THANK YOU ALL. MONTANA COLADONATO-GAFFNEY.
Tina Marie Coladonato (redwop25@hotmail.com) wrote on July 22, 2009:

Thank you all for such wonderful words about my beloved mother, Maria. She was born in Walkerviell, MT and a part of her will always remain there. She grew up tuff just like the rest of the folks who lived in Walkerville and because of that, she instilled hard working, honest, and loving kind of values in my sister and I. She was not afraid of any challenges because of her upbringing. Please remember her in your hearts as one of you.

Tina Marie Coladonato

(Maria's oldest daughter)
Janet Johnson (janjorjohn@cox.net) wrote on July 22, 2009:

Martha, I'm sorry to hear of your loss. I know its' difficult to lose a member of your family. My thoughts and prayers are with you. Janet (Jordan) Johnson
Roger & Jackie Oren (rjoren@bresnan.net) wrote on July 21, 2009:

Terri,

So sorry about your mother. I met her a couple of times. If you need anything honey, let us know.

Also tell MARFA (our favorite waitress we are sorry.

Love & Prayers,

Jackie & Roger
Sheila Meyers(nielsen) (paintman@cableone.net) wrote on July 21, 2009:

Martha and family,

I am sorry to hear about your sister, I don't remember her but Martha know that my thoughts are with you and all who loved her.

Sheila
Lisa Pesanti (mtmxmom1067@gmail.com) wrote on July 21, 2009:

Montana, Marlenea, & Family,

I am sooo very sorry to hear of the loss of your sister. As we all grew up together in Walkerville and went through school we all became good friends and it makes me sad to see your family face a loss like this. Montana, I treasure your friendship and I pray that your warm, wonderful memories of your loving sister help to ease your loss at this sad time. Hang in there girl, I Love Ya.

Lisa Pesanti
Dawn (Davis) Murray (crestinblu@gmail.com) wrote on July 21, 2009:

I grew up with all the coladonatos, I have nothing but respect for the entire family,I truly feel as if we have lost a beatiful human being here. I love you Maria, you will live in my heart forever.
Francie (Warmuth) Reed (freed@pfgworld.com) wrote on July 21, 2009:

I am deeply saddened for your family. I can remember as a child coming to your home with Uncle Perk & Aunt Marg. Martha & I became good friends that lasted all these years. My thoughts & prayers are with each & every one of you.

With deepest sympathy, Francie
Mark Pesanti (mpesanti@comcast.net) wrote on July 21, 2009:

My condolences to the entire family. I was always treated like one of the kids in your house in Walkerville and thought alot of your Mom and Dad. Throughout the years it seems we all found our way from humble beginings. The lord will look kindly on Margaret. Bless you all