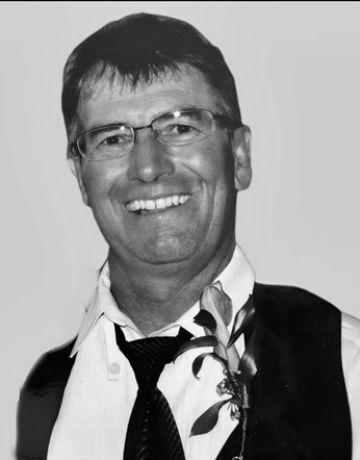 Feb. 24, 1961-Nov. 8, 2020
On Feb. 24, 1961, a humble, kind, hard-working and natural leader with a huge, beautiful heart was born into this world. He sadly left this life on Nov. 8, 2020, touching the hearts of every person he encountered. His hard work on earth is now finished. While we will forever have a void in our hearts, the lessons we learned and wisdom he shared will be with us always.
Marty was born in Butte, Montana, to Jim and Mitzi Daily, also known as Papa Chief and Gramma Mitzi. Marty's strong work ethic and gentle spirit came from his parents. From his dad, he learned to be an exceptionally talented carpenter and craftsman. From his mom, he learned patience and kindness. His fine, gentleman-like, compassionate qualities came from them both. He was the oldest of six siblings. He took care of his brothers and sisters from an early age, making sure that each of them were kept in tow and taken care of. Not only were they siblings, they were also good friends who enjoyed being together.
Marty met Terri (Walsh) Daily in May of 1981, and they adventured together until they married on August 16, 1986. Terri was the love of his life. Their union began in a little house on Third Street, and they later built their dream house in the Moulton. Everything in their home was meticulously crafted by Marty. Terri, their three girls, and many talented friends, helped Marty complete the six-year project that was constructed with perfection and love. For Marty, there was only one way — the right way.
The world changed for Marty with the birth of his children, Kendra, Kacey, and MacKensie. He and Terri taught and led their children by example. Together, they taught them love, independence, work ethic and forgiveness. Marty happily welcomed a son into his life when Kendra married Shawn 'Shawno' Peltier. When Marty gave a nickname, it meant you were close to his heart. Becoming a Papa to two precious angels, Braelynn and Kason Peltier, was the highlight of his life. Marty was childlike in their presence and enjoyed every moment they spent together. He always had a story or a picture about his grandkids to share. They brought so much joy and happiness to his life and you could see it by the look on his face.
Marty was the most loving husband, dad, father-in-law, papa, son, brother, uncle, and friend. His smile and laugh were contagious; he lit up the room whenever he entered. His genuine ability to love and accept every person for who they were (and take care of everyone he knew) was a gift few have. People flocked to him for friendship and he returned it with genuine love, acceptance, and kindness. He was generous with his time, and when in the presence of Marty, you were the most important. Marty's wisdom will continue to flourish, and his big, beautiful heart, will live forever in the memories we share.
Marty was always humble and kind in every circumstance. He met every day with optimism of what the new day would bring. Every day was a day of "Good Livin" for Marty. Whether it was having a good meal, fixing something for someone, or simply spending time with his family and friends.
Like his dad, he was good at everything he did. He was a true master craftsman. Only perfect was close enough. Everything he touched, he excelled at. He could create it, build it, fix it, or 'jimmy rig' it until it was right. He was a regular 'MacGyver.' Marty had incredibly strong values and wisdom. He was willing to share everything he knew with everyone he knew. Marty loved his Irish heritage and was an active member in the Ancient Order of Hibernians.
Starting when Marty was a small child, he hand-crafted Christmas gifts as small tokens of his genuine love for family and friends. Christmas 2019, he made and delivered over 200 beautifully made gifts, which will be forever treasured. Marty and his brothers were members of The Boy Scouts Troop 10 Coyote Patrol where friendships were built, and life skills were developed. Marty treasured his time in the Boys Scouts and lived by the boy scout motto, "Always be prepared and be ready to do a good turn daily."
Marty and Terri had a great love for the outdoors, and they loved sharing those experiences with their girls. As a family, they enjoyed camping, fishing, floating, snowmobiling, and skiing. Marty was a talented outdoor enthusiast and shared those talents lovingly with his family. Some of their most precious moments were spent on the Big Hole River and Island Park, Idaho. The song "Fishin' In the Dark" became a family favorite — and it could be heard blaring loud and clear whether it was at the campfire, on the river, or any special family event. So many times, Marty would give a cheer and a smile with one of his favorite sayings, "Now that's Good Livin!"
Marty's '69 GTO was his pride and joy. Many family members and friends have special memories of their "ride" in the GTO — and like all things in life, Marty was always honored to provide those precious moments for those he cared for. Marty was always up for crazy adventures like 'Training' down Homestake Pass or Pipestone Pass. He often pulled his "homemade portable hot tub" to his camping spot on the Big Hole River, occasionally to his favorite bar, and even to the Motor-Vu Drive-in.
Other treasured times for Marty included hunting with his dad, brothers, and cousins. When the season ended, Marty brought his meticulous nature to the infamous sausage making sessions with his Dad (Chief), Ray, and Biggs.
At an early age, Marty and his brothers worked for St. Joseph's Church doing every odd job needed. Following graduation in 1979 from Butte High School, he completed apprenticeships in carpentry and operating engineers. He attained certificates in carpentry, welding, crane operating, millwright and operating engineers. Early on, it was obvious that his talent and skills shined. Marty was truly a fine craftsman. Marty and his brothers worked tirelessly with their Dad doing every job he required of them. Marty went into business with his Dad further honing his skills with his time at Daily Construction, BMB Excavation, and Daily Garage Doors.
Marty started work for the Montana Power in December 1993, as a Company carpenter working in the facilities group, fixing anything and everything from the gas controller's console to office remodels. In February 2004, Marty joined Gas Transmissions, Deer Lodge based, West Line Crew as a patrolman operator. During his time with the West Line, Marty was responsible for emergency response on the Gas Transmission System in Montana, statewide, and in parts of South Dakota. Marty was an integral and highly valued employee and friend who took on more and more responsibilities during his career. Marty helped his team build countless projects while spending long weeks on the road, and he was always a reliable employee for any occasion. He was a member of a team that ensured customers were never without natural gas, especially during extreme weather conditions. Marty's calm demeanor was a welcome presence when anxieties were high and outcomes uncertain. His work was of the highest quality and quantity, and he was always striving for perfection.
Marty's legacy will live on in the lives of his wife, children, and grandchildren. He left the gifts of kindness, fun, love, faith, loyalty, and humbleness for each of us who were fortunate to have known him. When you think of Marty, and you are enjoying life, raise a glass and give him a cheer: "Now That's Good Livin!" Remember to live each day like it is your last, because someday it will be.
Marty was preceded in death by his uncle, Dan Harrington; and grandparents, Dote and Fritz Daily, and Bill and Pete Gallagher; aunts and uncles, Joanne Ellison, Cari and Ed Sommer, and Janice Bettini; and sister-in-law, Linda Walsh.
Marty is survived by his loving wife, Terri; daughters, Kendra (Shawn) Peltier, Kacey, and MacKensie; grandchildren, Braelynn and Kason Peltier; his parents, Jim and Mitzi Daily; brothers, Bill (Mary Ellen), Bob (Leighanne); sisters, Bethe (Greg) Shaw, Becky (Jim) Sprunger, and Jamee (Matt) Mazuryk; mother-in-law, Jule Walsh; sister-in-law, Barbie (Gary) Dudden; nieces and nephews, Danny, David and Shannon Daily; Ryanne and Riley Daily; Shelby (Cole) Tripp, Erik and Kyle Shaw; Sara and Molly Sprunger; Rebecca and Julia Mazuryk; Alyssa, (Zack Bolton), and Shayna Dudden.
Also surviving are his loving aunts, uncles, cousins and friends, too numerous to mention. They were all so very loved by Marty.
A savings account has been created for Marty's grandchildren at NorthWestern Energy Employees, FCU. In lieu of flowers, please send memorials to donor's choice.
Obituaries Newsletter
Sign up to get the most recent local obituaries delivered to your inbox.