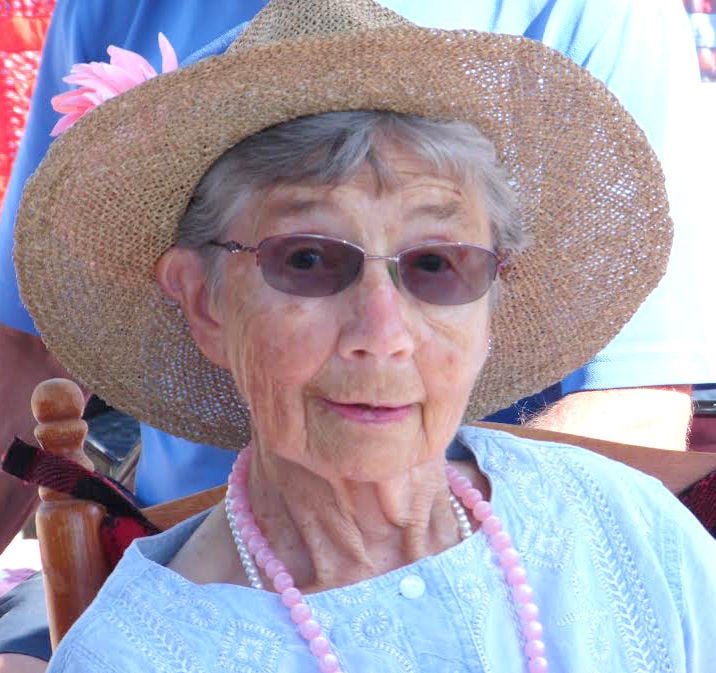 Laura Thelma Baril of Sheridan, MT, died in her home at Home Park in Sheridan, surrounded by her family on November 18, 2015. She had just celebrated her 100th birthday on October 31st. One hundred and thirty of her friends and family gathered at Home Park to celebrate this special occasion. Earlier in the year about seventy members of her immediate family were with Thelma for a family reunion and early birthday celebration.
Thelma was born on October 31, 1915 near Twin Bridges, MT to Albert Smith and Laura Whitworth Smith. She grew up on the family ranch and attended Twin Bridges schools. She received a teaching degree from Montana State Normal School (now University of Montana Western) in Dillon and taught at the Duncan District School west of Sheridan. There she met and married Wilfred Baril, a local rancher. Over thirteen years, five children were born to the couple and they both taught by example, the compassion and hard work that would influence their children for the rest of their lives. Thelma's children remember her quiet strength and gentle, loving nature.
In addition to being a partner in the ranch and raising five children, Thelma was a talented seamstress. She made much of her family's clothing, and hand-stitched beautiful quilts; giving dozens to family and friends over the years. She loved the mountains and the Ruby Valley and spent many happy days camping, hiking, and fishing with her family. She was an active and dedicated member of Dayspring Mission, and for years hosted Bible study groups in her home.
Thelma is survived by her children, Barbara Dedman of Sheridan, MT, Phyllis Peterson and husband Walton Peterson of Twin Bridges, MT, Albert (Bud) Baril and wife Lyn Baril of Leola, PA, Sandra Baril of Sheridan, MT, and Wilfred Barry Baril and wife Beverly Baril, of Phoenix, AZ; thirteen grandchildren; Dennis Dedman, Ben Peterson, Laura Peterson Brunzell, Jay Peterson, Andy Peterson, Nathan Baril, Neil Baril, Nicole Baril Fritz, John Thompson, Josette Thompson Schuur, Brandi Baril Hodge, Bridget Baril, and Bryce Baril; her twenty-seven great-grandchildren, and twelve great-great-grandchildren. She is preceded in death by her husband, Wilfred Baril of Sheridan, MT who died May 6, 1987; her son-in-law Gary Dedman, her grandson, Dan Dedman; her granddaughter, Donna Dedman VerHow; her brothers, Virgil and Harold Smith; and her sister, Vera Smith Tuell.
Thelma passed away peacefully after a short illness. She will be remembered for her grace and caring, and a blessing to so many. She was a loving person whose life reflected her love of God and family.
The family would like to give special thanks to Carol Braach, Thelma's Senior Companion and to Tony and Emily Simonson and the staff at Home Park for their loving care.
A funeral is scheduled for 2:00 pm Tuesday, November 24 at Dayspring Mission Church, Sheridan.
Graveside Services will be at Sheridan Cemetery. There will be a reception and meal at Dayspring Church following the burial service.
For those wishing to give a memorial in lieu of flowers; please consider a gift in Thelma's name to Sheridan Senior Companions, The Sheridan Fire Department, or the Ruby Valley Hospital.