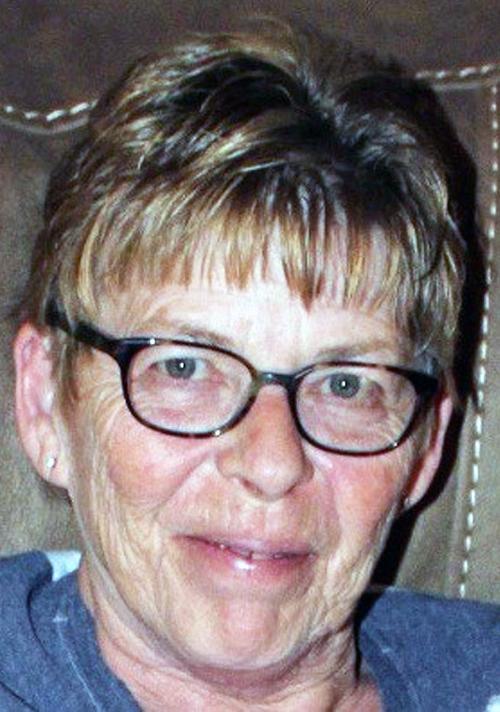 July 10, 1954-June 22, 2020
Kristie Kae Piazzola, 65, passed away on June 22, 2020. She is again with her beloved parents, Wilburetta and Wallace Reynolds; brothers, Duane and Bill; and sisters, Geraldine and Linda.  She leaves behind her loving husband, Joe; four children, Marcy Cooley (Bryan), Rance Rathie (Elizabeth), Joe Piazzola (Morgan), Jon Piazzola (Mande); 10 grandchildren (who knew her as Gram and Nana) Tiana (Aaron), Stefano, Seth, Julia, Ryan, Emmie Lou, Colter, Joseph, Vincenzo, and Marlie; three great-grandchildren, Noah, Abigail and Charlotte; brothers, James, Tom, Terry, Larry, and Lyle; sisters, Joyce, Mae, Diane, Donna and Patsy; and uncountable number of nieces, nephews, cousins, and friends, who were also fortunate to be part of her family and feel her love. 
Kristie was born in the Butte hospital on July 10, 1954. She was the youngest of 15 children raised in a small two-bedroom home in Melrose. Kristie's tough exterior, grit, determination, strength, stamina and fiery spirit were the product of being raised by a no-nonsense, hard-nosed-hard-working father, who was a miner by day and bar bouncer by night in Butte.  Kristie's ability to care for, comfort, heal, cherish, appreciate, and love were taught to her by her Mother, who raised her children in their family home, once a mortuary and without running water. 
Kristie graduated from Beaverhead County High School in Dillon. Although she didn't go to college, based on the way she could heal and take care of anyone and everyone, one would think she went to nursing school with a second degree as a counselor. She raised her children while also taking care of her parents, brothers, sisters, nieces, nephews, friends of her children, and friends of the family at times. Kristie believed anyone that needed a hand should be given one and that everyone deserved a second chance.   
Kristie was taught to make do with little and was crafty in the kitchen. She was an artist with a sewing machine and a needle, an expert fly tier, handy in a workshop, and the ultimate homemaker. Kristie was emblematic of a true Montana woman and worked tirelessly from the very first moment she could, often more than one job. She was an ideal employee and manager and was also an entrepreneur with some of her businesses being the Quack Quack café in Melrose, Sunrise Cleaning Service in Dillon, The Prospector in Sheridan, and The Sunrise Fly Shop in Melrose. Anyone who walked through one of those doors was welcomed with a big smile and immediately knew they came to the right place. She spent the last 15 years managing The Big Hole Ranch in Melrose, where she showcased her fondness for impeccably kept landscapes and beautiful flowers. Many say she was The Big Hole Ranch always adding her incredible cooking recipes and magical hospitality touch, enriching the experiences of others.    
As soft and loving as Kristie was, she was also tough and hardened by life experiences. Those that were taken under her wing tell you it was the wing of a sow grizzly, especially if anyone came between her and her family. She had scrappy spirit, always offering memorable one-liners and setting the record straight when necessary. Kristie also had a competitive spirit and cherished card games. Everyone who knew her appreciated her rules of cards and life: show up on time, respect the game and play by the rules. They also knew a skunk in cribbage, her favorite game, was just around the corner. Those that knew her best were most certainly double-skunked at one point in time.  
Along with her heart of gold, Kristie also had a golden arm and had a shot at the Professional Bowling Association's pro circuit. She maintained an average of over 200 pins per game and traveled around the west to compete. She spent endless hours on the lanes, always helping youth bowlers and adult leagues. She was also a die-hard Yankee fan, armchair managing every possible game surrounded by Yankees' memorabilia and oftentimes wearing a Yankees' jersey.  She enjoyed traveling, and one of her most memorable trips was to Yankee Stadium to watch her favorite player, Derek Jeter, play.
More than anything, Kristie enjoyed spending time with her family. There was never a more proud, caring or loving mother put on earth. She was generous beyond anyone's imagination of the word and enjoyed every possible moment with her family. Her kids and grandkids will remember her for her amazing cooking and foods she loved to prepare. Buckets of chocolate chip cookies and the allure of her secret recipe will be forever etched in their minds. There was no distance she would not travel to be with her children and grandchildren, and she frequently traveled to North Dakota, Colorado, Utah and Argentina to spend quality time with all of them.  She effortlessly taught, helped, healed and supported everyone in her family, always putting her own needs last. Her family knows that she left with no regrets, spending every possible moment texting, calling, video chatting, thinking about and praying for each one them. 
Visitation will be from 5-7 p.m. on Monday, June 29. The funeral services will be Tuesday, June 30, at 1 p.m. at Brundage Funeral Home. There is a Celebration of Life reception at 4 p.m. at the Big Hole Ranch in Melrose.
To plant a tree in memory of Kristie Piazzola as a living tribute, please visit Tribute Store.
Obituaries Newsletter
Sign up to get the most recent local obituaries delivered to your inbox.