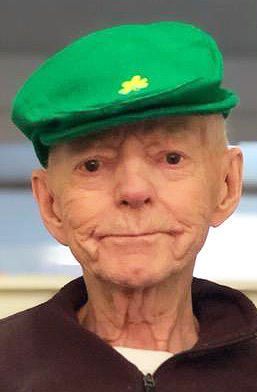 March 23, 1938-May 11, 2020
Kenneth L. Menahan, life-long resident of Anaconda, MT, passed away peacefully at Anaconda Community Hospital on May 11, 2020. He was 82 years old.
Ken was born on March 23, 1938, to William and Kathleen Menahan. Ken was born hearing-impaired, but this did not impede his ability to draw friends and family in with an amusing story and his infectious laughter. He attended the Montana School for the Deaf and Blind, where he excelled at carpentry and basketball.
After a brief period working for an auto body shop in Bozeman, Ken chose to return to Anaconda, and got a job working at Murphy's; a local paint shop. It was this job experience that led him to his career as a painter for the State of Montana, at Warm Springs. He worked there for 37 memorable years and retired in 1999. Ken was very proud of his profession and would often help out friends and family by painting their houses when they needed. Even until his passing he would declare, "I am a painter!"
Ken met Cheryl J. Fox, who is also hearing-impaired, at the Park Café restaurant, in 1980. They were a perfect match from the start and were married on August 21, 1982. Ken and Cheryl resided at the family home on East 8th Street in Anaconda, where they raised one son, LeRoy.
A long-time member of the Montana Association of the Deaf, Ken had many hearing-impaired friends across the state that he loved visiting with at the MAD annual meetings, as well as camp outs. Even as his health began to decline, he loved staying in touch with his friends through video chats. Ken was also a very proud Anaconda Irishman and loved to dress up in green on St. Patrick's Day, and have his picture taken by Cheryl.
Throughout his life you could always find Ken working on home improvement projects, going camping and fishing, or watching sports on TV. Ken was a long-time fan of the Chicago Bears, Montana Grizzlies and Gonzaga Bulldogs basketball. Ken cherished large family gatherings and found great joy in keeping up with all of his relatives near and far.
Ken was preceded in death by his parents, William and Kathleen Menahan; his brother, William "Red" Menahan; his sister and brother-in-law, Mary Jean and Al Schiermeister; brothers-in-law, Jerry Jennings and James Barrington; and his mother-in-law, Betty Carlson.
He is survived by his wife, Cheryl Menahan of Anaconda; his son, LeRoy Menahan of Missoula; his sister, Bonnie Jennings of Lewiston, Idaho; sister-in-law, Laurie Barrington of Lynchburg, Virgnia; and brother and sister-in-law, Tom and Carol Barrington of Price, Utah; in addition to many beloved nieces, nephews and cousins.
Longfellow Finnegan Funeral Home in Anaconda is entrusted with the funeral arrangements, and a memorial service is pending but will take place at St Peter's Catholic Church, in Anaconda, sometime in August. Donations in lieu of flowers can be made to the Montana School for the Deaf and Blind, 3911 Central Ave., Great Falls, MT, 59405.
Obituaries Newsletter
Sign up to get the most recent local obituaries delievered to your inbox.