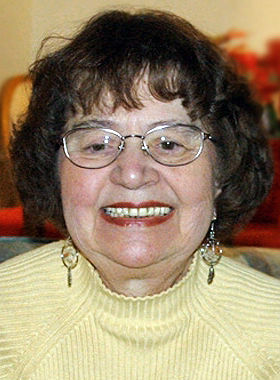 July 13, 1935-Oct. 9, 2020
June Marilyn Tressider passed away at her home on October 9, 2020. She was born in Butte, on July 13, 1935, to Roy and Marjorie (Bettison) Richards. June grew up on E. LaPlatte St., in Centerville, and graduated from Butte High School in 1952. 
She married the love of her life, Samuel F. Tressider, on September 27, 1953, and together they raised four children. They celebrated their 50th anniversary in 2003, before Sam passed away in 2005. June and Sam moved away from Butte in 1966 to follow Sam's work but returned in 1996 for retirement. June loved living in Butte and would not consider moving away, even though her children tried to convince her to live nearer to them!
June was a homemaker and her greatest joy in life was taking care of her family. She loved to cook, bake, and talk with family and friends. Her grandchildren and her great-grandchildren were a source of great happiness for her.
June was preceded in death by her husband, Samuel F. Tressider; parents, Roy and Marge Richards; her parents-in-law, Samuel J. and Mary I. Tressider; and her brother and sister-in-law, William and Fran Richards. June is survived by her children, Sammie (Jack) Carraher of Pueblo West, Colorado; Sheryl (Keith) Flowerdew of Pueblo West, Colorado; Paula (David) Sapp of Tacoma, Washington; and Frank (Linda) Tressider of Peoria, Arizona. She is also survived by her grandchildren, Wes (Tamra) Carraher of Audubon, New Jersey;  Kendra (Dave) Maurer of Colorado Springs, Colorado; Jamie (Joe) Mascarenas of Pueblo West, Colorado; Joseph Marquez of Pueblo, Colorado; Kellie Flowerdew (Bill Haarmann) of La Junta, Colorado; Kevin (Melissa) Flowerdew of Parker, Colorado. Stacie (Paul) Henderson of Bonney Lake, Washington; Sarah Sapp of Tacoma, Washington; Paul Sapp of Bonney Lake, Wwashington; Haley (Tyler) Hansen of Surprise, Arizona and Tim Tressider of Peoria, Arizona. June is survived by eleven precious great-grandchildren, who were her pride and joy, Asher Carraher, Alara and Gunnar Maurer, Julianna and Jacob Mascarenas, Melissa Reann Flowerdew, Sadie Jo Flowerdew, Samuel Henderson, and Trevor, Tommy and MacKenzie Hansen. June is also survived by her brother and sister-in-law, Stan and Sandy Richards of Virginia Beach, Virginia; and several cousins to whom she was very close.
Due to COVID-19, there will be a family graveside service for June on Saturday, October 17, 2020. In the spring of 2021, her family plans to hold a Celebration of Her Life/Memorial Service for June in Butte. Express condolences at www.wayrynen-richards.com.
Obituaries Newsletter
Sign up to get the most recent local obituaries delivered to your inbox.