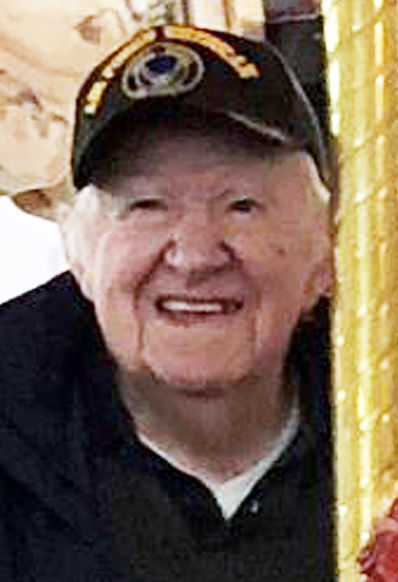 John Murphy died at home on June 20, 2020, surrounded by his care givers, Sean, Jeananne and Dan, Gerry, and Mike. 
Dad was kind, creative, resourceful, and adaptable.
Dad was proud of his Butte up-bringing and had many colorful stories of neighborhood adventures. He described various jobs throughout his childhood with such ease that it all sounded fun; at some point in our adulthoods we realized that the stories reflected his role in supporting the family during meager times. As a young man he joined the Army Air Corps and was a crew chief with the gliders during WWII. He shared wonderful stories of India and Burma. Upon returning home, Dad resumed his trade of meat cutting and his love of fishing.
Dad had the great good fortune of meeting Margaret Mackin through friends and together they raised six children in Anaconda, where they supported their children's interests and provided childhood adventures slightly less colorful than his own — Mom had some influence there. While his own children learned the most colorful stories of his childhood in their adulthoods, his nine grandchildren loved being regaled with his exploits; he had the most delightful story telling manner.
Dad endured the loss of Margaret in July of 1996, and it was a blessing that the Spirit of Columbia Gardens Carousel had organizing meetings in October of that same year. Dad poured his creativity and heart into the Carousel and was gifted with new friendships with fellow carvers and volunteers. The first horse he carved was Midnight Special, on which he went for a ride. He also raised the funds from local businesses to sponsor Marcus Daly's horse Tammany.
On one of those days he was carving horses at the storefront in the Mall, Dad encountered a young woman with a familiar last name, and, as was his pattern, he inquired if she knew someone from his youth, only to find out that Darlene Antonich was her mother-in-law. Dad and Darlene rekindled their companionship, enjoying many outings with friends and various travels, which included following the exploits of Darlene's grandson, in the fun-loving company of her son and daughter-in-law.
Among the greatest honors Dad experienced was being asked to officiate the weddings of three grandchildren. He took this honor deeply to heart and was very thoughtful in his remarks and preparation.  
Dad loved us unconditionally and we all felt it deeply.
John was preceded in death by his wife, Margaret; parents, Thomas and Mary Murphy; his brothers, Thomas and Jimmy; his sister, Nellie and Darlene Antonich.
John is survived by his children, Mike (Larriann), Paul (Kay), Mary Jo (John), Jeananne (Dan), Sean and Gerry. His grandchildren, Danelle (Holly), Erin (Ben), Pat (Kaitlyn), Dina (Matthias), Sean Patrick, Meghan (Michael), Nathan (Liz), Eric (Lisa), Kathleen and Colin; and eight great-grandchildren. He is also survived by Steve, Marylynne and Stephen T. Antonich.
Due to COVID-19 the family will arrange services later this summer. Memorials may be made to Pintler Home Options / Hospice or The Spirit of Columbia Gardens Carousel or donor's choice.
Longfellow Finnegan Riddle Funeral & Cremation Service is entrusted with John's funeral arrangements. You may pay your condolences at www.longfellowfinneganriddle.com.
To plant a tree in memory of John Murphy as a living tribute, please visit Tribute Store.
Obituaries Newsletter
Sign up to get the most recent local obituaries delivered to your inbox.