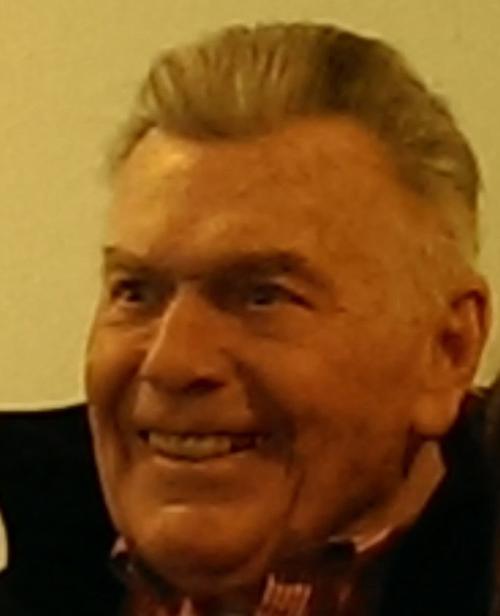 August 29, 1935 — March 4, 2020
His love of Butte started the day he arrived, August 29, 1935 and continued until he departed, March 4, 2020. Even when he left Butte for employment or education, his heart remained here at home in Butte.
Born the oldest of three sons to Fred V. Bull, Sr. and Helen (Smith) Bull, he grew up 'Butte'. When his dad was called to WWII, he was the man of the house and helped raise brothers Ralph and Wayne.
He graduated from Longfellow Grade School and Butte High School. He later graduated Western Montana College ('62) with a B.A. in Education. Eventually, he graduated University of Montana ('81) with a Master of Art in School Administration-Education. This 1981 Sunday graduation was coincidentally the same weekend in June as his son graduated MSU (Saturday) and one of his daughters graduated Butte High (Friday).
At an early age in Butte, he worked helping to deliver ice from his dad's ice truck (City Ice Co.) and he enjoyed it so much that he didn't want to start grade school, he wanted to stay working with his Dad. Who could blame him? At five years old, he was steering the '39 International Ice truck into parking spaces while sitting on his dad's lap. All the customers knew and loved him, which resulted in a glove box full of candy bars and other treasures.
In 1949 he graduated Longfellow Grade School but then didn't want to proceed to high school. He wanted to be a printer like his Uncle Bum. Reluctantly, he did enter Butte High.
After a football injury in his Jr. year, he then coached the Longfellow Football Team to a City Championship after an undefeated season in Class AA. This team included his younger brother Wayne, who was in 6th grade.
Prior to graduating, he quit high school in 1952 to work as a laborer digging forms for the new Food Bank. When that was completed, he worked for Carroll Fabian at Mountain View Cemetery.
After finally graduating with the class of 1953, he started employment at the Leonard Mine in 1954 as a Timber Trucker. In addition, in 1954 he married Leah Huhtanen and they began their family of four children: Dave (Connie) Bull, Michelle (Roger) Jones, Char (Bob) Fenolia, and Janice (Mike) Shuey. Three decades later, Fred and Leah divorced.
Fred worked in several gas stations including 'Fred Bull's Carter Service' at the S.E. corner of Granite and Wyoming. He owned and operated his service station for 2 years.
In 1959 he went to work as a 'grease monkey' for the A.C.M. at the Berkeley Pit. When they went on strike in August, he moved his family to Dillon to attend Western Montana College. He completed a 4-year program in 3 years and graduated in 1962 (BS-Education). He began teaching and coaching in Reed Point, Montana.
The following year, he moved his family to Florence, Montana to teach and coach. He restarted their football program and coached basketball and track.
In 1965 he moved the family to Corvallis, Montana to become head football coach and assistant coach in basketball and track.
In 1968 he moved his family to Livingston, Montana to teach at the Jr. High and was assistant coach for high school football, wrestling and track teams.
Ultimately, in 1969 he returned to where his heart was—Butte. He became assistant coach of football, basketball and head coach of track for Butte Central. He was proud of all his teams. His 1969 Butte Central Football team under the leadership of Coach Petrino defeated Polson for the State Championship.
In 1972 he took a break from education and opened the 'Bullpen' bar and later built and owned 'Mom's Cellar' bar and grill. Many of his former students became good patrons and even better friends than they previously were.
In 1977 he was appointed as the Superintendent of Schools for the County of Silver Bow and held that position through elections and re-elections for 15 years. In 1992, he became Superintendent of Schools for Shields Valley, Montana.
Later, he again moved home to Butte and opened 'Collect-A-Bull' Cars on S. Main Street. He was a member of Vintage D'Fenders, Georgetown Lakers, as well as other car clubs.
He officiated High School and Frontier football and basketball games for 23 years as a member of B.O.A. and M.O.A. These included state championship games. Additionally, he was a state track meet timer.
In 1988 he married Kathleen McGarvey. They celebrated their 32nd anniversary on February 14, 2020.
His passions were many—they included Kathleen; his kids and their spouses; grandkids and great grandkids.
He also loved sports, long rides in his antique cars and of course, his friends. He loved to meet them at the 'Met' Tavern on Friday nights, the 'Treasure Chest' or other fine establishments on Saturday nights. This expanded to car shows during the summer months.
Butte was always in his blood.
Fred is survived by his wife Kathleen; son Dave (Connie) Bull and families (Preston (Jackie) Ambria, Everlee and Kylynn Bull), (Sarah (Ryan) Hendrix Wooton), (Tanna (Adam) Grover, Raelee Hein), and (Colter Bull);
daughter Michelle (Roger) Jones and families (Jason (Erika) Ethan, Elise and Eliot Jones), (Megan Jones), (Brian Jones and (Jessica Hacker), and (Karin Jones and (Michael Warren);
daughter Charlene (Bob) Fenolia and families (Nichole (Christian) Orion, Leo Hawks), (Jacob (Amy) Johnathan James Fenolia), and (Levi (Christina) Lincoln Fenolia, plus another due in June);
daughter Janice (Mike) Shuey and families (Curtis (Kelly) Shuey), and (Alanna (Jarvis) Weibert);
brothers Ralph Bull and families; and Wayne Bull and families;
sister-in-law Joann (Jimmy) Harris and family; brother-in-law Bill Kelly and family; and brother-in-law Jim's family.
He was preceded in death by his parents, sister-in-law (Mabel Bull), son-in-law (Bob Fenolia), sister-in-law (Mary Frances 'Birdie' Kelly), brother-in-law (James McGarvey) and nephew (Tim McGarvey).
A celebration of his full and happy life will be held at Duggan Dolan Mortuary on Friday at 2:00 p.m. with a visitation Thursday between the hours of 5:00 and 7:00 p.m. A reception will be held at The Copper King on Friday following the service and interment.
Another option to flowers, are charitable contributions. Some of Fred's favorites were: American Heart Association, Butte Central Foundation, Shriners Children's Hospital, Wounded Warrior or choose one of your own.
Fred will no longer be taking his beer cooler for a cruise, but his Heart Will Forever Reside in Butte!
To plant a tree in memory of Fred Bull as a living tribute, please visit Tribute Store.
Obituaries Newsletter
Sign up to get the most recent local obituaries delievered to your inbox.