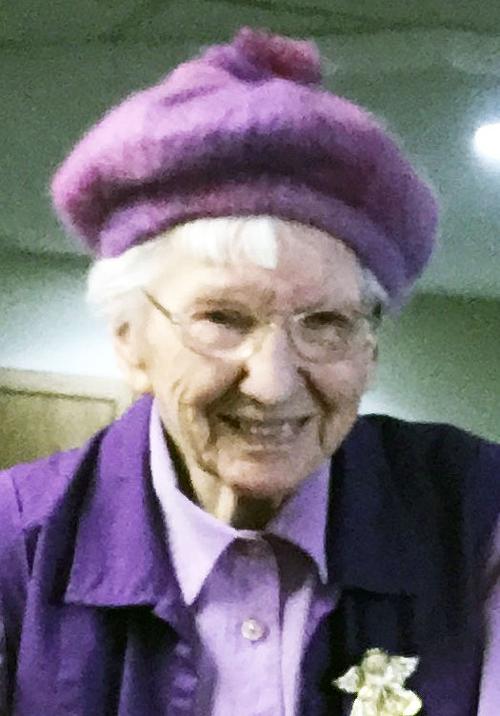 April 23, 1918-July 6, 2020
Our beloved Emily Blotkamp — mother, grandmother, great-grandmother and friend went to God on July 6, 2020.
Emily was born at home in Laurel, MT, on April 23, 1918, to Jacob and Maria Elizabeth Michael, the sixth of seven children. She grew up in the Laurel area and worked on the family farm. They grew sugar beets and mom called it stoop labor. She attended school in Laurel and Park City. She played girls basketball her freshman year until her mother found out they were wearing shorts. She made her quit the team. She moved to Tacoma, Washington, during WWII and attended the Modern Beauty Academy. She met her future husband in Billings, and they married in Tacoma after his discharge from the marines. They married May 24, 1946, and moved to Anaconda, in November, 1946. Mom worked as a beautician in Tacoma and Anaconda, then took off 18 years to raise her five children. She also worked at St. Ann's hospital and later at Hardee's as hostess. Mom eventually moved back to Billings after her husband's death. The last several years she was living at St. John's, where she was a vibrant member of that community. Emily was a member of the Home Extension Club since 1947 and attended Hope Lutheran Church from the time it was built.
We grieve the loss of this fine woman. She lived a long and healthy life and passed away in her sleep. Her children were privately beginning to worry that she may outlive all of us.
Emily was preceded in death by her beloved husband, Charles Blotkamp; parents, Jacob and Marie Elizabeth Michael; brothers, Jacob, Henry and Herman Michael. Sisters, Lydia, Mabel and Dolly.
Emily is survived by her five children, daughter, Lynda, and son-in-law, Terry Hoenstine, Anaconda; son, Michael, and daughter-in-law, Gloria Blotkamp, Anaconda; daughter, Marie, and son-in-law, Jim Anderson, Billings; daughter, Priscilla Taylor, Billings; daughter, Jolene Blotkamp-Wilson, Billings. Grandchildren, Teri Lynn Hoenstine of Park City, Utah; Scott (Kristin) Hoenstine of Hamilton, MT; Josh (Lyn) Blotkamp of Billings, MT; Ryan (Lisa) Anderson of Fort Collins, Colorado; Alicia (Chad) Fry of Bozeman, MT; Angela (Travis)
Kennedy of Billings, MT; Sara Taylor of Billings, MT. Great-grandchildren, Ella, Gabe, Kaleb and Chloe Hoenstine of Hamilton, MT; Laynee and Adalyn Blotkamp of Billings, MT; Enzo Anderson of Fort Collins, Colorado; Emerson, Oliver and Milo Fry of Bozeman, MT; Porter Kennedy of Billings, MT.
Cremation has taken place. Private graveside services will be held in Anaconda at a later date.
In remembrance, please be kind to one another.
Longfellow Finnegan Riddle Funeral & Cremation Service is entrusted with Emily's funeral arrangements. You may pay your condolences at www.longfellowfinneganriddle.com.
To plant a tree in memory of Emily Blotkamp as a living tribute, please visit Tribute Store.
Obituaries Newsletter
Sign up to get the most recent local obituaries delivered to your inbox.