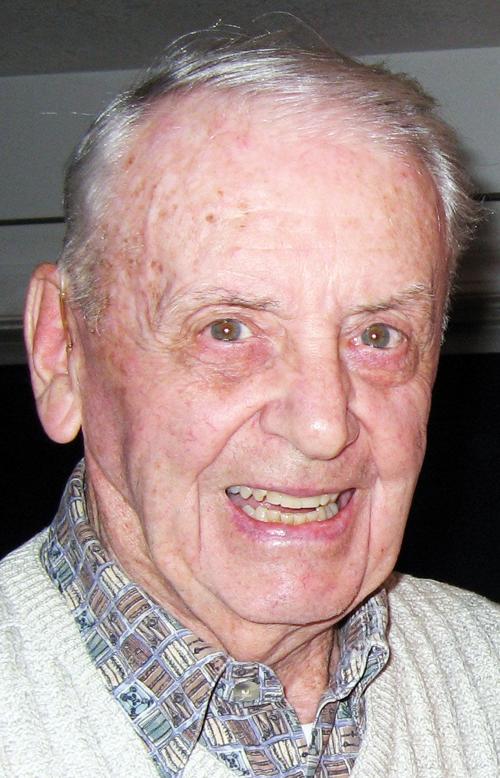 Oct. 30, 1919-Sept. 29, 2019
Dr. John F. Lowney, beloved husband, father, grandfather, and great grandfather, passed away peacefully on September 29, 2019, just a few weeks shy of his 100th birthday. Fondly known as "Jack", he was born to John and Margaret Lowney on October 30, 1919, and grew up with four siblings in Butte, Montana. In his early years he attended St Joseph's Catholic School and graduated from Boys' Central High School. Jack always loved football, basketball, baseball, and boxing. He was the Catholic Youth Organization, 118-pound boxing champion in 1939. During the 1930s, Jack worked as a miner for the Anaconda Company and at the Continental Oil Company in Butte. He enrolled in Carroll College in 1939 and majored in pre-med. He played basketball and was on the 1941 football team that was inducted into the Carroll College Athletic Hall of Fame in 2009. He was so proud to be a part of this team that was undefeated and unscored upon.
Jack's extended educational journey took him to Saint Louis University Medical School. During his third year, he married his high school sweetheart, Frances Elizabeth Peters, who he was married to for almost fifty years. While in medical school, working as a research assistant to Nobel Prize winner, Dr. Edward A. Doisy, Jack helped in the development of nitrogen mustards as the first effective medications for cancer chemotherapy.  During his senior year, he was awarded the Borden Award for Undergraduate Research at St. Louis University. Jack completed an internship in Seattle, residency in Norfolk, VA, in Pathology, residency at John Hopkins in Hematology and Pathology, and specialized in Internal Medicine. Jack served in the Army then transferred to the Public Health Service. As a Medical Officer he achieved the rank of Lt. Commander. One of his first assignments was on a Coastguard Cutter monitoring Cuba.
Jack's career as a Public Health Service Physician took him all over the country. Eventually, Jack accepted the position as Chief of Staff at the Veteran's Administration Hospital in Miles City, Montana, from 1965 to 1970, and then transferred to the VA Hospital at Fort Harrison from 1970 until retirement in 1981. Jack was an incredibly kind, patient, and generous man who loved people and his work, especially teaching at the University of Missouri and Carroll College. While at Carroll, Jack was instrumental in establishing one of the premier medical records programs in the Northwest. He attributed part of the success of Carroll graduates being recruited by medical schools to the increasing importance of medical records technology in all fields of medicine.
Jack was an avid reader, painter and golfer. He loved golf outings with family and friends, grandchildren and great grandchildren, and took an active part in their sports and activities. Jack also enjoyed studying calculus, physics, and chemistry well into his nineties. His commitment to life-long learning is evidenced in this 1995 quote from the Carroll College Alumni News, "Carroll's liberal arts instilled in me the idea that a person should continue to read throughout their lives. At Carroll, we focused upon our specialized fields, but we also studied religion and philosophy and Shakespeare…Carroll was one of the greatest things that ever happened to me." Jack sported a wonderful sense of humor and loved to laugh. He was always up for dessert, milkshakes, sundaes, and especially chocolates from Shepherd's Candy.
He is survived by his brother Thomas Lowney, his son, John Francis Lowney (Lisa), grandchildren, Daniel (Annanise) Lowney, Sara (Kevin) Helvik, and Caili Lowney, his great grandchildren, Mya, Sam, Max, Leah, Drew and Addison, and many relatives from Butte. He is preceded in death by his wife, Frances Elizabeth Lowney, his sister, Margaret (Margie) Richardson, his brothers, William (Billy) and James (Jim), his parents, John and Margaret Lowney, and very close friend Lois Coffey.
 A Vigil will be held on Wednesday, October 9th, at 7:30 p.m. at Saint Mary Catholic Community. Funeral Mass will be held on October 10th, at 12:10 p.m. at Saint Mary Catholic Community with a reception immediately following. Military honors and Interment of ashes will begin at Resurrection Cemetery at 2:30 p.m.
In lieu of flowers, memorials may be sent to the Archbishop Raymond Hunthausen Scholarship Fund at Carroll College, 1601 N. Benton Avenue, Helena, 59601; Hospice of Saint Peters, 2475 Broadway St., Helena, 59601; Saint Mary Catholic Community, 1700 Missoula Avenue, Helena, 59601.