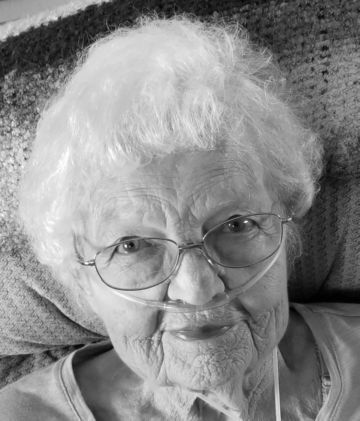 Aug. 29, 1922-Jan. 9, 2021
Dorleen Elfrieda Oppliger Probasco was born breech on Aug. 29, 1922, to Fred and Caroline Oppliger in Buhl, Idaho. The third of four children, she was delivered with the assistance of her Aunt Elfrieda, and Caroline declared, "She walked into this world and hasn't stopped since." Truer words were never spoken. But on Jan. 9, 2021, she walked home to God, reunited with many family and friends.
Dorleen had five children before she turned 24, and six children before she turned 30. In addition to demands of motherhood and working full-time, Dorleen enjoyed hunting each fall, and she loved fishing. Robert was stationed in Washington State, then at Hill Air Force Base during the war and then worked for Union Pacific Railroad. Dorleen and Robert raised their family in Ogden, Utah, residing there for 40 plus years. Dorleen worked for Farmers Grain and Thiokol in Ogden.
When Dorleen and Robert retired, they built a log cabin in their beloved Idaho, just outside Ashton near Squirrel. They spent 26 years together there before Robert died in 2005. They were active people who enjoyed cross country skiing and getting outside in all seasons, including volunteering at the annual Ashton Dog Sled Race. They loved playing cards at the old Squirrel School. After Robert's death, Dorleen lived at the cabin two years before she decided to move to Butte, Montana to live with her youngest daughter, Peggy. Dorleen lived in Butte with Peggy for 11 wonderful years. Dorleen loved Butte and Butte loved her back. She volunteered with and supported and loved Montana's festival city.
Dorleen was forever curious and while living in Butte, loved accompanying Peggy to many leisure and business functions, her favorite being a trip with all her daughters to the Big Island in Hawaii.
Dorleen was a long-time member in Zion Lutheran Church in Ashton, Idaho and attended Gold Hill Lutheran Church when she lived in Butte. She was adored by the congregation. Peggy often remarked with delight that everyone liked Mom best. Wherever she was, Dorleen was active in quilting, book clubs, women's Bible studies, prayer shawl groups and knitting, and cooking for others.
Dorleen suffered from lifelong heart problems and had her first pacemaker implanted when she was 49. At the time of her death, Dorleen was using her seventh pacemaker. Given that, her life could not have been as blessed and full without the care of many, many health care professionals and the family is very grateful.
In September 2018, after two heart surgeries in February of that year, it became apparent that Dorleen was suffering from Post-Operative Cognitive Dysfunction and because she required more care than Peggy could offer, Dorleen and the family determined she would be best cared for in the home of her oldest daughter, Ann, who is a retired nurse, and her husband, Bob Stivers. Ann and Bob provided Dorleen exceptional, loving care for more than two years.
Dorleen was preceded in death by her parents; her husband of 65 years, Robert Vere Probasco; and her siblings, Melvin Oppliger and Francis Mongan.
Dorleen is survived by her children, Ann Stivers (Bob), Weldona, Colorado; Lloyd and Ruth Probasco, Grand Island, Nebraska; Virgil and Elaine Probasco, Trout Run, Pennsylvania; Shirley Jean Niemann (Don), Chandler, Arizona; Dale and Viv Probasco, Backus, Minnesota; and Peggy Probasco, Butte, Montana. She is also survived by her older sister, Carol (Rosella) Walton, 19 grandchildren, 33 great- grandchildren, and nine great-great-grandchildren, with one on the way. There are numerous nieces and nephews and children of friends who considered Mom their second mother.
While Dorleen will be greatly missed by many, her children take comfort in knowing she is now with God and Robert.
Funeral services will be held at 10 a.m. on Monday, Jan. 18, at Zion Lutheran Church in Ashton, Idaho. The family will receive friends Sunday evening from 5:30 to 7 p.m. at Baxter Funeral Home in Ashton. Condolences may be sent online to the family at www.baxterfh.com.
Funeral services will be streamed. The link will be posted at the Baxter Funeral Home website.
Memorials may be sent to Zion Lutheran, or an organization of the donor's choice.
There will be a Memorial Service at a later date in Butte, Montana, pandemic permitting.