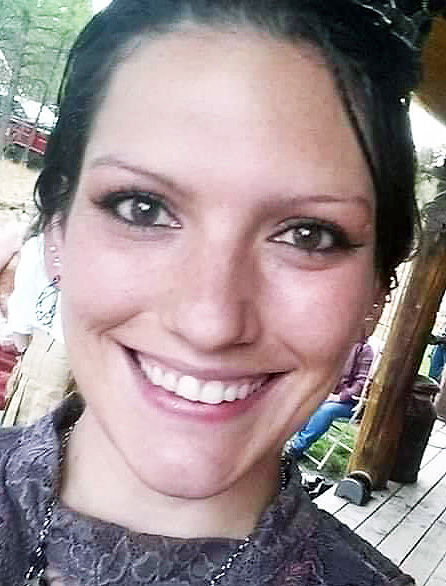 May 24, 1987–May 10, 2020
Danelle Roberta Lazzari, "Nellie Bug", 32, passed away peacefully in her home on May 10, with her husband and her momma by her side. Danelle was beautiful and loving, a devoted mother, wife, daughter, sister, granddaughter, auntie, cousin and friend. Danelle loved to spend time with her husband, mom, dad, family and friends, and especially with her three sons and stepson.
On May 24, 1987, Danelle was born in Butte, Montana, making the world a brighter and better place. She was the first-born daughter of Mary Azure-Dinius and Daniel Lazzari. Danelle was a delightful child with beautiful black curls, ivory skin and an adorable smile. She grew up in Butte and Helena, Montana. Danelle graduated from Helena High in 2005, and went on to attend Montana Tech, with a major in Drafting and Liberal Arts.  
In 2004, she met and then married Dave McEwen. Together they welcomed two beautiful boys, Ezekiel and Lazarus into the world. She was so excited and proud to be a mom. She was a dedicated wife and mother for the next 8 years to both her children and supported Dave while he attended Montana Tech and The University of Montana while getting his doctorate in Physical Therapy.
Danelle was an extremely hard worker and she took great pride in the work she did. Her laughter was contagious, and we will miss hearing her giggle and seeing her beautiful smile. Danelle was a hilarious prankster, who enjoyed teasing and joking in the most wonderful ways. Danelle loved music and loved to read, especially books by her favorite author Tiffani Jenkins. 
Danelle met the love of her life, best friend, partner in crime and husband, Matt Rutz, in 2013. From that moment, the adventures began. Together they welcomed a beautiful son Samuel into the world, making Danelle one of the proudest moms of all three of her boys. Danelle and Matt also shared the love for Matt's older son, Jacob. Danelle loved when Matt would sing to her, which he often did. They worked side by side for the next 7 years for Northwest Liquidators traveling to many different locations and states. Not many couples can spend 24 hours a day together, but they could.
Danelle loved the beach, four wheeling, and talking late at night. She loved camping and especially loved anytime that was spent with family. Family meant everything to her. She was a gifted artist and loved creating things. Once she made the coolest steam punk hat for a hat making competition, which she won, hands down. She was a huge Dallas Cowboys fan and always looked forward to football season. Christmas was her most favorite holiday and she loved decorating her home. Danelle loved being spontaneous and was always ready for an adventure. She was imperfectly perfect.
Most of all, Danelle loved and cherished her boys, they meant the world to her. If you were lucky enough to be present when she gazed into her boys' faces, the pure joy would light her up. She loved playing and hanging out with them. She enjoyed bowling, swimming and having movie nights with them. She was their biggest fan when they were wrestling, and it brought her sheer joy watching and cheering them on. She was so proud of all their accomplishments and awards they won.
Danelle is survived by her loving husband, Matt Rutz; her three sons, Ezekiel and Lazarus McEwen, Samual Rutz; and stepson, Jacob Rutz. Her mother and stepfather, Mary and Ed Dinius; father, Daniel Lazzari; sisters, Nikol Lazzari, and Shayna and Alex Baker; brother, Maximus Baker; maternal grandfather, Robert Azure Sr.; nieces, Jor-eja and Maria; nephew, Chester; numerous aunts, uncles, and cousins who all dearly loved and adored her.
Danelle was preceded in death by her brother, Robbie Lazzari; grandma, Ramona Bell Azure; grandparents, Edward and Angelina Lazzari; aunt, Barbara Ann Azure; uncles, Robert Jr. and Steven Azure.
Danelle's remains are in Wayrynen-Richards Funeral Home where friends may call this (Thursday) evening after 6 o'clock. Funeral services will be conducted Friday afternoon at 3 o'clock in the Ascent Community Church, 229 N. Montana Street. Cremation will follow services. Express condolence at www.wayrynen-richards.com.
To plant a tree in memory of Danelle Lazzari as a living tribute, please visit Tribute Store.
Obituaries Newsletter
Sign up to get the most recent local obituaries delivered to your inbox.