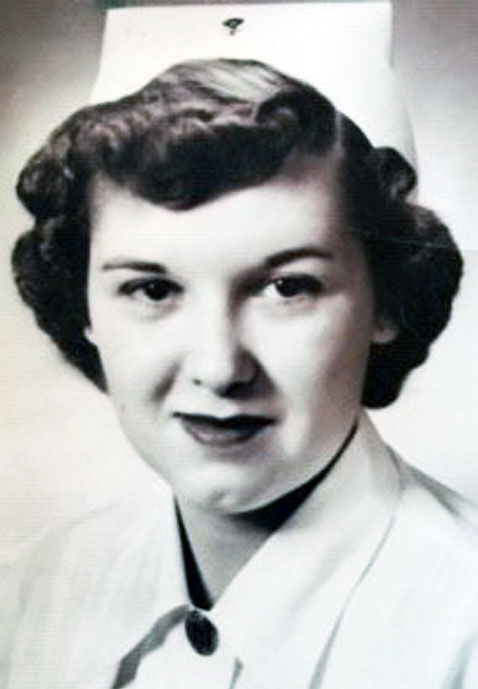 Nov. 8, 1931-July 7, 2020
Cleo Strickland was reunited with her father on July 7, 2020. She was born on November 8, 1931, in Killdeer, North Dakota, and was 88 years old when she died of natural causes. She was surrounded by family at the time of her death. 
Cleo was raised in Grassy Butte, North Dakota, then moved to Sidney, Montana, with her parents Carl and Verna Neckels in 1948. She had completed two years of high school by correspondence at that time and she graduated from Sidney High School in 1950. She attended St. Patrick Hospital Nursing School in Missoula, where she earned her nursing degree in 1954. Cleo's nursing career spanned nearly four decades. At the culmination of her career, she was the Director of Nursing, at Galen State Hospital. She led the nursing staff through multiple changes and turbulent times as the director, with many changes and employee strikes. During her tenure the hospital transitioned from a primary care hospital, to a tuberculosis ward, to a drug and alcohol treatment center. Cleo was known for her witty sense of humor, exceptional work ethic, and compassionate care and leadership for all she served. She retired in 1993, when the hospital closed.
Cleo was very proud to have been the Director of Nursing at Galen, but was more proud of her kids and grandkids. She never missed an activity that they participated in, from little guy wrestling to college football and basketball. She loved hosting family gatherings, holiday dinners, and late night breakfasts at the ranch. In the Deer Lodge Valley, Cleo had the reputation of being the person that anyone could call if and when they needed help. Cleo also enjoyed her flowers. She and Bob planted and cared for dozens of flower baskets annually! At their Arizona home (Bob and Cleo were snowbirds) she kept Bob and his buddies, Reggie and Fred, stocked up with fresh baked goods daily; that is when she wasn't busy with her slightly overweight (nearly 35 pound) cat, Kibbles. 
During her later years, Cleo suffered from dementia, yet still maintained her sense of humor. The staff at the Renaissance Care Center and the nurses with Barrett Home Healthcare repeatedly reported that Cleo was one of their "all time" favorite residents/patients.
On October 25, 1954, Cleo married Bob Strickland from Deer Lodge.  Together they had five children. Cleo was preceded in death by her parents, Carl and Verna Neckels; her husband, JR "Bob" Strickland; and her son, Robert Keith Strickland. She is survived by her brothers, Cecil (Eva) Neckels, John (Carolyn) Neckels, and Howard (Jarita) Neckels; her children, Lynnette (Fred) Sorenson, John Strickland, Debi (Russ) Richardson, and Carla (Wade) Anderson; her grandchildren, Lacey Green-Fields, Lynsey Green, Shaun Strickland, Keith Strickland, Alicia Eckman, Karl Richardson, James Richardson, Winston Anderson, and Cord Anderson. She is also survived by her nine great-grandchildren; numerous cousins; her late husband's extended Strickland family; and many nieces and nephews. 
A private memorial service for the immediate family will be held at Hillcrest Cemetery in Deer Lodge on August 8 at 1 p.m. A celebration of her life will be held at a later date. The family wishes to extend our sincere thanks and appreciation to the staff at the Renaissance Care Center in Dillon, the nurses at Barrett Home Healthcare, and Dr. Megan Evans at Dillon Community Health. In lieu of flowers, memorials are encouraged to support students pursuing nursing education in Montana. 
Obituaries Newsletter
Sign up to get the most recent local obituaries delivered to your inbox.