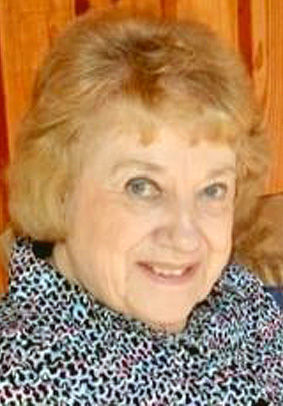 Aug. 5, 1936-Aug. 2, 2020
Ann Jean (Belanger) Petersen, 83, of Kalispell, Montana, passed away peacefully surrounded by her loving family on August 2, three days short of her 84th birthday. Ann Jean was born in Butte, Montana, on August 5, 1936, to Louis and Florence (Mack) Belanger. She attended St. Patrick's Grade School, graduated from Girls' Central High School - Class of 1954, and was proud to be born and raised in Butte.
Ann Jean enjoyed the outdoors and loved camping with her family. She had a wonderful fondness for animals, and was known for taking them in, much to the chagrin of her parents. After graduation from high school, Ann worked for Mountain Bell. She then went to work for Miners Bank of Montana for 11 years, before returning to work for US West, where she retired in 1996. During the early years at Mountain Bell, Ann worked as an operator, and a dispatcher, before she found her home in the repair department. Ann enjoyed the tough, physical work and camaraderie of the garage. After retiring Ann did volunteer work and had some part time jobs where she made some wonderful friends. Ann cherished her friendships over the years. She was always the person to help someone in need and take time to care for others. She felt truly fortunate to have such a close group of great friends throughout her life.
Ann married Donald Petersen. She was proud of her family, and raised two wonderful sons, Daniel and Eric, initially in Butte, before moving to Billings in 1982. Throughout her life, she enjoyed bingo, keno, reading, and flowers. Ann bowled for many years and was on several leagues. Ann was a dog lover, always had a pup or two to love. She valued her wonderful neighbors in Billings and truly appreciated their friendship and support over the decades. In 2014, Ann moved to Kalispell to be near her two grandsons and watch them grow. Ann enjoyed going to their school activities, hanging their artwork, listening to them learn to read to her, and spending time with them in the outdoors.
Ann Jean is preceded in death by her parents, Louis and Flo; Rev. Leo J Belanger SJ; Leo (Teresa) Mack; her great friend, Joe Schultz; and younger brother, Ed Belanger, this past April. She is survived by her sons, Daniel Petersen of Billings, and Eric (Elisha) Belanger, and their sons, Benjamin and Nathan of Kalispell; her brother, Leo (Evelyn) Belanger, and their children, Lisa (Randy) Pedersen of Butte, Jaie (Jamie) Belanger of Butte, Toni (Eddie) DiDomenico of Phoenix and Jodi (Cord) Kountz of Whitehall, and their families. She is also survived by her Brother Ed's wife, Sharon Belanger of Butte. Ann Jean was a wonderful mother, daughter, sister, aunt, niece and friend. She will be truly missed by those lucky enough to know her and will forever be in our memories.
A Celebration of Life for both Ann Jean and her brother Ed will take place at a later date to be determined. In lieu of flowers, please give to Our Lady of the Rockies in Butte, Montana, or your local Humane Society.
Obituaries Newsletter
Sign up to get the most recent local obituaries delivered to your inbox.