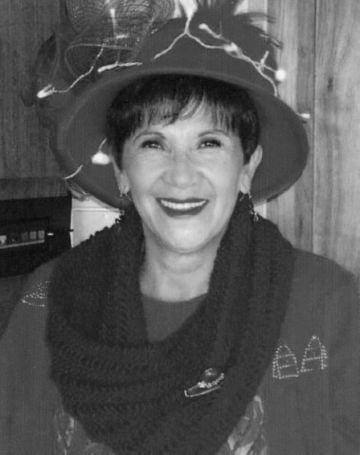 March 28, 1952-Nov. 15, 2020
Agapita M. 'Aggie' Cooney, our beautiful loving angel who was so kind, generous, and selfless, has been called home to stand by her holy savior in the lights of heaven. Agapita M. "Aggie" Cooney passed away Sunday morning, Nov. 15, 2020, at her home in Butte. She was born in Butte, Friday, March 28, 1952, to Joe and Agapita Acebedo.
Aggie attended Butte schools including Butte High. She worked at St. James Hospital for several years. She was united in marriage with the love of her life, Walt Cooney, on Dec. 20, 1988, in Las Vegas, Nevada. Together Walt and Aggie owned and operated Cooney's Locksmith and Security Service until their joint retirement. For several years Aggie and Walt enjoyed wintering in Yuma, Arizona. Aggie selflessly and passionately dedicated herself to several causes over the years including the Red Hats Society. She dedicated countless hours to Butte's Alanon, Alateen programs and most recently, she had been taking care of feral cats in her neighborhood.
Sewing was a passion she always had and she put it to good use making blankets for the Arizona Highway Patrol to hand out when people needed them. The sheer beauty of her soul was not lost on anyone she met, always taking the time to talk and help in any way possible. With her infectious smile and huge laugh, she always brightened any room she entered. She worked hard and loved even harder. All who knew her are better for having her in their life. She will be greatly missed by all who knew and relied on her.
She is survived by her husband, Walt Cooney; her sons and daughters-in-law, John and Michelle Selfors, Darien and Latasha Selfors and Paul and Shanna Selfors; Walt's children, Shelly and Bill Cunneen, Shawn and Sandy Cooney and Scot and Tracy Cooney; 16 grandchildren; and 11 great-grandchildren. She is also survived by her sisters and brothers-in-law, Cindy and Dave Lammi, Pat and Chris Obenauer, Lynann and Doug Stordahl, Leeann and Steve Steinbrook; and brother, Joe Acebedo. Also surviving is her brother and sister in-law, Don and Anne Leuty.
Cremation has taken place. Memorial services are pending but due to the COVID-19 pandemic, only immediate family will be able to attend the services. If you wish to express condolences you can do so at www.wayrynen-richards.com.
In lieu of flowers please make a donation to your local animal shelter or humane society in Aggie's name.
Obituaries Newsletter
Sign up to get the most recent local obituaries delivered to your inbox.