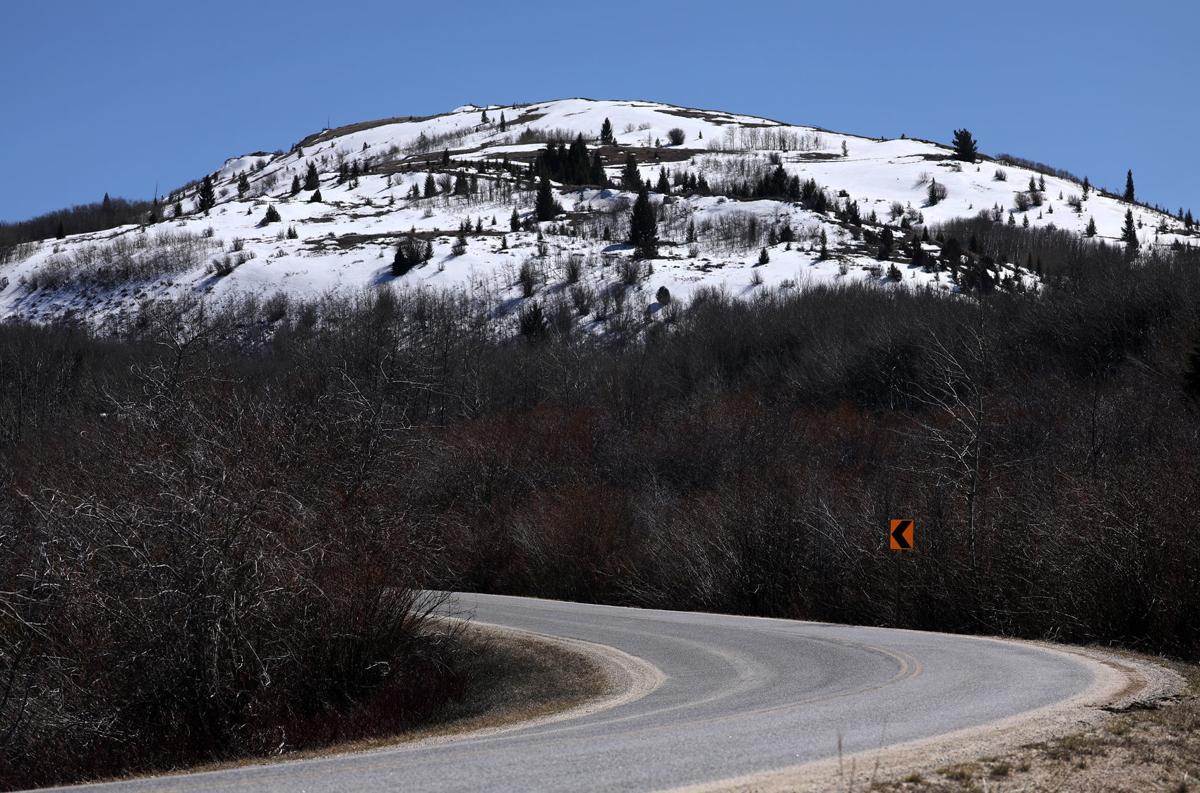 There's a 4.5-mile stretch of Highway 569 between Anaconda and the Big Hole River that has steep, tight curves and rough roads where frost-heaves and knee-deep pot holes leave their marks year after year.
But Anaconda-Deer Lodge County officials say the most "haunting icon" representing that stretch of two-lane 569, also called Mill Creek Road or Mill Creek Highway, is a cluster of white crosses marking the locations of fatal car crashes.
The county is hoping to land a $12 million federal grant to straighten out the "S" curves, put in hydraulic controls and reconstruct what is now a mosaic of asphalt overlay, pavement and gravel from Clear Creek to the top of Mill Creek Pass.
There are five white crosses in that one stretch, which starts after about 6.5 miles heading southwest from Highway 1 near Anaconda. Officials say there have been 11 crashes in that section in recent years, including seven rollovers.
"The roads conditions are compounded by natural hazards common on high-mountain passes," a project summary says. "Heavy winter snowfall, wet pavement in the spring, wildlife and poor visibility add up to make this a short but dangerous stretch of road."
Bill Everett, chief executive in Anaconda-Deer Lodge County, said the stretch is simply "horrible."
He says the entire 22-mile road from near Anaconda to Highway 43 is a lifeline to medical care and other essential services for about 2,500 residents in the Big Hole Valley, and also serves ranchers and loggers.
The surrounding area is almost entirely federal land, he says, but the county handles maintenance and repairs and is "stretched to the limit of its abilities" without a rebuild of that 4.5 mile stretch.
About $30 million in mostly federal money has gone toward repaving and improving much of Mill Creek Road over the past decade, including $13 million for "brand new road" along a four-mile stretch two years ago, Everett said.
But the most treacherous stretch remains unfixed, county officials say, and it's at risk of becoming impassable if not reconstructed soon.
The county is seeking the $12 million through the U.S. Department of Transportation's BUILD program, which in November doled out $900 million to projects in 34 states that support roads, bridges, transit, rail and ports.
It's a highly competitive program that drew more than 40 applications from Montana alone last year, including one for Mill Creek Road and a $7.7 million request from Butte-Silver Bow to establish additional rail extensions through its industrial park. Both counties made personal pitches for their proposals.
But the only grant awarded in Montana was $13 million for Missoula to build new roads and make intersection improvements in an area near its airport.
"We believe we were the third highest-rated project in the state so we are moving higher up," Everett said Tuesday, adding that the program is placing greater emphasis on rural projects this year.
If commissioners give Everett an OK this Friday, the county will submit its new application soon with a pledge to provide a local match of $500,000.
Mill Creek Road was originally a state highway before the state of Montana and the county made a trade. The state took over maintenance of a two-lane highway between Anaconda and Galen in exchange for the county taking on Mill Creek Road.
But when the Anaconda Company's smelter operations stopped in the early 1980s, the county was left with a dwindling population that is now about 8,900 people.
"The number of miles we are responsible for is huge … and 68 percent of our community is living below the poverty line," Everett says in the application summary. "It's a lofty goal for us to maintain our own rural routes, let alone routes that are access roads."
Primary travelers on Mill Creek Road are those accessing federal lands to hike, fish, hunt, cross-country ski and mountain bike, and people from Wisdom, Wise River and other places heading to Anaconda's grocery stores, hospital, banks, post office and other services.
Wayne Wendt, the county's road superintendent, says there is a higher need than ever to maintain the road.
"You'd never see anybody in the winter time," he says in the summary. "That's not the case now. That's heavily used in the winter."
The entire stretch would be repaved and parts would be straightened and widened with shoulders added to curb potential for crashes. That requires considerable excavation and fill material.
Slopes will be corrected or minimized to prevent rollovers and give people a chance to drive back onto the road in case of slide-offs. Guardrails will be installed.
Hydraulic improvements, including new culverts, will be made to address numerous water problems. The stretch runs next to Mill Creek and several streams and is heavily damaged by stormwater, spring runoff, frost-heaves and sheet flow.
Safety signage will be added to include speed limits, chevrons on major curves, advance notice of curves and wildlife crossings, flashing signs will be used if necessary and rumble strips could be added.
Applications must be submitted by May 18 and grants must be awarded by Sept. 15.
Get local news delivered to your inbox!
Subscribe to our Daily Headlines newsletter.