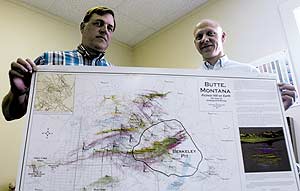 Want to see which mines shafts run deep beneath your house? Or where, exactly, your grandfather worked underground? Or even if your planned garage addition will end up as rubble in a long forgotten mine tunnel?
Then Montana Bureau of Mines and Geology has the map for you.
The bureau's latest offering charts the thousands of underground shafts honeycombing the Butte Hill, culled from the record books and maps of the Anaconda Co. and color coded by depth. The map also shows the locations of the area's 74 major mines, including the location of both existing and former headframes. The shafts reach as deep as 5,100 feet — almost a mile — below the surface.
On a practical level, the map and computer database are helpful for issues ranging from groundwater planning to possible subsidence concerns. On a purely fun level, it allows people interested in Butte history to finally "see" beneath the ground's surface where men and mules labored long hours mining copper, zinc, gold, silver, manganese and molybdenum.
"The first thing everyone does is try to find their house and see what's under it," said hydrologist Ted Duaime, who created the map along with Patrick Kennelly and Paul Thale of the bureau's geographic information system office and cartographer Susan Smith.
Duaime first imagined the project more than 10 years ago and has spent bits of stolen time on it ever since. He started with just a record book that listed, but did not show, the shaft locations. Then, by pure luck, a remediation consultant for Montana Resources stumbled upon the Anaconda Co. line maps for each level of mines and offered to share them with Duaime. That provided maps that could be scanned into computers, digitized and "stacked" on top of each other to form the multi-level map, which Thale and others jokingly call the "spaghetti map" because of the mass of overlapping mine tunnels.
The computer version is three-dimensional and can be manipulated to zoom in on a particular house or depth level for detailed research. For now, the computer version is only available by contacting the bureau for research, but there is talk of an interactive CD-Rom that also would be sold to the public, said map editor Susan Barth.
The program already has helped confirm one long-held Butte belief, though. For years the Anaconda Co. claimed to have 10,000 miles of tunnels beneath Butte's surface, but scientists like Duaime were a bit skeptical.
"People always said that, but you wonder 'is that really true?'" he said. "But now we know it is."
The 26-inch by 40-inch "Butte, Montana, Richest Hill on Earth: 100 Years of Underground Mining" map is available in the Montana Bureau of Mines and Geology's publications office in Room 200 of Main Hall on the Montana Tech campus. It's also at Books & Books, Hastings, the Butte-Silver Bow Chamber of Commerce and the World Museum of Mining in Butte. Maps can be ordered by telephone at (406) 496-4167 or online at pubsales@mtech.edu. Cost is $10, plus $4.50 for shipping.
The Butte Hill contained a world-class ore body within its 7-square-mile area, with workings extending more than one mile below ground surface.