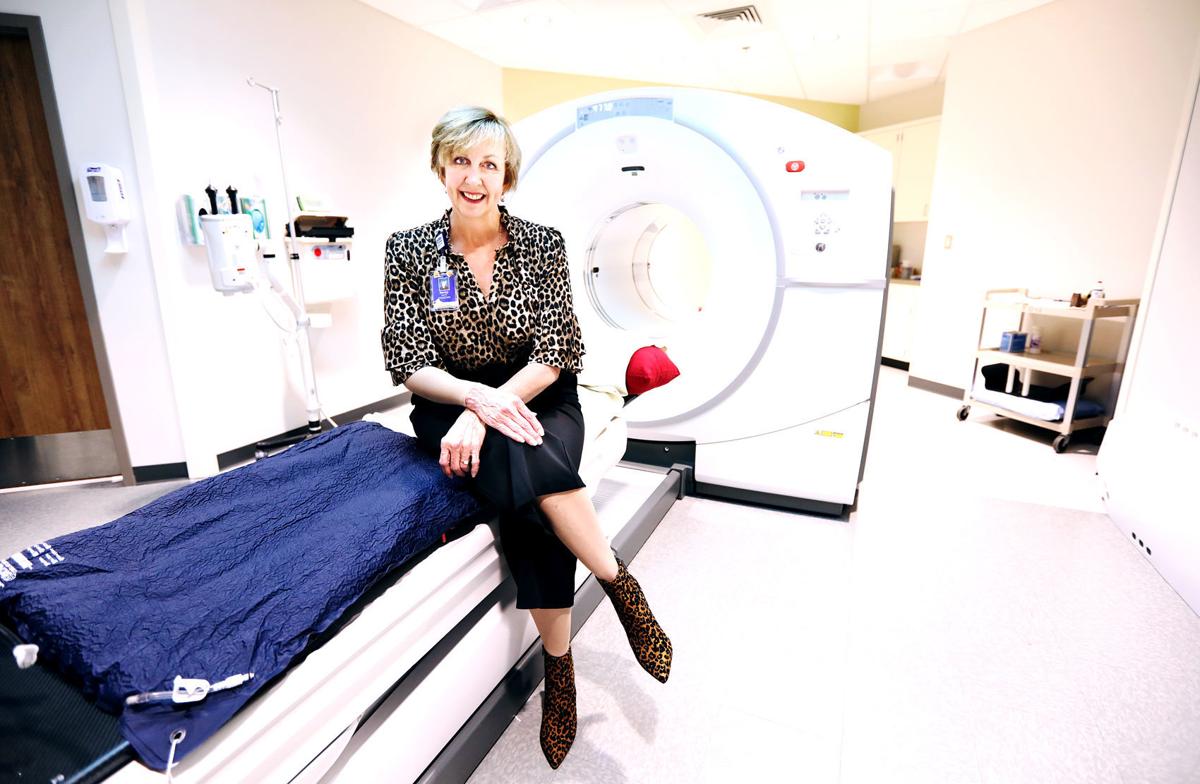 Here's a challenge, Butte: Spend 10 minutes talking to Nancy Hoyt and somehow don't come out feeling better about absolutely everything in life. (It can't be done.)
St. James Healthcare's chief nursing officer and chief operating officer stands six feet tall in her new fall footwear, truly astonishing leopard-print high heels. But that's not what you notice first. It's the smile.
It stretches clear to the eyes. And it's real.
The last thing you'd guess about her: She has cancer.
Last Christmas Eve, Hoyt, who then held a similar position at Mercy Hospital in Durango, Colorado, where she worked for 13 years, took the job in Butte. She was psyched.
This is a woman who does not let grass grow under her high heels. By New Years's Eve, she and her husband Mike Hoyt had bought a house in the Little Basin Creek Road area. "I remember being in the car and telling Mike, 'The only thing that can mess this up is my mammogram next week.'"
She was used to having one every year. She had worked with the Mercy staffers for 13 years, and she has experience as an oncology nurse. So this time she knew immediately from their reaction what the mammogram showed.
She had a biopsy in mid-January, and it was confirmed: She had breast cancer.
"Well, I'm moving in four weeks, I've got to get this done!" she said to herself. She viewed it like one more of all of the other moving-related tasks.
It was a project to be managed.
"I allotted it a certain amount of time. I was in control," she said.
Sure enough, the day after surgery, she was shoveling her driveway, drain in place. Have to get everything done right. Selling the house. Getting to Butte. Recovering from cancer surgery.
By the time she arrived in The Mining City, a town where she knew no one, had no family or friends ("It was 30 below when we got here and the new house was out of propane!"), her managed project began to develop what she terms "speed bumps."
She hadn't taken time to take care of herself. She developed a difficult post-op infection. She started radiation treatment here, under the care of Dr. Ian Gallaher, but then had to stop because of the infection. She developed a serious skin reaction. And Dr. Gallaher suggested deeper radiation treatment.
At the same time, her husband Mike got to know Dr. Nate Readal, urologist at St. James, because he needed a prostate operation.
Through it all, she was determined not to miss a day of her new job.
"Here I am meeting my new team, and I'm dealing with cancer and all this weird crap," she says with a laugh. "Oh, and I'm used to dealing with stuff by laughing about it. I'm sure people wondered."
She began chemo. "It completely messed with my hormones," she said, "and one day I'm in my car and I'm thinking, wow, this is a serious hot flash, and it's not going away, it's going on and on."
"Then I realized I had my seat warmer on," she says, with what can only be described as a belly laugh.
What she discovered, quickly, was that she was not in a town without friends.
She was in a town full of them.
"One of my mottos is 'A joyful heart is good medicine,' and I found these people were willing to laugh at me, with me," she said. "There isn't a mean person in this town, I swear. I'd heard all the Butte tough stuff. And you know what? We are."
It took her a little while to understand that she wasn't going it alone.
"Finally, Dr. Gallaher said to me, 'Nancy, we want to help you. You have to let us.'"
"I realized this is the new normal. It's not going away.
"Today is today's normal," she said. "It's all about energy and attitude."
She had a fluid buildup, so she had to wear a "Michelin Man" compression suit in the evenings. "I'd get my glass of wine, put on my suit, sit down in front of the TV and ... compress!"
She wears a compression sleeve on her right arm. She holds it up to demonstrate.
"I call this arm Buff and this arm" — she holds up her left — "Flabby." She laughs.
Now, the Cancer Center is her safe place, "I can melt into a puddle there," she says. "They asked me what music I liked, and I told them soft jazz. I scheduled my radiation appointments at the end of the day, and every time I went for treatment my soft jazz was playing. I got to lie down with a warm blanket. It was a spa day at the Cancer Center."
Nancy Hoyt was born and reared in Los Alamos, New Mexico. She studied nursing at the University of New Mexico. "I've always had this thing for the underdog," she said. "And so that meant when I looked at different kinds of nursing, I decided I wanted to take care of cancer patients."
She was hired in Bremerton, Wash., and then went to work at the Fred Hutchinson Cancer Research Center in Seattle, working with very ill patients in a new bone-marrow transplant study, "basically helping them die," she said.
She had a friend who was interested in taking the GRE exam for graduate school, and she agreed to take it with her. "Somehow I did really well," she said, "and I ended up getting my masters in nursing with a specialty in oncology."
She worked as a director in several cancer programs, including a pediatric bone marrow transplant program in Oregon. That took her into the medical administration end of things, and her career advanced from there to Mercy Hospital in Durango and then on to Butte.
She loves it here. She knows a lot about hospitals, having spent her career in them, and she's really happy to be working — and being a patient —  in this one.
"The leadership team we have is phenomenal. There's a deep sense of mission. St. James takes care of this community. That makes work meaningful. I came here to help with that, not take a job."
Her daughter moved to Montana too, to Missoula, where she's enrolled at the University of Montana. "Having her here is perhaps my best medicine," she says. "I'm so blessed."
She's getting good reports, health-wise. "I've turned a bit of a corner," she says. "Technically, I'm cancer free.
"But on some days," she says, "I realize I still have breast cancer."
She knows that this particular project will always require managing.
"Just because there's no pathology doesn't mean I don't have cancer," she says. "I have this sleeve, I still can't breathe right, I have an extra 30 pounds. It's not over. It's never over."
But she's alive and laughing.
"I told my husband, the statistics say I have an 83 percent chance of being alive in five years," she said. "I said, 'What do I do now? Wait to die?' And he said, 'Just like the rest of us.'"
She says a colleague recently told her that he and his wife were planning a "bucket list" trip for their 40th anniversary in a few years.
"Don't wait!" she said to him.
Butte, Montana, is very lucky to have Nancy Hoyt.
Get local news delivered to your inbox!
Subscribe to our Daily Headlines newsletter.