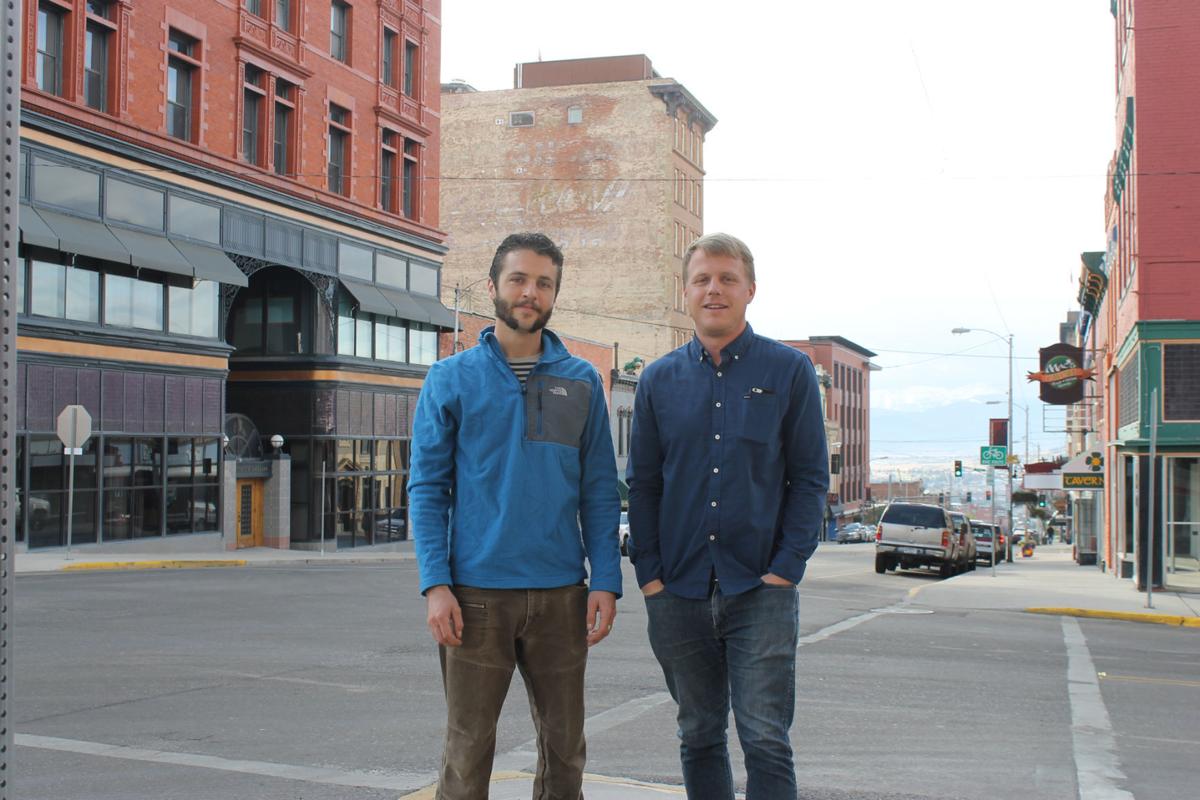 An extensive report not only identified drug and alcohol abuse as a pressing health issue in Butte-Silver Bow County, numerous health care providers and community leaders said there's a lack of counseling, support groups and treatment options to address it.
Key informants in the 2017 Butte-Silver Bow Community Health Needs Assessment didn't just characterize substance abuse as a major concern, they "later ranked it as the No. 1 health problem," Karen Sullivan, the county's health director, noted earlier this year.
But when a nonprofit group wanted to buy a house in an Uptown neighborhood in Butte and use it as a transition home for up to eight men recovering from alcohol or drug use, residents sounded off with a loud message to county commissioners: No way!
"My concern is not only the fact that my property value will decrease as no one wants to live by a steady flow of strangers with addictions and friends who meet them in the alley when they decide to 'fall off the wagon,' but for the children who do not need to be exposed to it," one resident said in an email to commissioners.
She said statistics for relapse are high, the proposed Butte SPIRIT Center would turn a large profit, an existing sober house in Butte is an unkempt eyesore and most of its residents still drink and do drugs, and there's probably a correlation between drugs and alcohol and child molestation.
Commissioner Eric Mankins, who lives in the area, is now pushing for an ordinance that would require such homes to obtain conditional use zoning permits to locate in any area with residences.
Mankins and others say it isn't solely a "not in my backyard" case. They say backers of such homes, even when certified by the state, should have to go through a zoning process and get county approval to locate in any residential zone, not just theirs.
The reaction from their neighborhood was so swift and resounding that those trying to establish the house quickly withdrew their proposal.
The co-founders of the proposed Butte SPIRIT Center are the first to acknowledge they didn't adequately explain their plans to residents beforehand. But they did follow up.
"We sent out a little information packet and an apology for our role in the fear that broke out and not being able to communicate more effectively and educate the neighbors in a timely fashion," said Sean Wisner.
He and fellow co-founder Demetrius Fassas met with some of the neighbors even though their immediate plans in that area were scrapped.
"One of the things I hoped to get out of that meeting is what is the essential information we need to bring to neighbors when we go to approach another neighborhood?" Fassas said.
They still hope to locate a recovery transitional home for up to eight men at a time somewhere in Butte, but they know the challenges, too — now more than ever.
Requiring zoning permits would put hopes and plans for any transitional homes through a public process, and the transparency could be a good thing, Wisner said.
But there's a flip side to such requirements, which by law would also have to apply to youth foster homes, certain assisted-living facilities or group homes for people who are developmentally, mentally or severely disabled.
"I'm not familiar with the process and how possible it is to get one of those, but my sense in talking with the Planning Department and realtors is that people are very emotional and vocally opposed to not only our group home but other homes being next to them," Wisner said.
"They are very vocal and the more or less voluntary commission (Zoning Board) tends to default to the bulk of neighbors who don't want them in their back yards," he said. "How do we serve this vulnerable population if we can't site homes?"
The proposal, fully explained
It's vital going forward, Fassas and Wisner say, to explain what their transitional home would be, and just as importantly, would not be.
Here's a quick overview of what they want to do:
• Establish a home where up to eight men in recovery would live, away from people and places that might have contributed to their drug or alcohol use.
• It is anticipated most residents will come from local treatment centers and the Department of Corrections and most would be low-income, but all must be invested in recovery. SPIRIT stands for Silver Bow Persons Invested in Recovery and Inner Transformation.
• There would be a manager living at the home who would enforce a curfew and code of conduct, including no drugs or alcohol, and a licensed addictions counselor would come each day to work with residents.
• The home would provide a supportive, drug-and-alcohol-free living environment and applicants would be rigorously screened to ensure that residents are invested in their recovery.
• Residents must engage in four recovery-related activities each week, including attending outpatient treatment, and must submit to random drug-testing and breathalyzers.
• Counseling and case management would be provided to residents and the aim is to make 12-step and other related activities available on site.
What they wouldn't allow is sex offenders or those with a history of violence, Wisner and Fassas say.
"A big part of the communication problem was that we would be admitting sex offenders and violent offenders. We wouldn't," Fassas said.
The screening process would include comprehensive background checks and interviews by a panel including at least one member of the SPIRIT Center board, a licensed addictions counselor, the house manager and the current residents.
The interviews, Fassas said, would "weed out any BS and make sure these people are not just playing the game and doing the next step to get back to whatever it is they do."
Including current residents in the interviews was essential, he said.
"It gives them some stake and some say in who they are inviting into their home and who they are going to be practicing recovery with," Fassas said. "You have to be selective about people, places and things.
"Part of that is giving people the ability to say, 'Is this person going to be good for my recovery?' That is going to be an important life skill going forward."
What it also isn't, they say, is a fly-by-night operation looking to make big money.
It has IRS non-profit organizational status and an established board of directors who include people with expertise in sober and transitional living, addictions counseling, social work, grant-writing and non-profit administration, real estate and public health administration.
The group has raised more than $215,000 to get started, including $110,000 in commitments from board members, a $50,000 low-interest loan, a $15,000 grant from the Montana Health Care Foundation, a $15,000 grant from the Dennis and Phyllis Washington Foundation and $1,400 in donations from Butte businesses.
Legal matters
The group is currently seeking state certification as a licensed community residential facility. If it gets it in Butte-Silver Bow now, it could locate in any residential district without zoning approval. Some licensed facilities exist in Butte now.
But there's nothing prohibiting cities and counties in Montana from requiring such homes, including the proposed SPIRIT Center, to obtain conditional use permits before locating in residential zones.
According to the county planning staff, Kalispell requires them to get conditional permits. Billings, Bozeman, Great Falls, Helena and Missoula do not.
Zoning officials look at a set of 20 criteria when evaluating permit requests, including the location, character and features of the property and adjoining structures, proposed fencing and landscaping, parking access and public safety and health.
Mankins and many who live near him want to require conditional use permits. He has acknowledged the need for transitional recovery homes in Butte but says they shouldn't be located in residential neighborhoods or near schools.
Commissioners would have to approve an ordinance requiring such permits, and to conform to state law, it's not just recovery homes that would need them. Group foster homes and those for the developmentally or mentally disabled, among others, would have to get them.
During a discussion before a council committee this week, Mankins likened the conditional use criteria to checks and balances that should be considered for all such homes. But others suggested it wasn't that simple.
There are legal, moral and practical considerations in play and commissioners touched on many of them in just 30 minutes. Michele Shea was among them, and she later expanded on some of her points to The Montana Standard.
"It is our duty as human beings to care for the vulnerable and I don't believe all people who are recovering from additions are bad people or should be labeled as someone to be afraid of," she said.
On the other hand, she said, people's fears are real "and we all want to take care of our districts."
The committee tabled the discussion for at least two more weeks and given the issues in play and past council actions, it might take commissioners much longer to decide what to do. Shea has no problem with that.
A quick decision, she said, isn't fair to those wanting to establish such homes or residents who have concerns about them.
"We have to find a middle ground," Shea said.
In the meantime, backers of the SPIRIT Center are continuing efforts to get established and have applied for additional funding through a county Superfund Advisory and Redevelopment Trust Authority grant.
Get local news delivered to your inbox!
Subscribe to our Daily Headlines newsletter.