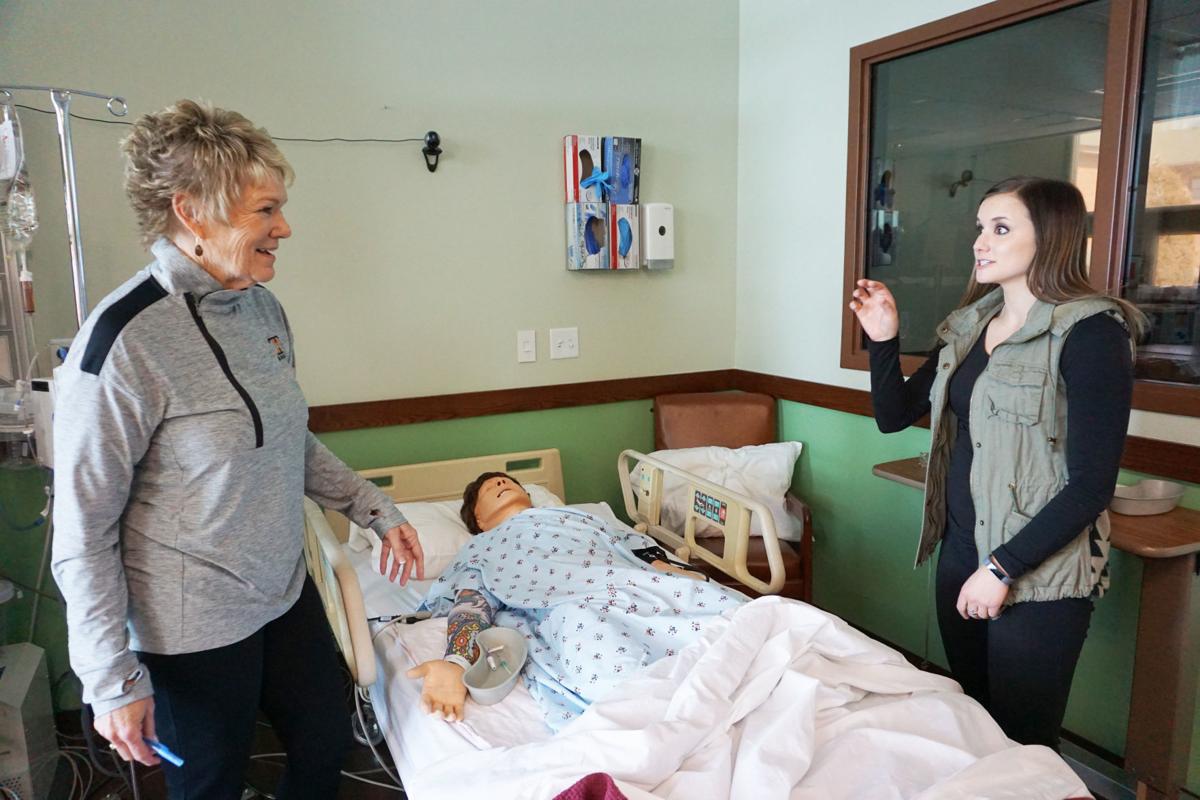 An independent organization has ranked Montana Tech's nursing program number one in the state.
RegisteredNursing.org, a company that publishes information on nursing education and the healthcare industry, looked at 12 other programs across the state and based its ranking on students' pass rate on the nursing licensure exam.
Helena College and Montana State University came in second and third, and Missoula College and Carroll College came in fourth and fifth.
Director of Nursing at Montana Tech Karen VanDaveer, who's been with the department for 29 years, says the ranking is good news for a department that has been at Tech since around the 1960s.
"I think we've worked very hard to make sure that we have a quality educational program for students," said VanDaveer. "To be ranked number one among our wonderful colleagues, that makes us proud and it makes us come to realize that other people have recognized the hard work."
The nursing program at Tech represents a significant piece of the pie when it comes to headcounts, boasting around 200 nursing and pre-nursing students.
The department offers bachelor's degrees for both pre- and post-licensure students, along with an online bachelor's completion program, which Best College Reviews ranked 19 this year in a list of top 20 online programs in the nation.
The University of Montana's Board of Regents gave the department permission in 2015 to transition its two-year associate's program into a four-year bachelor's program, and the first cohort of four-year nursing students will graduate next month.
One of those students is Helena native Erika Vosbeck.
Vosbeck didn't always want to become a nurse.
In fact, she was studying health science at Carroll College in Helena when an event happened that caused her to take a second look at what she wanted to do with her career.
"My cousin got into a motocross accident, and he got a spinal cord injury," said Vosbeck. "I went to the hospital. I don't think I exactly knew what nurses did at the time until watching what they did for my cousin. The doctors did a lot, obviously saved his life — but it was the nurses that were there 24/7."
"It was like a huge realization for me that this is what I was meant to do," Vosbeck continued.
Vosbeck said Tech is a good fit for her because she likes the faculty and their years of experience, and she also likes working with the other students.
"I couldn't get through the program without my classmates," said Vosbeck.
In the years to come Tech's nursing department intends to grow.
Plans are in the works to accept 15 to 20 additional students per year by 2019, VanDaveer said.
And when they graduate, those students could be in high demand due to an anticipated workforce shortage.
In Montana, there are 445 job openings in the health-care industry annually. And by 2020, it's anticipated that 1.1 million nurses will be needed nationwide, according to a fact sheet provided by the nursing department.
Also on the horizon for the Tech's nursing program is a new location in the Science and Engineering Building for the department's simulation labs, where students run life-like scenarios with programmable medical mannequins. The nursing department will get four new rooms for obstetric, pediatric and surgical and trauma laboratories, VanDaveer said.
VanDaveer is excited about what Butte's new rural hospital training center — the Praxis Center for Innovative Learning, which is slated to break ground on Arizona Street in 2019 — might mean for Tech students.
But the nursing director says simulation is nothing new for her students, who get debriefed by instructors and their peers after running a scenario on the mannequins, an experience that VanDaveer says can sometimes be emotional, especially if things don't go well and the mannequin dies – virtually, that is.
In addition, Tech's nursing program also boasts a "GERT" suit that can simulate mobility issues and glasses that can replicate vision impairment.
The department is also currently testing a computer program that plays audio that approximates what it's like to have a mental illness like schizophrenia.
"To say that we're into simulation is an understatement," VanDaveer said.
VanDaveer herself worked as a nurse for 10 years, and she says what she likes most about the occupation is watching patients recover.
"I loved the ability to take care of someone and see them progress from a vulnerable state to independence," said VanDaveer. "You could see that you made a difference."
Get local news delivered to your inbox!
Subscribe to our Daily Headlines newsletter.