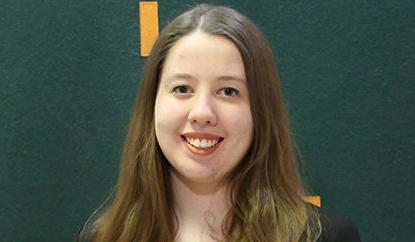 A Montana Technological University student whose personal experiences inspire her dream of being an engineer has been named a 2020 Barry Goldwater Scholar, one of the nation's top accolades for STEM students.
Kathryn Bozer, a junior from North Liberty, Iowa, will receive up to $7,500 from the Barry Goldwater Scholarship and Excellence in Education Foundation to cover the cost of tuition, fees, books and room and other expenses. 
Bozer is one of 396 sophomore and junior undergraduate students in the country to earn the prestigious scholarship this year. They were selected on the basis of academic merit from a field of 1,343 applicants nationwide.
Bozer, who's majoring in metallurgical and materials engineering, said she received the news of winning the award while she was in the middle of taking a test for a class.
"I was surprised and very thankful. I honestly didn't think I would get it," Bozer said. "I'm thankful for all those who helped me and worked hard to present me in the best light to the committee."
Bozer has been doing research on gold nanoparticles with Dr. Courtney Young, professor of metallurgical and materials engineering. Her project involves studying how a certain method can be utilized to control the size and shape in the synthesis of nanoparticles.
Struck by the beautiful complexity of metallurgy and their many uses, Bozer realized she wanted to study metallurgical and materials engineering while attending a summer camp at the South Dakota School of Mines and Technology after her eighth-grade year. There, she "fell in love" with metallurgy.
"I've always thought blacksmithing, welding, casting, etc. was cool and interesting. But it wasn't until camp that I opened up my eyes to this not-so-well-known side of engineering," she said.
Although she's only about to start her senior year, Bozer already has accomplished enough for an impressive resume. In addition to ongoing research projects, she is a co-author on a scholarly article published in 2017 and is the president of the metallurgy and materials engineering student organization, Club MET.
For now, Bozer is interning at Coeur Rochester Inc., a silver and gold mining company in Lovelock, Nevada. There, she's working on various projects and optimizing the recovery of precious metals. 
Despite all her accomplishments and experiences thus far, Bozer wasn't confident about the prospect of going to graduate school.
But receiving the Goldwater Scholarship has changed her mindset.
"It's given me more confidence in my ability to go to grad school," Bozer said. "Grad school is a goal of mine, but I wasn't sure if it was a viable option for me. So this not only helps me get through the rest of my undergrad financially but it also gives me the confidence to pursue a higher degree."
Bozer plans to pursue a master's degree in metallurgical and materials engineering at Montana Tech and then a Ph.D., either before or after working in the mining industry.
She said her dream job would be one that allows her to do hands-on work in the field, conduct research and solve problems, and doing all that on a "life-size scale."
The Barry M. Goldwater Scholarship and Excellence in Education Program was established by Congress in 1986 to honor Sen. Barry Goldwater.
The scholarship program was designed to foster and encourage outstanding students to pursue careers in the fields of mathematics, the natural sciences, and engineering. 
Tech nominated four students for the 2020 award, including Bozer, Hunter Boles, Kristopher Bosch and Frankie Johnston.
In the past 14 years, the university has received seven Goldwater scholars and five Goldwater honorable mention awards. Bozer now joins that prestigious group.