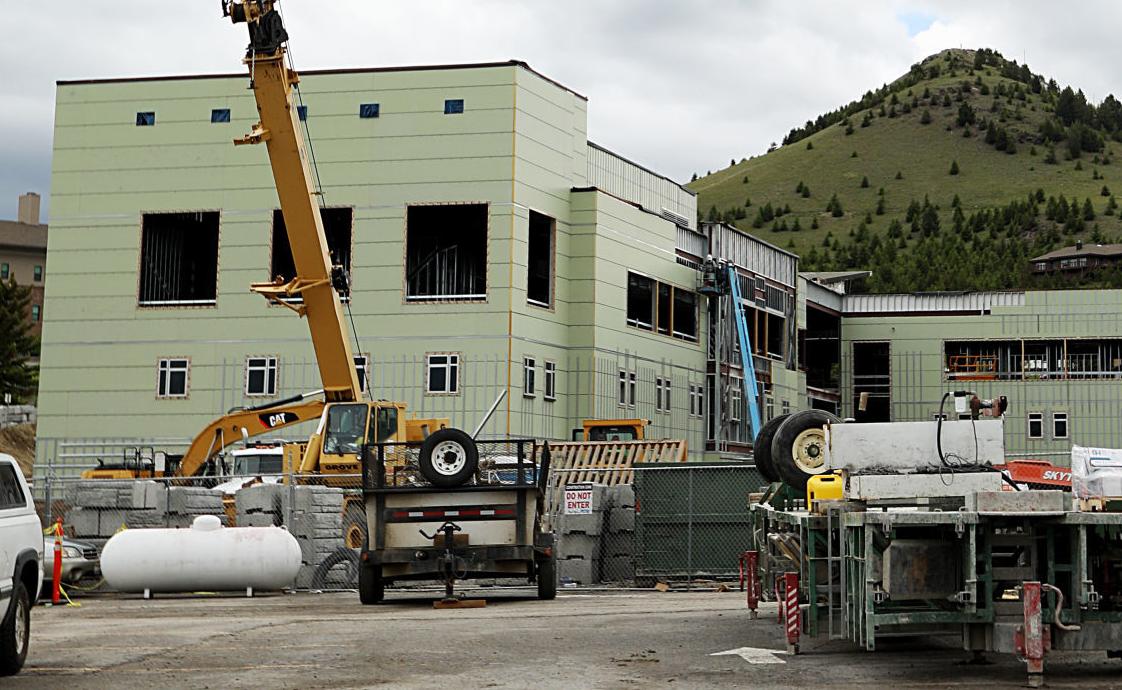 Montana Tech announced another major step toward funding its nearly $9 million Student Success Center this week, when a Kansas-based foundation donated $500,000 to the project.
And while the opening of the campus' newest building has been pushed back from early this year to this fall, Michael Barth, executive director of the Montana Tech Foundation, said some staff could begin moving into the building as early as next month and that it should be fully operational by the time students return to campus in August.
The SSC's opening after almost a decade of work will come during a transitional period at Tech.
Sandy Stash, the fourth of four finalists to succeed Tech's current chancellor, will visit campus Friday to make her case for the job in a series of interviews and public forums. Whoever is picked for the post will be tasked with turning around a four-year slide in enrollment on Tech's campus. According to recently released numbers, Tech's spring 2019 full-time enrollment is down almost 7 percent from a year ago and has dropped nearly 16 percent since 2015.
Barth said the SSC will be important on both fronts: attracting a new chancellor and attracting more students.
"Our goal with this facility is to recruit, retain and graduate," Barth said. "And I think this will help in all those areas, starting in the recruitment area."
For the most part that recruitment effort will focus on students, of course. But Barth said the SSC will also "help make this campus more attractive to our next chancellor" as they come to "campus and attend those forums and imagine themselves in this position."
As for combatting enrollment declines, Barth said the nearly 100,000-square-foot facility will serve as a "living room for the entire student population" and will provide a "great improvement in our overall campus environment."
With new space for dining, socializing, studying, tutoring and living, including two floors devoted to expanding Montana Tech's residential capacity by adding 166 dormitory beds, Barth said the SSC will "show prospective students that this is a campus that's growing and that's changing."
He said that will help bring in new students while also providing "compelling reasons for our students who don't live on campus to stay on campus between classes."
The $500,000 gift, which was given in January but only announced this week, came from the Sunderland Foundation, which is a philanthropic group started by the family that owned the Ash Grove Cement Company until selling it last year.
Both Ash Grove and the Sunderland Foundation are based in Overland Park, Kansas, and last year alone the foundation donated some $48 million to colleges and educational organizations, according to the foundation's website. 
Since it was established in 1945, the Sunderland Foundation has focused on supporting brick and mortar projects, awarding grants to nonprofits in areas where the Ash Grove Cement Company traditionally does business. Ash Grove has a plant in Montana City that employs and recruits Tech graduates, according to Kent Sunderland, president and trustee of the foundation.
The gift will fund the creation of the Sunderland Foundation Computer Center.
With the infusion of another half-million dollars, the Montana Tech Foundation is only about $700,000 away from reaching its goal of raising $8.9 million of private money to pay for the entire project.
In a release, Sunderland explained the foundation's reason for giving to the SSC: "We believe the new Center will enhance the campus and provide an outstanding working space for students."
Barth shares that vision for the new center, and he said it fits in with a broader tide of transition at Tech.
"Change is a constant," Barth said. "We're excited about what lies ahead."
Get local news delivered to your inbox!
Subscribe to our Daily Headlines newsletter.