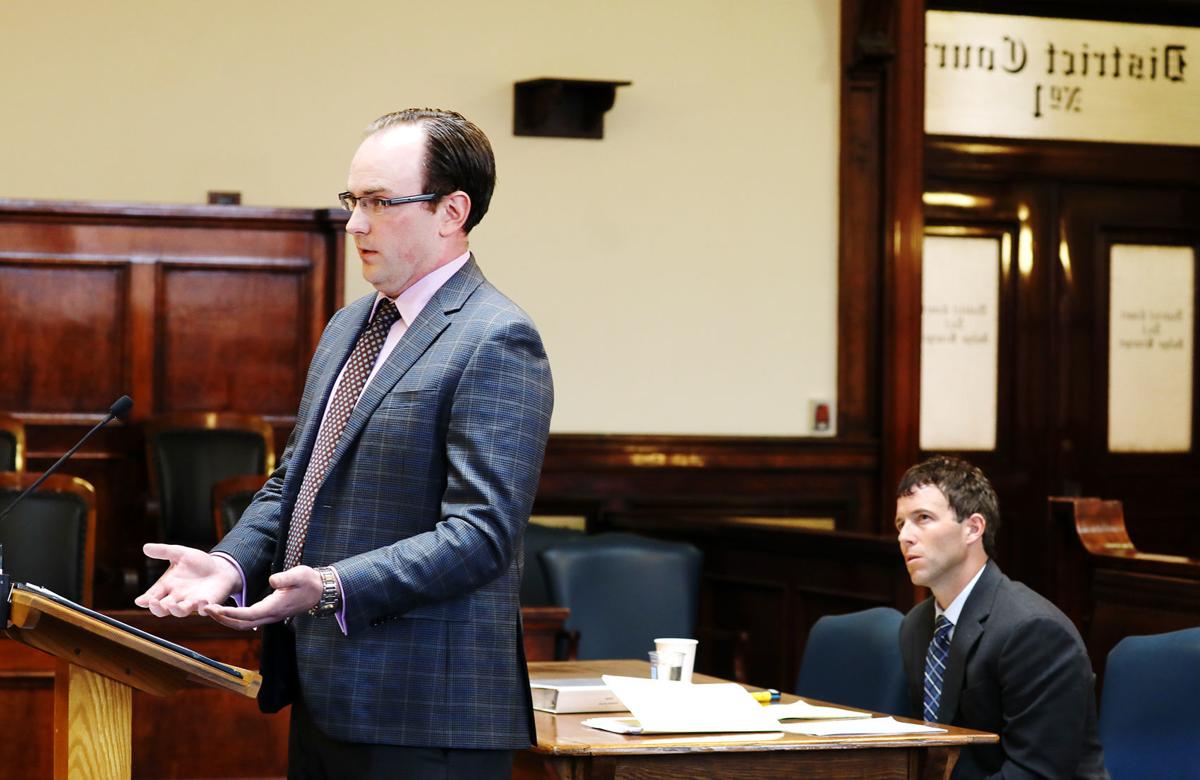 Eyebrow-raising allegations that became a part of 11 malpractice lawsuits against Braun in the late 1990s are not hard to find. After Braun's legal challenges, the media reported heavily on his Multiple Personality Disorder diagnosis, and the former patients' claims that under Braun's care, they had come to believe they were members of a satanic cult.  NBC's Dateline and PBS' Frontline both devoted one-hour shows to Braun's controversial methods in the late 1990s. Other major outlets, such as The New York Times, The Chicago Tribune and The Associated Press, wrote stories.
Braun, who now lives and practices in Butte, made the news again after he moved to Montana. He was hired by Helena's Shodair Children Hospital. Workers claimed Braun was practicing medicine without a license. The ensuing investigation found no wrongdoing, according to The Helena Independent Record at the time.
But according to Rehbein's complaint, Braun was terminated by the hospital. Hospital spokesperson Alana Listoe could neither confirm nor deny that, citing personnel privacy laws.
Rehbein's complaint states that the board licensed Braun "despite knowledge it gained or should have gained," about Braun's professional past.
And according to Braun's application for licensure in Montana, there's no question the board knew about his history, at least from his own words, when it licensed him.
He revealed his Illinois troubles on his 89-page application to the board in 2002.
Braun reported on his application 17 years ago that he voluntarily surrendered hospital privileges in Illinois, that legal action had been filed against him and that he gave up the privilege to prescribe or dispense drugs during his previous practice.
Both Braun and at least one of his references suggest his problems with the women who sued him stemmed from a smear campaign by a particular organization, the False Memory Foundation, based out of Pennsylvania.
The False Memory Foundation is a nonprofit that questions recovered memory therapy, which gained popularity in the 1980s and 1990s. The Illinois-Wisconsin chapter devotes a web page to Braun.
Pamela Freyd, executive director of FMS, said in writing that her organization did not contribute financially to any lawsuit. She said her organization's interest in Braun amounted to sharing information about the allegations against him from his Illinois lawsuits.
Braun's application included letters of recommendation from doctors in prestigious positions who minimized his previous problems by praising him and saying things such as that he stopped practicing in Illinois because he could no longer carry medical malpractice insurance or that he "has exceptional skills." At least one of those recommending him made it appear that Braun was the one victimized by his former patients.
"Unfortunately, Dr. Braun's commitment saw him take on many extremely…disturbed patients (who others would refuse to treat) and a couple sued him. This in no way takes away from the gains made by the overwhelming majority of patients," wrote Dr. Colin Cameron, the then acting clinical director of the mood disorders program at the Royal Ottawa Hospital in Ontario, Canada.
A call to Cameron was not returned.
Braun's insurance company settled out of court against his wishes, according to his application.
The application contains a statement from Braun's attorney at the time, who wrote that Braun's insurance provider settled because it was financially advantageous for it to do so and that the insurance provider's attorney was inexperienced.
Erin Loranger, public information officer for the Department of Labor and Industry, which oversees the board, said that Braun's application included the Illinois Department of Professional Regulation Stipulation and Recommendation for Settlement and Illinois Medical Disciplinary Board's Order approving the settlement in 1999.
"These documents set out the allegations raised and the agreed disciplinary terms of the Illinois board's case," Loranger wrote in an email. "Also included in the application is information regarding Dr. Braun's dispute with his medical negligence insurance carrier about settlements made on his behalf in the underlying malpractice suits."
The Illinois settlement document states that Braun could have refuted the board's charges but due to his plans and circumstances, he was choosing to resolve the matter without protracted litigation. Elsewhere in his application, his lawyer at the time wrote that the most expensive settlement cost Braun his health and career and "because of his physical condition and total lack of funds," Braun chose not to fight. But he also admitted no wrong doing.
Braun's application also lists the financial settlements as considerably lower than what the media reported. Braun declined, through his lawyer, to be interviewed, citing the pending litigation. Since he was not available for comment, the discrepancy is unclear.
What the board may not have known
What the application did not tell the board is that the settlements Braun mentioned were with multiple women who alleged that he convinced them through hypnosis and high dosages of drugs that they were high priestesses of a global satanic cult, were molesting children and cannibalizing people, according to legal documents.
One former patient screams and moans while surrounded by a team of hospital workers. The incident can be seen on the "Frontline" episode about Braun's former therapy in Illinois.
Another former patient claimed Braun convinced her she had gained weight because she had eaten thousands of humans, according to "The Chicago Sun-Times." That same patient brought meat from her parents' barbecue to have it tested for human remains while under Braun's care in Illinois, according to legal documents.
That former patient tried to kill herself twice, according to the legal record. She sued Braun in the late 1990s and settled for $10.6 million — at the time the largest settlement of its kind in Illinois, according to multiple media stories.
Another former female patient reported she had a tubal ligation while under Braun's care because she believed she was a "breeder" for a satanic cult. According to the court record, the woman had never given birth. That patient sued Braun and settled for $7.5 million in 2004, according to multiple media stories. That case was still pending when Braun sought licensure in Montana.
Another former patient of Braun's underwent an abortion because she believed her baby would be sacrificed by the cult if she gave birth, the legal documents state.
Richard Ofshe, professor emeritus at the University of California-Berkeley, said from his Paris apartment last month that using recovered memory therapy, patients were led "to fantasize they had spent parts of their childhood as participants in satanic cults killing and eating babies." 
"It's a fantasy cultivated by the practitioner," Ofshe said.
Ofshe wrote a book about the theory in 1996 called "Making Monsters: False Memories, Psychotherapy, and Sexual Hysteria." He questioned the ethics of the therapy in his book and noted that the patients were mostly women.
What was the board privy to?
Besides the heavy press coverage Braun's disgraced Illinois practice garnered, the Montana Board of Medical Examiners had access to an online database set up in 1986 so states could share information about bad doctors. (See related story.)
State boards have access to the National Practitioner's Data Bank, established by the U.S. Department of Health and Human Services, but the public does not, Lisa McGiffert, a volunteer with the patient advocacy group, Patient Safety Action Network, said from her Texas office.
According to documents connected to Braun's application, the Montana medical examiners did do a background check through the National Practitioner's Data Bank. 
Before sending The Montana Standard a copy of documents related to Braun's application for licensure, the state redacted the data bank's information, because under law, it is private. But Loranger said nothing in Braun's application was out of order.
According to Rehbein's complaint, Braun had violated the terms of his probation in Illinois around 2000. But, based on his application to practice medicine in Montana, it appears he had cleared up his problems in Illinois by 2002.
"Dr. Braun's Illinois license was active when he applied in Montana. His Illinois license was automatically reinstated in 2001 after a two-year suspension, and he was compliant with the Illinois board's order," Loranger said in writing.
Montana's board is made up of 13 members, Loranger said.
A legal statute requires five members of the board to have a medical degree. The other eight must include an emergency medical expert, a doctor of osteopathy, a podiatrist, a nutritionist, a physician assistant, an acupuncturist, one volunteer emergency medical technician and two general members of the public.
The board members are appointed by the governor and receive Senate confirmation.
McGiffert said overall, state medical boards tend to be friendly toward the doctors applying for a license.
"They're made up of physicians and they're very sympathetic to other physicians. There is almost too much empathy for the people being complained about. And most of them are pretty secretive," McGiffert said.
McGiffert authored a report in 2016 for Consumer Reports, a consumer protection agency, that ranked Montana as "one of the lowest" in the nation for failing to provide easy access to disciplinary records of doctors licensed to practice in the Treasure State.
Loranger said she could not comment on the report because she couldn't find the full criteria analyzed to understand the report's scoring.
But Montana's board scored 26 out of 100 for a lack of transparency and a lack of ease in finding information about a doctor on the board's website, said Consumer Reports. 
This isn't the first time the Board of Medical Examiners has been sued for licensing an alleged bad doctor. Loranger said the Department of Labor and Industry is aware of two previous instances and in both cases, the board made the same basic argument it's making now — that it is immune from lawsuit based on judicial precedent.
One of those cases involved a doctor who got licensed in Montana in 1999 despite other state boards revoking or suspending his license. A complaint filed in Lewis and Clark County in 1999 alleged that due to that doctor's negligent care, a Montana man died.
The case went to the Montana Supreme Court, which upheld the judicial rule preventing the board from being sued.
It's not uncommon for a doctor who loses a license in one state for medical malpractice to move to another and get licensed in a separate state, McGiffert said.
"Bad doctors do move around," McGiffert said.