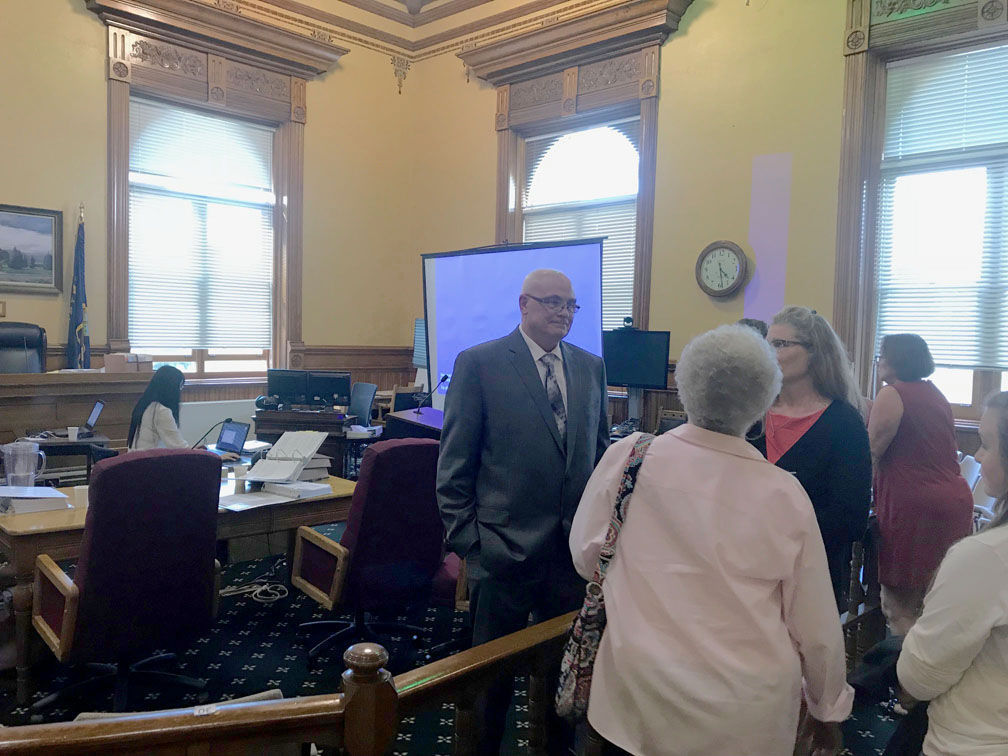 BOULDER — A Jefferson County jury heard opening arguments Monday about a man's claims that Wells Fargo Bank foreclosed on his house in Whitehall while he was in Alaska, changed the locks, and took possession when it was the wrong house all along.
An attorney for Wells Fargo acknowledged to jurors that the bank sent an agent inspector inside the wrong house but says it was an honest mistake, nothing was taken or damaged, and Kevin Moore's demands for damages were out of line.
The evidence, Wells Fargo attorney Kenneth Lay said, was "not going to support mental anguish to the tune of $100,000."
The trial before District Judge Luke Berger is expected to last several days. A company that sent an inspector inside the house on the bank's directions reached a private settlement with Moore before trial.
Moore bought the house in 1995 and was a special education teacher in Whitehall for 17 years before taking a teaching job in Alaska. He rented a house in Alaska but kept the one in Whitehall so he and his family could use it while in Montana.
He says Wells Fargo took control of his house at 32 Rocky Mountain Drive in Whitehall starting in May 2014 instead of the one it intended to seize at 34 Rocky Mountain Drive next door.
He claims an agent for the bank broke inside his house, changed the locks, rummaged through his belongings, took hundreds of photos of them, and left the place ransacked while he was in Alaska.
At some point over a period of months, Moore says, numerous items turned up missing, including a prized baseball card collection, silver dollars his grandfather had given him, and box of jerseys signed by hockey great Wayne Gretzky.
He wants $65,000 for lost or damaged items, $100,000 for emotional distress and anguish, $3,000 for expenses to fly down and check on the house, and unnamed punitive damages to punish the bank.
Frederick Sherwood, Moore's attorney, told jurors that Moore's daughter visited the home with two friends in December 2014 and found a foreclosure notice on the door. They went inside briefly, but she was humiliated and too ashamed to call her father immediately, he said.
The bank's agent had gone into the home at least four times before a neighbor notified Moore about it in late December 2014. The owners of the house that was actually being foreclosed on also called the bank about the error, Moore claims.
Then Moore called the bank in early January 2015, told them they had the wrong house, and later flew back to check on it himself and change the locks again. Things had been ransacked, Sherwood said.
"When he saw the inside of his house, he cried," Sherwood said, removing his glasses and pausing for several seconds before speaking again.
Even after Wells Fargo had been told it had the wrong house, Sherwood said, it had an agent visit the home at least two more times. And before Moore flew back to Montana, he was "only getting a couple of hours of sleep each night because of the stress," Sherwood said.
"To this day, Wells Fargo has never apologized to Kevin Moore," Sherwood said.
Lay acknowledged that the agent visited the house four times based on an erroneous address and Wells Fargo was sorry for that. But he said the bank had gotten the address from property records the county had listed on the internet that mortgage agents use often.
He said Moore visited the house in June 2014, when a foreclosure notice was taped to the front door in plain sight, and said nothing to neighbors or the bank then. The notice of a trustee sale itself had the address of the correct house and its occupants, not Moore's name and address, he said.
Nobody ransacked the house, Lay said, and anything that had been moved around occurred the night Moore's daughter visited.
Moore's request for $3,000 for flying back to Montana was reasonable, Lay said, but his other specific monetary demands were not because they nearly equaled the value of the house.
And there was no basis for the unspecified punitive damages, he said, because the bank's error was not malicious or intentional and nobody had ever mistrusted Moore or "shunned him" because of the mistake.
During jury selection, several potential jurors were dismissed from duty after acknowledging they had a poor impression of banks in general and Wells Fargo in particular.
A few of them cited the fake-accounts scandal that led to a class-action lawsuit against the banking giant, which agreed to pay $480 million to settle earlier this year.
One woman told a Wells Fargo attorney that he "would have an uphill battle" persuading her to take the bank's side in the case no matter what.
 "You will have to be really good," she said before being dismissed.
Get local news delivered to your inbox!
Subscribe to our Daily Headlines newsletter.