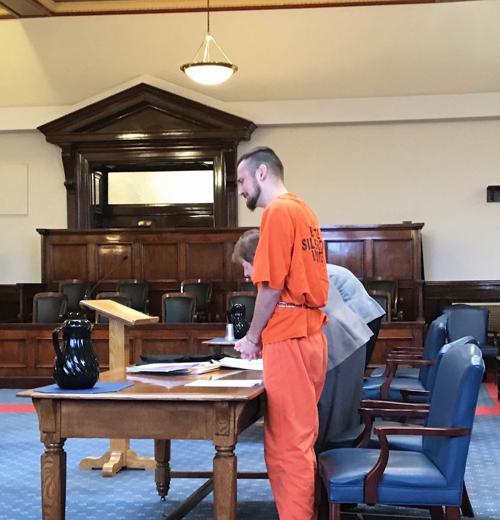 Saying he had given his 5-week-old son a "life sentence" of disabilities, a judge sentenced a Butte man to 15 years at the Montana State Prison on Thursday for shaking the infant and causing severe brain injuries.
Austin Blair Johnson, 27, wept silently as District Judge Kurt Krueger explained his decision in what prosecutors called "a very difficult case" with tragic consequences.
At one point, Johnson looked at the courtroom ceiling, struggling to keep composure.
"Mr. Johnson, you have given a minor child a life sentence," Krueger said, adding seconds later that he had given his wife the same sentence for taking away "the hopes and dreams" she had for her son living a normal life.
Ann Shea, the chief county prosecutor in the case, said doctors wouldn't know the true degree of physical damage until the boy is 2 years old. But, she said, it was clear he would be disabled "for as long as the child is on Earth."
Johnson admitted to police that he had shaken the infant on July 1 because he wouldn't stop crying. The boy was taken to St. James Healthcare and then flown to a hospital in Salt Lake City, where tests showed severe and extensive brain damage.
Johnson surprised prosecutors — and the judge — by immediately pleading guilty in August to the felony charge of assault of a minor. He could have been sentenced to up to 20 years.
Shea said a 15-year-sentence would acknowledge the immediate guilty plea but also impose severe punishment. Krueger followed the recommendation and said Johnson would have to provide future financial support for the boy's medical treatments.
According to charging documents, police were called to St. James Healthcare around 11 p.m. last July 1 on a report that an infant had been brought in with a head injury due to suspicious circumstances.
Johnson was living with the boy and his mother in the basement of her parents' home on State Street, and that night, the mother had gone upstairs to try on some jeans.
She came down a few minutes later and the baby boy was limp and unresponsive but breathing. Johnson first said he was burping the infant when his head fell backwards.
A doctor at St. James told police the boy suffered a head injury, was bleeding, and would be transferred to Primary Care Children's Hospital in Salt Lake City. She told police the injury did not match Johnson's description of what happened.
When police questioned Johnson and told him about the doctor's statement, he added that he had also dropped the boy on the floor.
But a child abuse pediatrician in Salt Lake determined the boy had also suffered chip fractures near his tibia and knee and all of the injuries were consistent with "shaken baby syndrome."
An MRI showed the infant had suffered "severe and extensive damage to his brain." The doctor said it was so bad, "it cannot have occurred from some undisclosed fall or other type of event like that."
According to police, Johnson eventually admitted that on the night in question, he was extremely frustrated because the boy would not stop crying, and he shook him. He also showed police how he did it.
Deirdre Caughlan, Johnson's public defender, told Krueger before sentencing that she had advised her client to wait until a solid plea agreement with prosecutors was struck before pleading guilty. But he did not.
"At all times since I have met with the defendant, he has been accountable," she said.
He had also voluntarily relinquished his parental rights but wanted to start paying for the boy's medical expenses as soon as possible, she said.
The boy's mother and grandmother were in court Thursday. Shea said they had provided written victim-impact statements but did not want to speak.
Krueger said the degree of disabilities wouldn't be known for some time, but similar cases before his court have had dire outcomes.
Johnson had not only dealt "life sentences" to the boy and his mother, he said, the state of Montana could be saddled with years of services and expenses that could reach $1 million.