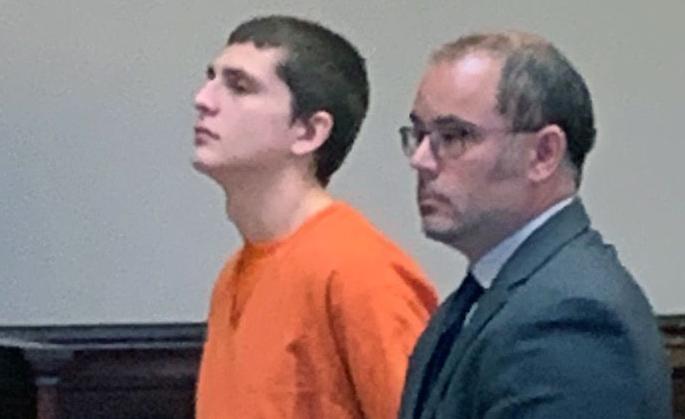 A judge sentenced a man to 30 years at the Montana State Prison on Thursday for shooting a man at McGruff Park in Butte, but he faces up to 80 years when sentenced next week for killing a man in Billings a few days prior to the Butte crime.
Colby Allen Clark, 22, of Billings, pleaded guilty to deliberate homicide in the Yellowstone County case and is to be sentenced for that Wednesday. Prosecutors are recommending 80 years, to run concurrently with the Butte sentence.
In the Butte case, Clark ultimately pleaded guilty to assault with a weapon and criminal endangerment and District Judge Kurt Krueger sentenced him to the maximums for both and made them run consecutively.
Clark was at the park in Butte on April 30, 2020, said he was "gonna jack" the belongings of another man and shot him twice with a handgun. Clark took off with a woman in a pickup and led police on a high-speed chase before he was caught. The victim survived.
"It's real clear that Mr. Clark's history of drugs, alcohol and abuse led him down this road, and his behavior throughout his young life has been totally irresponsible," Krueger told Clark, who was appearing via video from the Butte jail.
"It's also true that he lacks empathy for others and relates to the world in a very selfish manner," Krueger said. "This case reflects that in a very sad set of circumstances."
Prosecutors in Butte initially charged Clark with attempted deliberate homicide, robbery, tampering with evidence and criminal endangerment. In an agreement with prosecutors, he pleaded guilty to assault with a weapon and criminal endangerment.
But lead prosecutor Ann Shea said Clark deserved the maximum 30 years because of the seriousness of the crimes and "the fact this offense occurred within days of the offense in Billings."
"While the defendant is relatively young — in his young years — his criminal history basically indicates a danger to the community," she told Krueger on Thursday.
Britt Cotter, an attorney for Clark, said his client was young and had been in "pretty much every treatment program we have in Montana," but there were mitigating factors to consider.
He cited an evaluation showing that Clark "had an extremely traumatic childhood, including exposure to violence, drug abuse and essentially being abandoned by his parents."
According to prosecutors, a woman who knew Clark from the Butte Pre-Release Center ran into him in Deer Lodge on April 30, 2020, and rode with him in a silver Ford Ranger to Butte. They went to another man's house and drove him to the T-Mobile store, where he bought some headphones.
They drove to the park and when the victim went to retrieve a backpack from the bed of the pickup, Clark said he was going to take his things and shot him once in the hip and stomach. He then took off with the woman in the pickup but after a chase with police was captured.
The silver Ford Ranger involved in the shooting had already been identified as a "vehicle of interest" in a homicide that occurred just before 10 p.m. on April 26, 2020, in the 100 block of South 31st Street in Billings.
According to prosecutors, Clark shot and killed 50-year-old Micah Myron on April 26, 2020, outside the South Side home where Myron lived with his girlfriend and young child.
A witness heard arguing shortly before hearing a gunshot. Authorities say the bullet went through Myron and traveled through the window of Myron's next-door neighbor, where it was recovered by police.
A woman who was with Clark said she witnessed the shooting. Clark got in the passenger side of the pickup but later kicked her out and traveled to Butte, according to charging documents.
Phoebe Tollefson at the Billings Gazette contributed to this story.