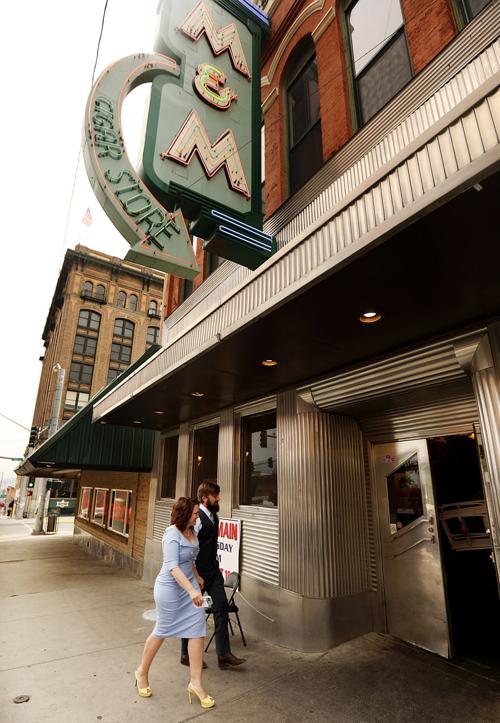 It's no secret that the historic M&M Bar & Cafe is a place that harbors memories for Butte residents and Montana Tech students alike.
But after Thursday afternoon, the M&M can add one more memory to its scrapbook.
The Uptown Butte bar on North Main Street is now the place where Janice and Stephen Dent of Miles City got married.
The couple said "I do" Thursday in front of a crowd of about 40 guests at the Mining City mainstay — and what's more, they had a giant garbage omelet in lieu of a wedding cake and Hamm's beer flowed like champagne.
To make the giant omelet, said bar owner Selina Pankovich, cooks used an approximately 9-by-12-inch sheet pan. The staff didn't practice beforehand, showing a kind of confidence that's befitting of the people of Butte.
"It just proves the place that the M&M has in everyone's hearts," said Pankovich, when asked how it felt to have a wedding take place in her establishment.
Stephen, who attended Montana Tech for his undergraduate and graduate degrees, said the M&M was a favorite after-hours place for him and his friends to grab a bite to eat after going to the bars or hitting the books during a late night of studying.
"We'd come down at three in the morning after writing a paper and get a garbage omelet," said Stephen. "It was kind of our staple."
Janice, meanwhile, works at Holy Rosary Healthcare in Miles City.
She said the M&M is her favorite watering hole in the Mining City and Butte just happens to be her favorite Montana town.
"I always say I wish I could be from Butte," said Janice.
Presiding over the ceremony was Jess Burnett of Butte.
Burnett read a quote from a novel by Tom Robbins which claims that "love is the ultimate outlaw."
"It just won't adhere to any rules," the quote continues. "The most any of us can do is to sign on as its accomplice. Instead of vowing to honor and obey, maybe we should swear to aid and abet."
During their nuptials, the couple told friends and family members that they didn't always intend to have their wedding at the M&M.
Their first intention was to elope and get married in front of the justice of the peace.
But after friends and family members threatened to crash the event, they decided to have their wedding at the beloved Butte bar.
"Janice and I independently over the years have fallen in love with this bar, and of course we've fallen in love with each other," Stephen said.