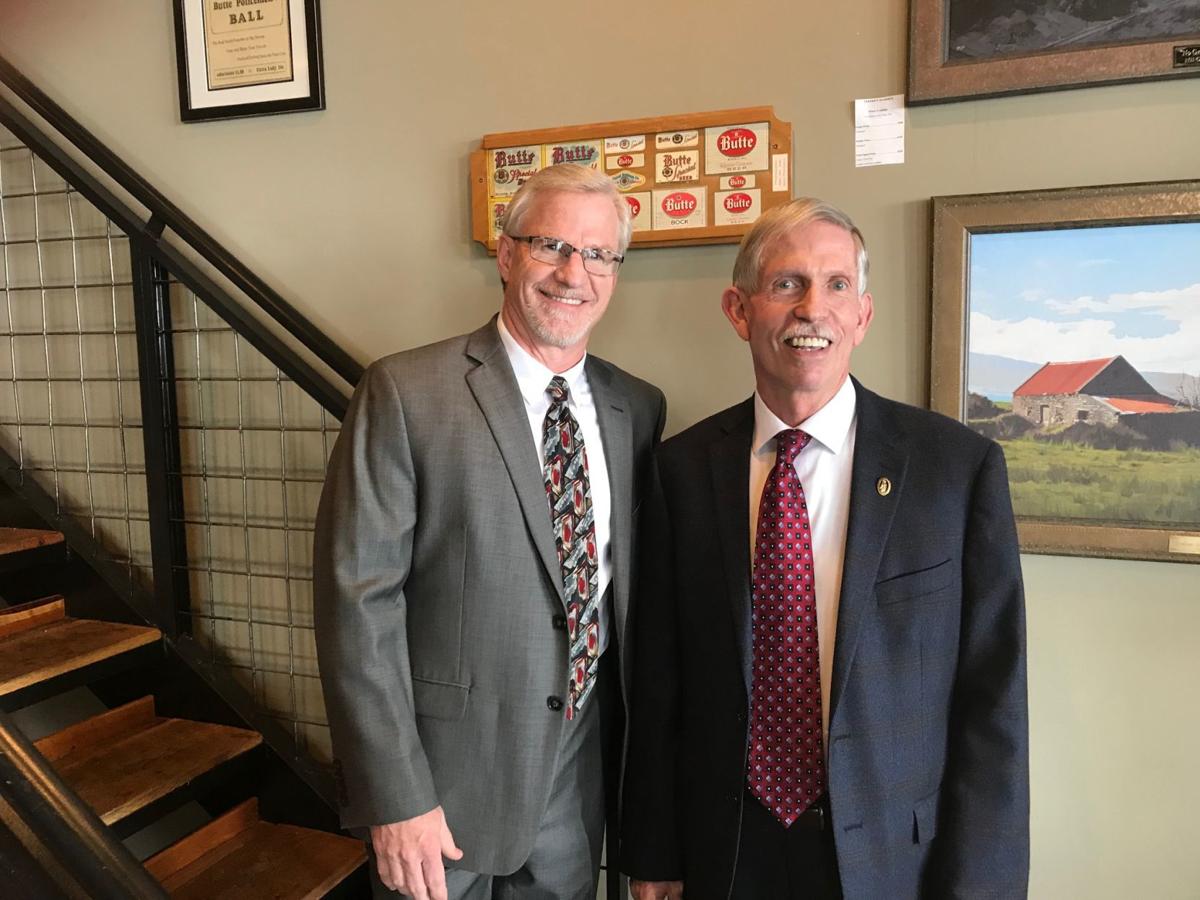 Pat Dudley and Ray Rogers have been close friends going on 20 years now, but they had a head start.
They both grew up in Butte's upper-west side — "in the shadows of the Anselmo Mine Yard," they say — one on Woolman Street, one on Henry Street. Pat is six years older than Ray, but they ran around the same neighborhood.
"I had an aunt and uncle who lived three doors down from Pat, so we've known each other since I was a little kid," Rogers said.
Their friendship — personally and professionally — blossomed in 1999 when Dudley was a top administrator at St. James Healthcare in Butte and Rogers was an administrator at Montana Tech.
"I had this idea from being at St. James that in health care, we really needed a degree program that would be a bridge between the IT world and the clinical world, because they didn't talk," Dudley says.
He ran the idea past some at Tech, drawing "what are you talking about" looks, but "Ray caught on right away," Dudley said.
Through friendship and a deep desire to leave a legacy to their hometown, two "Butte boys" are establishing a $35 million medical training cen…
So the two wrote the curriculum for a new "health care informatics" degree program at Tech. Health informatics entails gathering, storing, retrieving and sharing health information among providers to improve a patient's care.
"We wrote it and along with Danette Melvin, we ushered that through the Board of Regents in one year, which is unheard of," Dudley said. "It was the first undergraduate degree program in health informatics in the United States when we established it."
They took their endeavors further by co-founding the National Center for Health Care Informatics to help integrate IT into health care.
With help from then Sens. Max Baucus and Conrad Burns of Montana, the nonprofit organization started in 2004, helping the health care industry move from paper records to electronic systems, among other things.
In 2006, with a grant from the Robert Wood Johnson Foundation — one of the nation's largest health care philanthropies — they started a program called the Academy for Nursing Workforce Solutions. The goal was to keep nurses in the profession.
Difficult schedules, hours of paperwork each day or night and caring for more critical-care patients cause many nurses to quit the profession, often within the first two years.
The program includes a 10-week course at Tech where nurses learn "survival skills" to reduce stress and balance their work and personal lives — everything from yoga to cooking skills to how to change a tire.
Dudley is president of the informatics center, Rogers its chief executive officer, and in 2008 they got $3 million in federal funding to develop paramedic simulation training for U.S. Air Force Pararescuemen — that branches version of the Navy SEALs.
They started their path toward the Praxis Center in 2009 with initial planning and a business model.
"We are Butte kids, and all along we wanted this project to be in Uptown Butte," Rogers said.
Their personal and professional friendships have gone hand-in-hand for years now.
"Our lives intertwine, our families intertwine," Rogers said. "When I have had down times, Pat has been there to back me up. When he's been down, I've been there to back him up."
Since their friendship took off nearly two decades ago, Dudley says, they haven't exchanged a bad word.
They make great professional teammates, Rogers says, "because in many ways we are cut from the same cloth."
"We have no problem thinking outside the box," he said. "When Pat and I have an idea, we are not afraid to think big and take risks."
The Praxis Center is an outcome of that.
Dudley says they also bring different skill sets to the table.
Rogers knows marketing and project management and public relations and Dudley is good at operational skills and human resources and risk management.
"When we go into meetings and we enter the room, I search out the coffee pot for a cup of coffee and Ray is already working the room," Dudley said, laughing.
They've talked a great deal over the years about leaving a legacy to Butte, too. The push to establish the Praxis Center became more pressing when Dudley was diagnosed with advanced cancer a year ago.
"That got my focus of a legacy to a much more condensed time frame," Dudley said. "It's a dream of ours and we want to see it through."
Get local news delivered to your inbox!
Subscribe to our Daily Headlines newsletter.