Rain falls like tears on Qing Ming,
Mourners in the street feel lifeless.
Where can we find a bar for a drink?
The shepherd boy points to the village.
This is the translated version of a famous Chinese poem Butte's Mai Wah Society President Pat Munday read to about 10 people gathered on Sunday afternoon for the Qingming Festival, or Tomb Sweeping Day, in the small Chinese section of Mount Moriah Cemetery.
Munday explained that the poem is often recited during this annual spring festival in China, which takes place in early April and is a way for Chinese people to both honor their ancestors by tidying up their graves and offering them food, incense, and spirit money and to celebrate spring and the renewal of life.
In Butte, the Mai Wah Society has revived and hosted a local Qingming Festival for over five years, Munday said, gathering in April as soon as the snow clears to care for many of the families who had great historical influence on the Mining City.
"Chinese people played an important role in Butte and western history," Munday said. "This celebration is another way to honor Butte's historical diversity, outside of just St. Patrick's Day."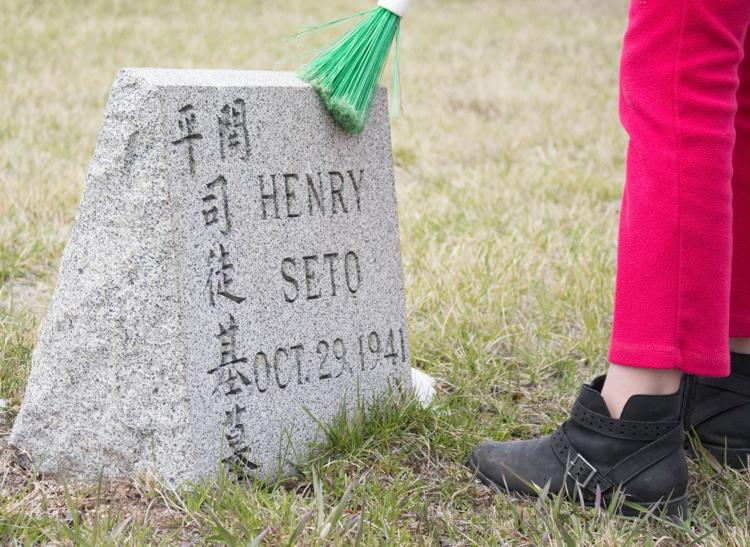 Register for more free articles.
Stay logged in to skip the surveys.
To kick off this year's festival, Munday started with a historical explanation of the families buried in the small, most southwestern corner of Mount Moriah Cemetery. He told the group that many of the Chinese people who came to Butte before 1882 were sojourners, meaning they intended to stay on the Richest Hill until they made their fortune then planned to return to China.
Munday said these sojourners, who were often single men, wore a small pouch filled with coins around their neck to pay for their burial.
When the sojourners died and had laid for six to eight years underground, they were exhumed and laid on a large, flat rock in the Mount Moriah Cemetery. Their clothes and remaining flesh were removed and burned in a stone stove-like structure nearby, their bones placed in lye, and they were shipped back to their hometown in China, where their souls could finally rest, Munday explained.
The people who were still buried in the Butte cemetery section today were mainly part of Chinese, Japanese, and Korean families that moved to, lived in, and died in Butte together, Munday said. Many of these families assimilated into the American life and owned a variety of local businesses.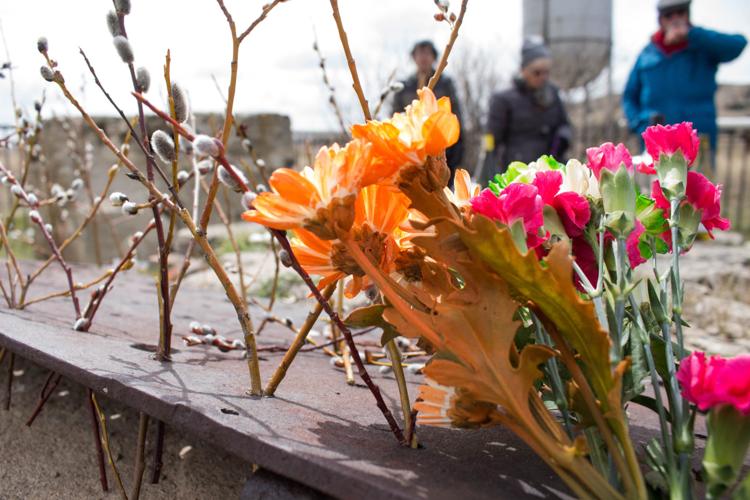 At 2 p.m. on Sunday, crackers, oranges, willow boughs, flowers, and bottles of alcohol were laid out on the flat rock where Munday said bodies were prepared for their journey to China decades ago. After pouring alcohol on the ground around the rock, Munday handed out plants and brooms. The group split up and swept each headstone area as the wind blew in light flurries of snow.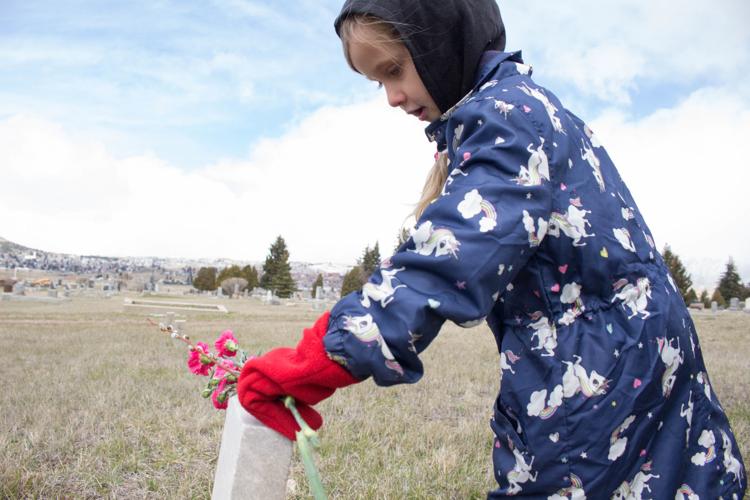 "It's so important to carry on these traditions," McAdam said. "We want to preserve the past and remember the Chinese and Asian people that helped make Butte what it is today."