While some families put on Easter egg hunts and dye hard-boiled eggs this weekend, others will head to Butte's Don Harrington Arena for the Montana High School Rodeo.
According to Dan McGee, president of the Butte Vigilante Saddle Club, this local rodeo for seventh- through twelfth-grade students is an annual spring competition that kicks off the saddle club's season. It's also one of the first of a roughly two-month weekend rodeo stint for high school athletes in preparation for the state finals rodeo in June.
"High school rodeo is a great way for kids to learn sportsmanship and the ethical treatment of animals," McGee said. "And it keeps the kids out of trouble."
This year, the Silver Bow County 4-H club is hosting the rodeo, as McGee said the Butte Vigilante Saddle Club didn't have enough manpower to put it on. Up to 200 teenagers are expected to compete in the Easter weekend rodeo, including Butte High School junior KayLee Hughes, 15.
Hughes started competing in rodeos about four years ago, first in the youth division then at the high school level. She said her family has always grown up with horses and that she fell in love with rodeo, which is her "main thing."
"I like being able to compete on a live animal," Hughes said. "You get the feeling you're on something that can kill you at any second if it wants to but doesn't because it trusts you and forgives you for your mistakes."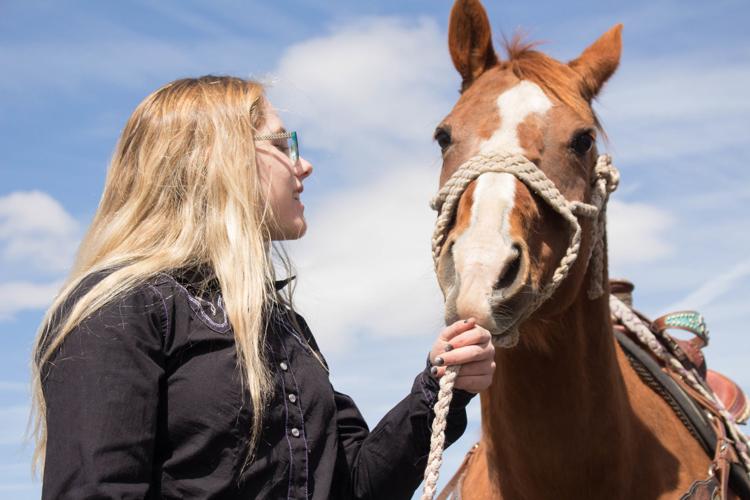 This year, she and her horse Fergie, named after the American rapper and pop singer, are ranked sixth out of over 70 high school female athletes statewide in both barrel racing and pole bending.
Hughes credits her success to Fergie, who was a rodeo horse before Hughes's family bought her.
"When Fergie runs good, she places in the top 10," Hughes said. "She's a good horse with a special talent. Everyone loves her and how consistent she is."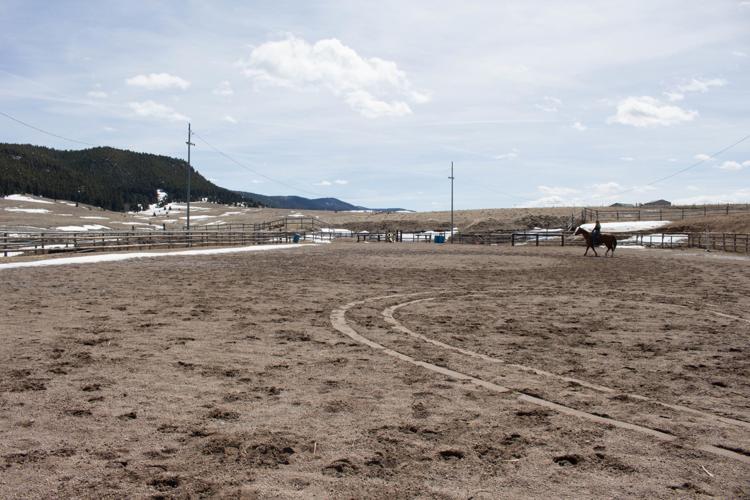 At the Montana High School rodeo this weekend, Hughes plans to compete in her two top events, which require a horse and its rider to make tight turns in the shortest amount of time possible.
And a few days before the rodeo, she said she felt ready.
On Thursday afternoon at a ranch just south of Rocker, she walked Fergie around a small practice arena, patting her head and holding her pony-tailed mane, while her step-dad, Bob Johnston, washed off their trailer. Johnston said although he's never competed in a rodeo, traveling with Hughes as she competes has been good for the whole family.
"It's been so positive for her, and the rodeo people are great people," Johnston said. "We (his family) all strive for the same goal, to have her try to win. And if she doesn't, it's important to see the good qualities in that as well. Rodeo teaches you how to be a good winner and a gracious loser."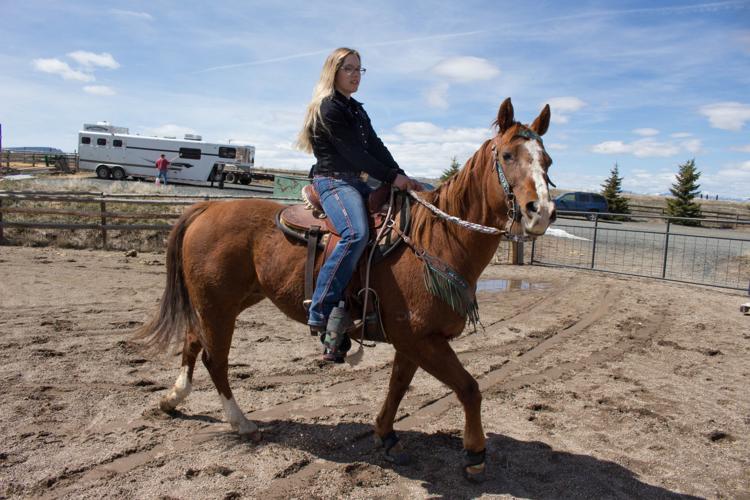 Hughes said Johnston helps her mentally prepare for each rodeo competition, which they both said is key for rider and horse. During competition, Hughes said she "kisses" to Fergie to let her know she's doing well and tells herself she's on a horse who knows what she's doing if she starts to feel uneasy.
"She knows when you're nervous, so you have to stay calm," Hughes said.
Going into the final leg of her second-to-last rodeo season, Hughes said she plans to continue competing in college. She hopes to attend the University of Montana Western in Dillon, compete at the college level there, and study human health and performance. Like Johnston, Hughes feels rodeo has been a positive experience and has taught her a lot of life skills.
"I've learned that nothing comes easy. You have to work for everything you want," Hughes said. "Whatever you do, you have to put effort in."