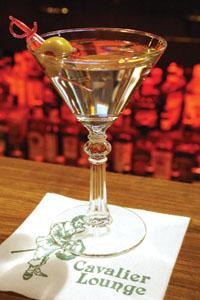 In a city that tries to keep its past alive, one vestige of Butte's boom has never died.
The amount of liquor licenses in Butte-Silver Bow is nearly as high as when the county was home to three times as many residents.
That's because once a liquor license is created, it is difficult, if not impossible, to get rid of.
And Butte has been blessed — or cursed, depending on your view — with an abundance of them.
Shauna Helfert, the administrator and acting head of the Montana Department of Revenue's Liquor Control Division, said Butte has more than four times the recommended number of licenses for a town its size.
"There are quite a lot of licenses still in Butte that have been there for some time," she said.
The last U.S. Census in 2000 counted 34,000 residents in the county and the quota system used by the state liquor control division recommends 24 all-beverage liquor licenses for Butte-Silver Bow.
But there are 85 such licenses, which entitle the owner to serve beer, wine and spirits, in the county. That's nearly four times the recommended amount.
Beer and wine licenses in the county are 11 over quota as well, with 31 licenses in use in Silver Bow.
Grandfathered in Helfert said the reason why there are so many liquor licenses in Butte is that many of them were created before 1947, when the state first instituted the quota system. Those licenses then became grandfathered into the system.
According to Helfert, liquor licenses are personal property, owned by an individual or a corporation, and they can be sold, bought, transferred or moved to another locale with county and state approval.
The licenses can lapse with disuse, but that is rare because they are so valuable. In Butte-Silver Bow they carry an average price tag of about $40,000, while in expanding cities like Billings, Kalispell and Missoula the license can approach a $1 million, she said.
It's the abundance of licenses that have helped keep the cost down in Butte-Silver Bow County.
Helfert said the only way a county can lose a license is via a lottery, which happens when the liquor control board grants an extra license to a growing county. The winner of the license has the opportunity to purchase one in an over-quota county and transfer it to their location.
"That has been happening slow and surely in Silver Bow," Helfert said, "with licenses going to places like Billings and Bozeman." Helfert said the quota system was instituted to give the state control over liquor sales "for public convenience and necessity." The goal was not only reduce to consumption, but she believes the quota system is in place "to allow responsible adults to get alcohol when they want it but also to discourage overdrinking and underage drinking." Influence on crime The Montana Community Change Project, headquartered in Bozeman, focuses on preventing binge drinking and DUI by identifying and addressing the physical, social, cultural, economic and political factors that contribute to or maintain alcohol-related problems.
Spokeswoman Brenda Simmons said they work in concert with the Institute for Public Strategies. A report released by that organization claims that there is a connection between alcohol outlets (bars, liquor stores, restaurants) density and violent crime, including domestic violence and sexual assault.
The study also noted an increase in underage drinking, economic decline and alcohol-related crashes.
It concluded its research by arguing that placing a limit on alcohol outlets "should not be construed as anti-business" and that over concentration of those outlets "are barriers to attracting new business and commercial enterprises that can promote economic revitalization and development." A Butte tradition But, many of the bars in Butte have history dating back to the boom time. And some citizens see them as a relic of the town's rip-roaring past.
In fact, the sign at the Interstate 15 overlook that welcomes visitors arriving from north of town, quotes a poem describing Butte as a "bold, unashamed, rootin', tootin', hell-roarin', camp in days gone by and still drinks her liquor straight." Local Kevin Honnert says those lines sum up his town well.
"These bars are part of life here," he said during a recent interview in the Silver Dollar Saloon, 133 S. Main St., where he was a patron. "We're Irish and we are a social, drinking breed." And it was also a part of life in the past, he said, when the bar was the place to be after payday or when it was chock full of speakeasies during Prohibition.
"Main Street was full of them," he said.
But neither history nor safety can sway the liquor control division.
Helfert's hands are tied by the laws on the books, old as they are, and the number of bars in Butte doesn't look to change anytime soon.
"That's the way it is," she said. "Nearly all of them are grandfathered in." Reporter Tim Trainor may be reached via e-mail at tim.trainor@lee.net or call 496-5519.