A stalled open pit mine in Jefferson County has dug a potential $25 million financial pit for taxpayers, but at least one expert says the ore deposit is such a gold mine that there could be light at the end of Montana Tunnels.
Located in Jefferson County about 25 miles south of Helena, Montana Tunnels stopped moving earth and ore nearly 10 years ago. It's been behind on the state's bond request, now set at about $41 million, since 2008. It also owes Jefferson County around $5 million in back taxes. The once-profitable gold, silver, lead and zinc mine employs about five people currently but no ore has been mined since 2008.
The state Department of Environmental Quality, which last permitted a mine expansion at Montana Tunnels – which never took place – in 2008, estimates that Denver-based owner Black Diamond Holdings would have to drum up $100 million to get shovels moving again. Water has been collecting in the bottom of the pit for years and repeat pit wall failure means a large amount of sediment would have to be removed.
There are additional issues: Nearby Clancy Creek needs to be rerouted, which would mean building a new stream bed. Clancy Creek is currently in danger of disappearing into the pit.
In addition, a fleet of old mining equipment would have to be removed and replaced. The entire mine site is hazardous because of fissures in the earth all around the pit.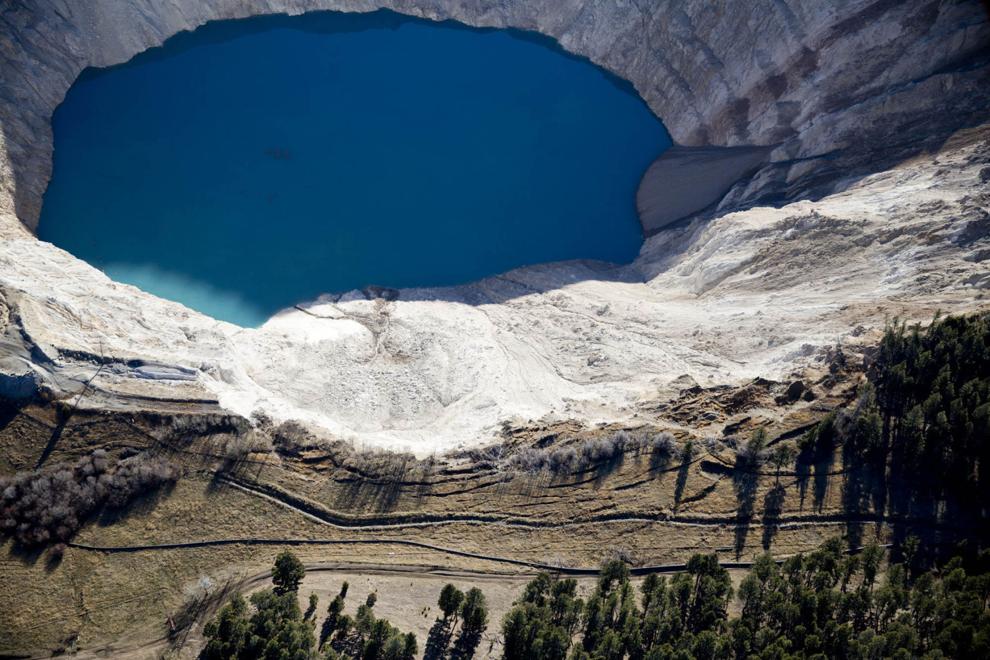 Butte-based Bureau of Land Management Geologist Dave Williams told The Montana Standard earlier this month that the owner of the mine, Black Diamond Holdings Managing Director Patrick Imeson, "has really hampered the whole thing."
"The investor thinks he has something of value there but he doesn't. He has a liability. The reserves (the ore deposit) are unavailable because the pit walls are failing. Now a mine company would have to reinvest in basic infrastructure to even start to mine there."
Williams is well-versed in Montana Tunnels because some of the land the mine is on, including a sliver at the bottom of the pit, belongs to the BLM.
Mark Thompson, vice president of environmental affairs at Montana Resources, says the start-up price tag to get the engines going again at Montana Tunnels is likely higher than DEQ estimates. He believes the cost is closer to $150 million.
But Thompson doesn't see Montana Tunnels as "a liability." He calls the mine "very desirable."
MR poked around Montana Tunnels, looking into the possibility of making a purchase some years ago, Thompson said. But MR shied away from talking to the owner because of concerns about the price he was asking.
"Right now, with the current price of zinc, it's pretty high right now. Montana Tunnels has the benefit of a large gold by-product. When you get four metals, what are the chances of all four commodities being depressed at the same time?" he asked rhetorically.
Zinc, like copper, is used for a plethora of things, making it profitable for mining companies. Thompson said zinc is a corrosion inhibitor. All street sign posts are zinc-coated. All auto body parts are now, too, to prevent rust.
Now local environmental groups are calling upon DEQ to stop the wait-and-see game with Montana Tunnels and take action. There are deep fissures in the ground north of Clancy Creek. Those fissures indicate that 260 feet of earth will, at some point, collapse into the bottom of the pit.
Clancy Creek, currently diverted into a 16-inch pipe for 1,300 feet near the edge of the north pit wall - but south of the fissures - will be destroyed when that cave-in takes place.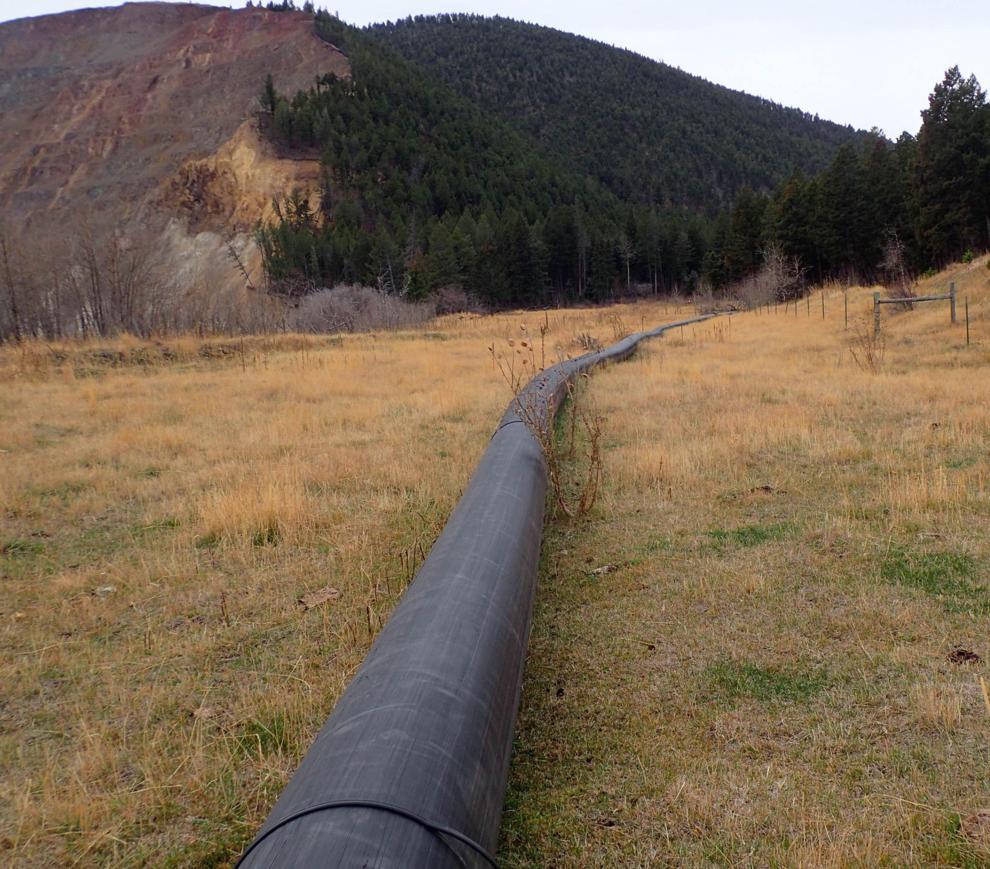 Environmental engineer Jim Kuipers, hired by Montana Trout Unlimited to investigate Montana Tunnels in July, says it's not a question of "if" the north side of the pit is going to cave in, but "when."
"This mine is on the most extreme end of unstable. In my experience, it's the most extreme case of high pit wall caving I've ever seen," Kuipers told The Montana Standard earlier this month from his home-office in Wisdom.
BLM's Dave Williams agrees with Kuipers' assessment.
"Absolutely, it's a question of when. When could be five years or tomorrow afternoon or 25 years from now," Williams said.
Fish, Wildlife and Parks spokesperson Greg Lemon says that if the situation isn't addressed, Clancy Creek diverting into the mine pit will negatively impact westslope cutthroat trout habitat downstream of the pit, where Kady Gulch and Clancy Creek meet.
"Fish need to spawn and move and do different things," Lemon said earlier this month by phone. "There'd be less potential for long term viability for cutthroat downstream of the Kady Gulch confluence if we lose Clancy Creek."
Imeson talked to The Standard by phone in early August and said he anticipates securing new financing within the next 30 to 60 days and putting 270 Jefferson County residents back to work. He also said that once he has financing in place, the expansion planned in 2008 would "take care of those issues."
"By October-November, we should have a transaction closed. It's our best shot. Or we go back to the drawing board again," Imeson said.
Imeson was reprimanded by the Securities and Exchange Commission for securities fraud in the past. The SEC filed a permanent injunction against Imeson in 1986 for manipulating the price of stock, failing to pay $1 million in trades and for causing stock losses to U.S. brokerage firms of at least $500,000, according to SEC documents.
By 1995 he was sentenced to three months in prison after pleading guilty for failure to obey the SEC's previously imposed permanent injunction. In that case, SEC reported that Imeson caused brokerage firms to purchase common stock on his behalf when he did not intend to pay for the purchases. He also issued checks on closed accounts, according to SEC documents.
Imeson told the Helena Independent Record during an interview in 2010 that he entered an "Alford" plea in 1995, meaning he didn't deny or admit guilt, on the criminal contempt charge and was put under house arrest for three months, placed on probation for five years and had to pay $25,000 in restitution. The SEC, in turn, dropped the other charges.
Imeson pointed out to The Standard, that was a long time ago.
"I don't think those are issues for why we've not gotten financing. We're working with well-qualified companies," Imeson told The Standard last week. "Companies don't think that's a problem."
Imeson ran into some trouble again in 2015 when Black Diamonds Holdings' lawyer, Messner and Reeves, LLP, sued in Denver District Court to recover more than $250,000 in unpaid fees for previous legal work from Black Diamond, Imeson and Elkhorn Goldfield, an undeveloped mine deposit near Montana Tunnels. Denver District Court Judge Karen Brody ruled in Messner and Reeves' favor and ordered Imeson and his various holdings to pay the lawyers $285,535.
Imeson said his company disputed the legal fee claims and lost in court.
"We owe them money," he said.
Meanwhile, back in the Treasure State, Montana Tunnels continues to slowly decay, putting the state between a rock and a hard pit wall. With only $16 million in cash available and an extra $3 million in real estate for its current reclamation bond, Montana Tunnels can't pay the bill if the state has to reclaim the site itself.  
But if the state takes action against Montana Tunnels, the company could go into bankruptcy. That would mean Jefferson County taxpayers could kiss the $5 million Montana Tunnels owes in back county taxes good-bye.
Given the bond deficit, it would also leave Montana taxpayers with a very big cleanup bill. That begs the question of how the state would then clean up the site, or even if it would be able to do so.
Missoula-based Montana Trout Unlimited and Bozeman-based Earthworks sent a letter to DEQ Director Tom Livers in late July expressing concern over what's happening – and what's not happening – at Montana Tunnels. Kuipers' report stated that the "large amount of crack propagation and lateral motion since July 15 suggests there is potential pit wall failure within the next few years, if not sooner."
Livers was not available when The Montana Standard requested an interview in early August, but in his stead, Christopher Dorrington, DEQ division administrator for air, energy and mining, sat down with The Standard and discussed Montana Tunnels at length.
Dorrington said DEQ will respond to TU's letter within a couple of weeks.
But in the meantime, DEQ did respond immediately to one request: recalculating the reclamation bond the state had set for Montana Tunnels. The bond was previously set at $35 million in 2013. DEQ recalculated the bond in early August for $41.48 million.
But how DEQ is going to get Montana Tunnels to address its now approximate $20 million deficit on the bond was a question Dorrington struggled to answer.
"It's not a glowing example of mining in the state. It's a delicate balance. Do we revoke the permit and lose the ability of the mine to do concurrent mine reclamation hoping the market will rebound?" Dorrington asked rhetorically.
Trout Unlimited and Earthworks are also concerned about safety. A "keep out" sign is posted on the dirt road that winds around the site and leads to the woods north of pit, where the fractures are clearly visible. There is also a low-lying fence, but it's easy to step over.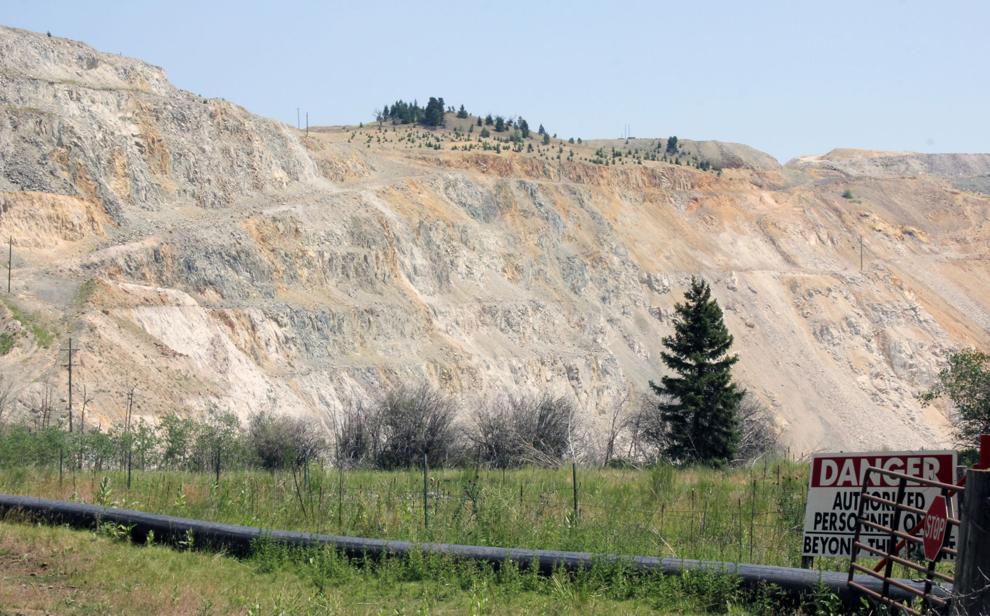 Trout Unlimited President David Brooks worries that a hunter or hiker or a child could wander up that road, trespass, and be in the wrong place at the wrong time.
Dorrington said Trout Unlimited's concern has been duly noted by DEQ and that the agency will have a conversation with Montana Tunnels about the fence and the gate.
"We're in the business of public safety," he said.
Another concern of the environmental groups is the water quality. Because the mine site is so dangerous, the quality of the water in the bottom of the pit has not been tested in years.
Dorrington said DEQ is working on addressing that issue with the use of a drone that can fly into the pit and take water samples. Dorrington said the water, however, does not contain acid rock drainage. So though it does contain heavy metals, it's not as dangerous as, say, the Berkeley Pit.
BLM's Dave Williams says the water "won't rise to the level to discharge," so it's not expected to contaminate any nearby waterways.
But Brooks has other worries, such as what happens if the dam built south of the tailings pond weakens structurally because of the mine's continual sloughing into the pit. Kuipers called that "the extreme scenario." But he said he would like to see assurances from DEQ that the handful of homes south of the tailings dam are safe.
DEQ said via email that the agency inspected the tailings ponds and impoundment as recently as April 13, 2017 and said, "no problems were noted."
But DEQ noted a problem of their own. While the agency has had easy access to the five mine employees, the agency says it has struggled with getting in touch with Imeson directly over the years.
"It's been difficult to talk to the owner," Dorrington said.
Imeson disagreed, saying, "We've never had a problem getting in touch with them."
Imeson pointed out that the Mine Safety and Health Administration recently visited Montana Tunnels and, he said, "there were no cited problems" regarding the pit's condition.
But according to MSHA records, the agency did visit Montana Tunnels in late June and cited the mining company for two safety violations. MSHA did not divulge the details of the citations.
Imeson stressed that Clancy Creek was an issue he inherited. Montana Tunnels began as a Pegusus Gold mine in the 1980s before being bought by Apollo Gold, before Black Diamond Holdings became the sole owner in 2010.
Earlier this year, the Montana state legislature made it possible with House Bill 516 for a county to sue to collect delinquent property taxes once the tax bill amounts to $250,000 or more.
Jefferson County Commissioner Leonard Wortman said he wasn't aware of the new law, but he wasn't sure it would help Jefferson County collect the $5 million back taxes Montana Tunnels owes.
"I don't know what they would pay with," he said.
Imeson and Wortman both pointed to a building Montana Tunnels, in a good faith effort to address its growing tax debt, is giving the county.
The building, located on Main Street in Boulder, is valued at $50,000.
Wortman said the county will inspect the building before taking it over and a deal would likely be finalized in the weeks ahead. The building is expected to provide office space for Jefferson County employees.
Wortman said that as for the rest of the $4.95 million the mine will still owe in back taxes, Jefferson County doesn't have a lot of options.
And as for the continual subsidence and the potential of Clancy Creek to be lost?
"That's a concern that we all have," Wortman said. "The main bottom line is, if they can get up and running again, we could get all that stuff taken care of."