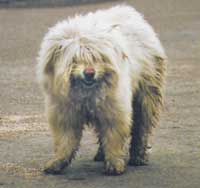 A Butte legend — The Auditor — died peacefully Wednesday within the confines of his dog house located on Montana Resources property.
The beloved mascot of the Butte mine ate his last meal of Alpo in the morning before he was found later that afternoon in his bed, gone at the ripe old age of about 120 — in dog years.
"Things around here have been pretty sad, really," said Montana Resources Vice President Steve Walsh of the dog's passing. "It was a shock, with all the attention he'd been getting during our suspension (of operations)."
Coincidentally, The Auditor was first seen roaming the mine in 1986, the year Montana Resources started its operations. His passing comes with the reopening of the mine after a three-year suspension.
"Interestingly enough, a lot of us hoped he would last until we started up again," said Charlie Palagi, the Montana Resources employee who has spent his own money over the years to feed the dog.
The mongrel, who got his name from employees "by always showing up when you least expected it," lived almost all his years wandering the barren waste dumps, leach pads and mine roads above the rim of the Berkeley Pit in virtual solitude.
The only time Auditor could be expected was at dinner, when he came to his shanty where mine employees would fill his dishes with food and fresh water.
Human contact was something the elusive mongrel avoided when at all possible. Former employees said you could feed the foxes and coyotes by hand long before The Auditor would accept a handout.
"That's how he lived so long, huh," said Palagi. "No people ever harassed him."
Armored by a coat of dreadlocks, the animal would disappear for weeks, even in the bitter cold of Butte's winter. But as his name stuck, he would always appear just about the time his friends at the mine had given him up for dead.
"Just by his name," said Montana Resources President Frank Gardner when asked to summarize the amazing canine's life in a statement. "Just like an auditor, he did a lot of barking and chasing his own tail."
According to the dog's wishes, Auditor's remains have been cremated. His ashes are planned to be relocated at the Granite Mountain Memorial, overlooking all Butte's historic mining splendor.
Memorials may be made to The Auditor Foundation. (See related story.)
Get local news delivered to your inbox!
Subscribe to our Daily Headlines newsletter.