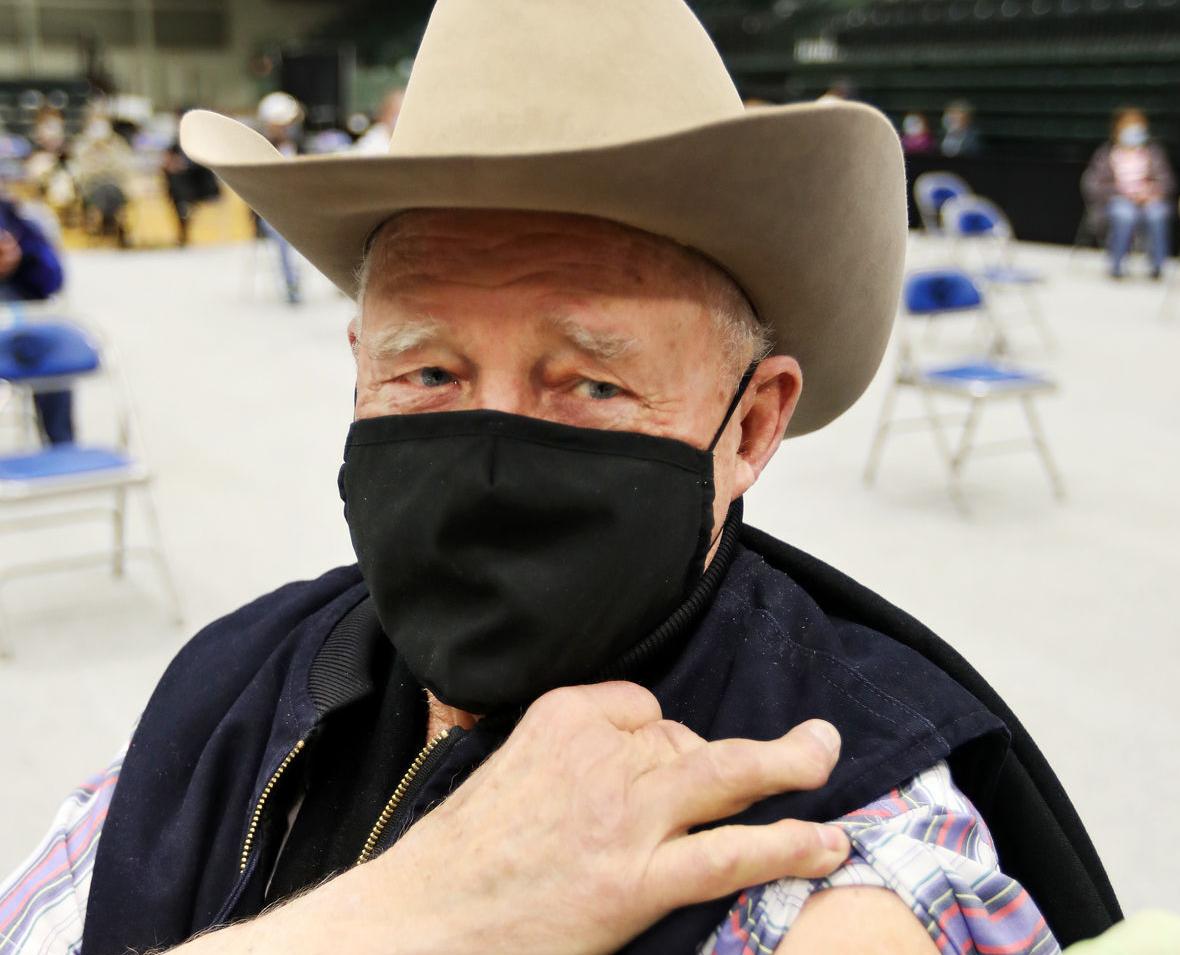 That bad weather you've heard about in the southern United States mucked things up, but Tuesday's vaccine clinic in Butte provided close to 600 people their second doses of the Moderna COVID-19 vaccine in the end.
We've all been there — waiting day after day on mail that just won't show. It's not usually a box of 1,400 doses of life-saving vaccine though.
Last week's mass vaccination clinic at the Butte Civic Center was canceled due to weather in Memphis, Tenn. — a FedEx hub.
On Thursday, the shipment still hadn't arrived. Friday either.
"Obviously, we were a little stressed out," said Risik Rask, director of pharmacy at St. James Healthcare, and game-time quarterback of Butte's mass vaccination clinics.
Monday came, still no vaccine. Instead, clinic organizers received a shipping notification — the package was to arrive Tuesday morning.
Rask and colleagues had a couple fast choices to make.
That's because 600 people were scheduled for Tuesday's clinic at the Civic Center, scheduled to start at 9 a.m., and organizers expected the shipment to arrive around the usual time, 10 to 10:30 a.m.
Meanwhile, organizers had only 275 vaccine doses in-hand, and some of them were allocated for use elsewhere in the county.
"I basically robbed Paul to pay Peter," Rask said, and delegated every dose to the clinic.
Now, the clinics in Butte have become quite efficient — they figured they'd move through 275 vaccinations in an hour, maybe an hour and a half. It was going to be tight.
"We took the leap of faith and gambled and went for it," Rask said.
The clinic remained a go.
Tuesday morning came, vaccines were underway, and at about 9:30 a.m., Rask received a message on his phone.
The expected delivery time was PENDING.
By 10:30 a.m., they were out of vaccine and volunteers had to tell people to come back in an hour. Some came back in an hour, and were told to come back at 1:30 p.m.
Meanwhile, organizers fanned out — everybody called their best contact at FedEx.
They were finally able to track down a supervisor, who was able to track down the package. It was in Great Falls, scheduled to arrive at Butte's FedEx shipping facility at noon.
Rask was there waiting for the truck at 11:45 a.m. The truck was right on time, and with a box of 1,400 vaccines in hand, Rask raced back to the Civic Center.
Organizers stopped turning people away, and since most were told to came back at 1:30 p.m. anyway, Rask estimated fewer than 10 of those who originally showed up failed to return.
"It just goes to show you how important this is to people," Rask said.
Of course, it would have been better without the hiccup, and some folks were naturally disgruntled, but Rask said anyone who missed their vaccine will be rescheduled, and can do so by calling the Butte-Silver Bow Health Department or St. James Healthcare.
A total of 607 doses were administered at the clinic. There were some spares, Risik said, estimating that 590 people got their second vaccine. The remainder went to people on a standby call list.
Best of all, the county's once again rich in vaccine.
Wednesday's clinic at the Civic Center for those ages 70 and up and ages 65 to 69 with underlying health conditions is on, and there will be plenty of vaccine to go around, Rask said.
"We are not in jeopardy of any cancellations this week," Rask said. "We are good to go."
It will also be the first clinic to rely predominantly on the county's new online ticketing system, accessed at tickets.butteciviccenter.com.
In addition to St. James staff and volunteers, Southwest Montana Community Health Center personnel and students from Montana Tech's nursing program were on hand to help at Tuesday's clinic.
Next week, said Butte-Silver Bow Health Officer Karen Sullivan, the clinics will begin vaccinating those ages 16-69 with underlying health conditions.