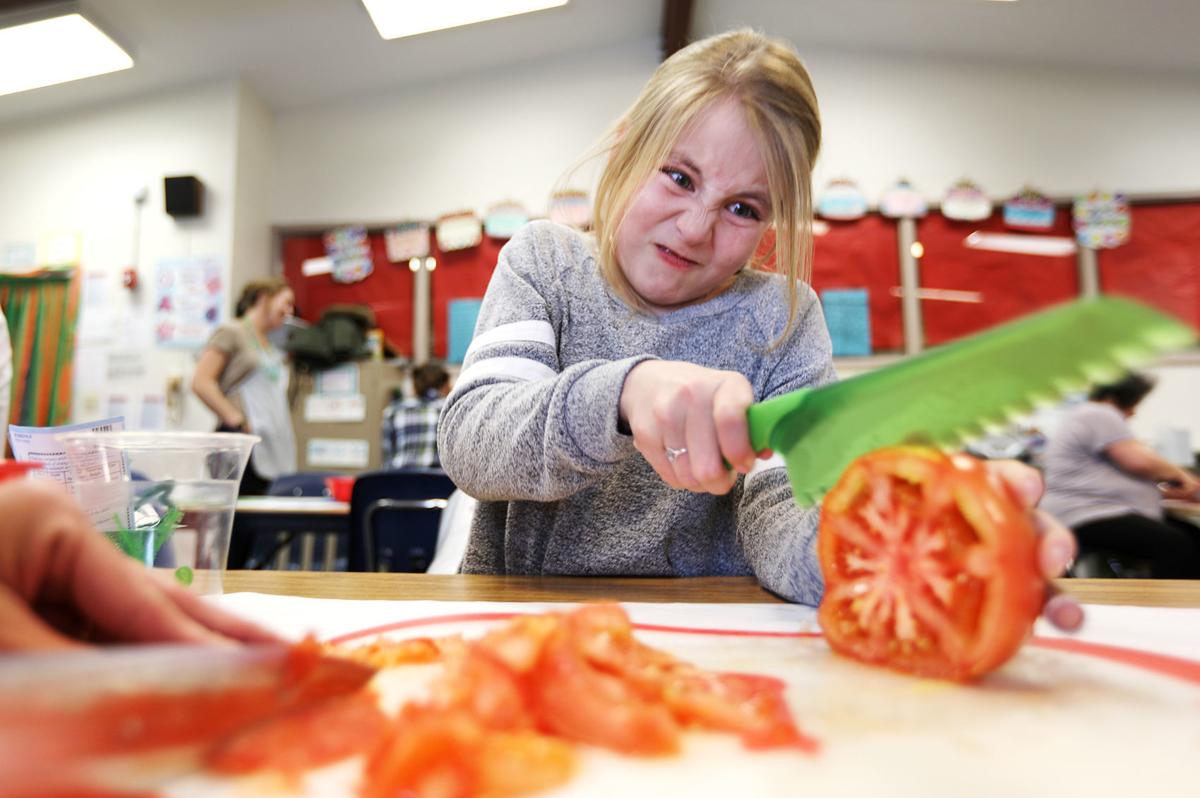 "If you were a vegetable, what would you be?"
This was the question Butte FoodCorps service member Courtney Nucito posed to a small group of people in a Kennedy Elementary School classroom on Wednesday night. Nucito asked the two families and volunteers to write their answers on sticky notes, then try to guess what vegetable they thought their siblings or parents chose on a separate note.
"I chose a tomato," said Zoey Lyons, 8.
"Why did you choose a tomato?" Nucito asked.
"Because my friend is a red head," Lyons answered.
The vegetable icebreaker was how Nucito started Butte's first family cooking night. Led by Nucito and with donation help from Western Meat Block and Safeway, the night aimed to bring a few of Kennedy Elementary School's fifth-grade families together for a meal around the table and to educate them on how to prepare healthy, low cost meals.
"It's hard for families to find the time to eat a meal together," Nucito said. "It's good to have that positive experience of all sitting down for a meal."
Nucito has been Butte's FoodCorps representative for several years, working closely with the school district and National Center for Appropriate Technology. Her service term ends in July, but Nucito says she hopes to have at least one more family cooking night and plans to leave a set of tools Butte schools can borrow to host these nights on their own.
"I've talked with some principals about having things like bowls, knives and shredders schools can use to have family cooking nights using different funds they have left over," Nucito explained. She also mentioned that the Butte public school district's garden and Harvest of the Month program, which introduces students to locally sourced foods in their cafeterias every month, will also continue after she leaves.
Helping Nucito lead the Wednesday night event was Abbie Phillip, the SNAP education instructor for both the Butte and Anaconda areas. After Nucito's icebreaker, Phillip talked with the families about eating healthy at a low cost, and stressed the importance of exercise.
"Good nutrition and physical activity are what keep the body strong," Phillip said to families and volunteers. "If you can remember anything from tonight, remember to plan your meal and snacks."
Once Phillip finished her presentation, the families started prepping for their meals. The night's menu included steak tacos with meat from the Twin Bridges area donated by Western Meat Block, fresh salsa, and healthy, minty, leprechaun shakes. Phillip and Nucito answer questions and provided safe chopping tips, as parents and children started cutting up their salsa ingredients.
Amoreena Lyons' family was present at Wednesday's cooking night. She said she's been looking forward to the event and saw it as a good way to introduce her kids to cooking.
"They need to know how to cook as a life skill," Lyons said. "I thought this would be a really fun way for us all to cook together … Butte needs more events like this that you can do as a family and that don't cost a lot of money."
Julie Acebedo echoed similar thoughts. She said she'd like to see more cooking nights like this because it would get more families involved in eating healthy and spending time together. Acebedo and her 11-year-old daughter, Alician, felt it was important to learn about being healthy as a family.
"It's a good way to bond as a family," Alician Acebedo said.
While Nucito plans to host more cooking nights like this in Butte, two have already been held for families with students in Anaconda public schools.
Gabby Stewart, Anaconda's FoodCorps service member, said she hosted one family cooking night at Lincoln Primary School last year, and one night at Fred Moodry Intermediate School for third-grade families. Stewart said both nights were positive for the participating families and the district.
"We always get great feedback," Stewart said. "Families enjoy cooking with each other and with other families."
Stewart, like Nucito and Phillip, talked about the importance of this hands-on, family approach to introducing kids to healthy foods. The three women aim to expand these cooking nights across Butte and Anaconda, and hope to create a lasting impact on kids and their families.
"There's a value in kids getting their hands dirty in the kitchen … it creates a special bond between them and their food," Stewart said. "That bond helps create a lasting effect, and cooking is a skill they can take forward into the rest of their lives."
Get local news delivered to your inbox!
Subscribe to our Daily Headlines newsletter.