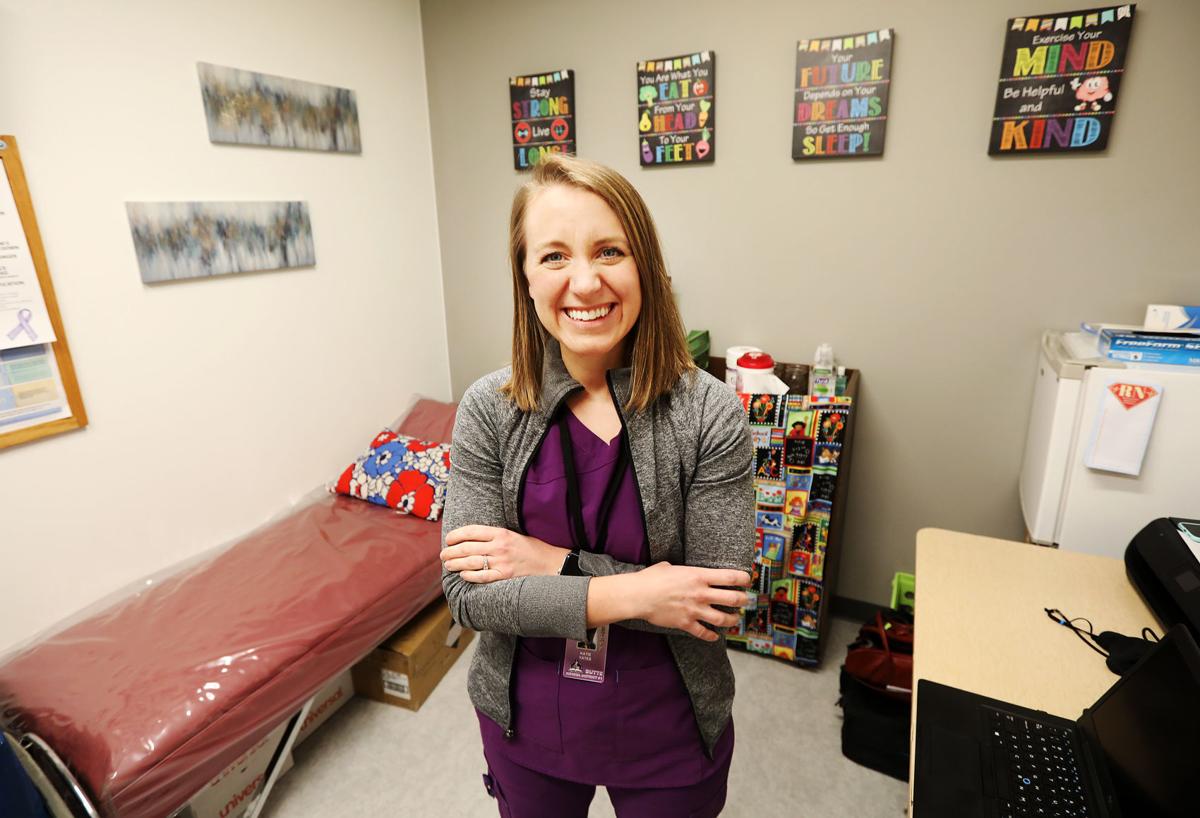 The proper serving of a dipped cone or Blizzard dessert demands dexterity and a commitment to customer service — especially if your father owns the Dairy Queen where you work.
That was then, back when Katherine "Katie" Yates was growing up in Richland, Washington. Her father, Tom Tierney, owns seven Dairy Queen franchises. Her mother, Mary, was a teacher.
Yates, an employee of the Butte School District, learned Feb. 23 that she is the recipient of the 2020-21 School Nurse of the Year Award from the Montana Association of School Nurses.
The school district colleagues who nominated her celebrated Yates' "electric energy," her compassionate care, her empathy and her diligent efforts during the COVID-19 pandemic to keep students and staff safe.
Yates is the school nurse for Margaret Leary Elementary and Hillcrest Elementary.
She cites her time toiling in the family's restaurants as one key influence on her nursing career.
"I like to think I got some of my base working at the Dairy Queens," Yates said. "I learned the importance of customer service."
For a school nurse, customer service can mean comforting a child with an aching belly, providing a Band-Aid for a minor scrape or offering tissues for a runny nose or tears.
But school nurses also must shoulder weightier duties. Contemporary responsibilities include tracking medications for students with an attention deficit disorder or monitoring the status of children with diabetes. Yates said the staff must also be vigilant about children with sometimes life-threatening allergies.
The school nurse assesses and addresses the physical, emotional and psychological health of children, Yates said, and must be attentive too to the health and safety of school staff. This work has been especially important during the pandemic, she said.
She has dealt with badly broken bones, with diabetic shock and more. And apparently has done so while remaining calm and focused. Yates joined the Butte School District in 2016 after working as a nurse for pediatricians in Helena and Butte and she said those experiences provided an invaluable framework for working with elementary school students.
The Montana Association of School Nurses presents annually the School Nurse of the Year Award. The association relies on nominations from people familiar with a nurse's impact on schools, students, school districts and teaching. The association seeks details about a nominee's community involvement, mentoring of new nurses, work as a member of an interdisciplinary team, abilities as a health educator and other specifics.
Past honorees in the Butte School District have included school nurses Bonnie Canty, Shirley Gordon and Dorothy Warner.
The people nominating Yates communicated high praise.
Brianna Barsness, secretary at Emerson Elementary, wrote, "Katie astonishes me every day with her work ethic, knowledge and attitude."
School nursing colleague Dorothy Warner described Yates as intelligent, motivated, compassionate and dedicated.
Judy Jonart, superintendent of the Butte School District, wrote that Yates "is a caring, empathetic, professional health care worker with an engaging personality." Jonart added that Yates collaborated with other school nurses and the Butte-Silver Bow Health Department to help students return to school safely in August as the pandemic continued.
National, state and local responses to COVID-19 became politically charged and complicated by conspiracy theories. Stubborn resistance arose in some quarters to guidelines from the Centers for Disease Control and Prevention about mask wearing, social distancing and school closings.
The polarization added challenges for school nurses, Yates said.
"How do we meet in the middle and see that everyone is cared for and safe?" she said.
Yates said she knew even as a child that she wanted a career focused on caring for others. She received her nursing degree from Carroll College, which is where she met her husband, Zac Yates, a Butte native who helps run Yates Body Shop.
They have three girls whose ages are 11, 7 and 4.
Katie Yates is a comparative newcomer to Butte. Yet both her maternal and paternal grandfathers were born and raised in the Mining City. They were William Cahill, an architect, and Barry Tierney, who worked in mining management, she said.
Yates said she has been deeply impressed by Butte's devotion to taking care of its own, a community ethos she said helps inform her work.
She said she believes in approaching students with compassion and empathy and by all accounts she succeeds.
Yet she readily acknowledged being less than perfect.
"You know, I have bad days," Yates said. "When you're giving a lot, at some point it does run out."
Around 1 p.m. on Feb. 25, a gaggle of students from Margaret Leary Elementary burst by Yates, who was clad in purple nursing scrubs, as she held the front door for their exit into a bitterly cold wind. Many students, speaking through face masks, greeted her warmly as "Nurse Katie."
Yates said she feels honored and humbled to be named School Nurse of the Year.
"I'm only as good as the team I come from," she said. "And the Butte School District has an awesome team."