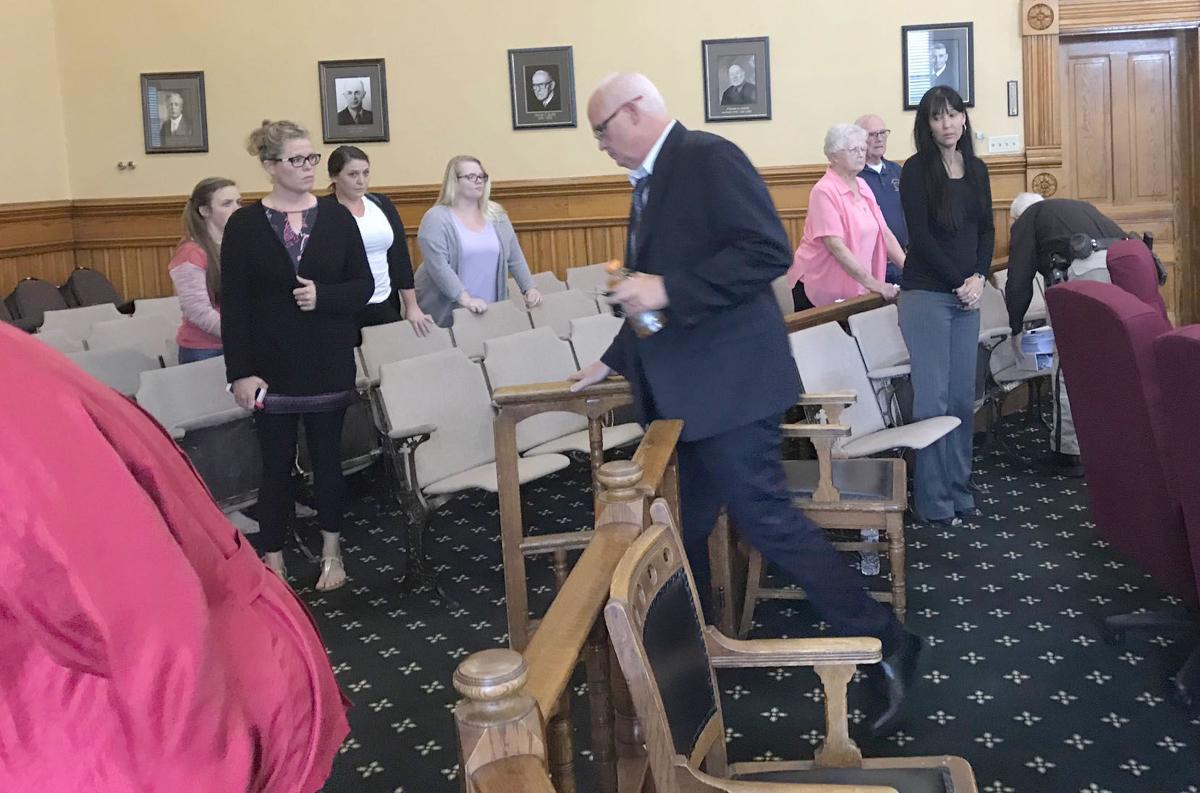 BOULDER — A Jefferson County jury told Wells Fargo on Thursday to pay $20,000 to a man who claimed the bank seized his house in Whitehall when he was away in Alaska in 2014 and took other foreclosure actions when it was the wrong house all along.
But it was a clear victory for Wells Fargo, since Kevin Moore was seeking $600,000 in compensatory damages alone and wanted punitive damages on top of that to punish the banking giant. The bank itself said earlier it was willing to pay $43,000 for "an honest mistake."
After more than two days of testimony, jurors deliberated just over two hours before returning their verdict. They said Wells Fargo should pay Moore $20,000 for being negligent, but the bank did not intentionally trespass or invade his privacy.
The case was filed in July 2015 and took until this week to get to trial. Moore left the courtroom immediately after the trial adjourned, and his attorney, Frederick Sherwood, declined to comment to The Montana Standard. Lawyers for Wells Fargo said they could not comment.
During closing arguments earlier Thursday, Sherwood told jurors the bank used the wrong address, broke into his client's house, and changed the locks and, during several visits, took hundreds of photographs of Moore's family's belongings.
The bank meant to foreclose on a house at 34 Rocky Mountain Drive in Whitehall, Moore says, not his house at 32 Rocky Mountain Drive.
"They weren't using a wrong address to deliver a pizza — they were using the wrong address to break into a house," Sherwood said.
An attorney for Wells Fargo said the bank indeed had the wrong address when it put legal notices on Moore's house and had an agent go inside four times, taking numerous photographs for inventory purposes.
But the bank says the mistake stemmed from incorrect property records and although Moore should get some compensation, it should be limited because nothing was damaged and he did not take reasonable steps to mitigate the situation.
"This was an honest mistake — a mistake Wells Fargo regrets — but it was an honest mistake," Wells Fargo attorney Ian McIntosh told jurors Thursday.
The trial before District Judge Luke Berger started Monday. It took most of that day to seat a jury, with some potential jurors being dismissed because they had mortgages through Wells Fargo or simply disliked and distrusted the bank.
A few of them cited a fake-accounts scandal that led to a class-action lawsuit against the banking giant, which agreed to pay $480 million to settle the case earlier this year.
Moore bought the house in 1995 and was a special education teacher in Whitehall for 17 years before taking a teaching job in Alaska. He rented a house in Alaska but kept the one in Whitehall so he and his family could use it while in Montana.
He says Wells Fargo took control of his house starting in May 2014 instead of the one it intended to seize next door. He claims an agent for the bank broke inside his house, changed the locks, rummaged through his belongings, took hundreds of photos of them, and left the place ransacked while he was in Alaska.
At some point over a period of months, Moore says, numerous items turned up missing, including a prized baseball card collection, silver dollars his grandfather had given him, and a box of jerseys signed by hockey great Wayne Gretzky.
Sherwood told jurors Thursday that Moore's grown daughter visited the house in December 2014 with two friends and was humiliated to find a trustee sale notice taped to the front door.
"She found her home trashed and her memories violated," Sherwood said.
Moore didn't know about the actions until a neighbor called him in Alaska on Dec. 31, 2014, he claims. He flew down a few days later to check on things and says the place was such a mess, with drawers open and things strewn about, he cried.
"Mr. Moore does not cry easily," Sherwood said.
Sherwood suggested jurors award Moore $600,000 in compensatory damages: $50,000 for each time the agent went inside, $1,000 for each photo taken (adding up to $300,000), and $100,000 for the sleepless nights and other mental anguish the ordeal put him through.
"What is the price of peace of mind instead of emotional turmoil?" Sherwood asked jurors, saying punitive damages should be awarded, too.
McIntosh, one of the bank's lawyers, said Moore visited the house in December 2013 and again in July 2014, when legal notices were in plain sight on the front door, but did nothing.
He didn't talk to his neighbors and didn't call police, McIntosh said, and didn't say anything about the lawn being mowed during the July visit. An agent for the bank had been mowing it, and neighbors knew that, he said.
"If he had simply thanked a neighbor for mowing the lawn, he would have known a neighbor didn't mow it," McIntosh said.
"Mr. Moore could have taken reasonable steps to nip this (situation) in the bud. He did nothing."
He said the bank got the wrong address first from online Jefferson County property records, and when questions arose about it, the bank found the same address in several other sources.
Moore deserved $3,000 for having to fly from Alaska to Montana to check on the house in early 2015, McIntosh said, and perhaps $10,000 for each time the agent went inside the house.
But invasion of privacy in a legal sense had to be an intentional act, he said. Nothing was damaged, and $600,000 was "not one bit reasonable."