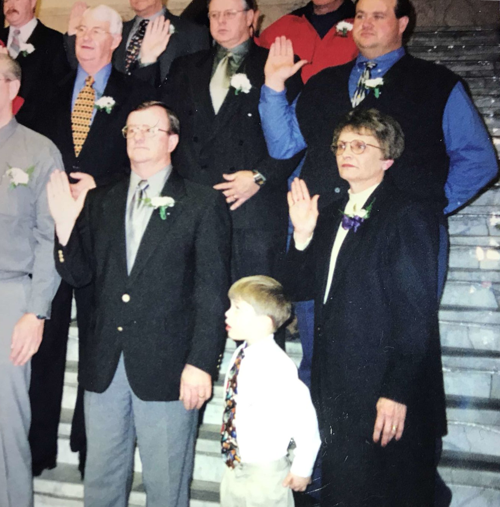 Judy Jacobson, who blazed a trail to power in the Legislature as a state senator from Butte and later served with distinction as Butte's only female chief executive, died Thursday. She was 80.
She was remembered Saturday as a thoughtful, compassionate, pragmatic leader, a passionate Democrat who was nevertheless greatly admired by her fellow public servants of every stripe.
"I had the privilege of knowing Judy for almost three decades. As a senator, chief executive, mother and spouse, Judy Jacobson lived and served with strength, directness, humor and distinction," Gov. Steve Bullock said Saturday.
 "Judy always sparkled," former U.S. Rep. Pat Williams said. "Her step into politics brightened that sometimes dark profession."
That step came somewhat unexpectedly, as she was appointed to the post of state senator from Butte's Senate District 41 in 1981. With no previous political experience beyond being a precinct chairperson, she was tapped as a compromise choice to fill a seat vacated by the unexpected resignation of Sen. Bob Peterson.
Her direct nature was evident in an advertisement she personally took out in The Montana Standard after her selection: "To the voters of Senate District 42: As I did not have the opportunity to campaign and personally listen to your concerns, I would like to invite questions or comments to be directed to me at my home," she wrote, followed by her home address and telephone number.
It didn't take long for her to be noticed in Helena for her serious, thoughtful approach and calm demeanor. She became known for her strong support for organized labor and her particular concern for issues affecting children and families — but she clearly had a head for numbers, too.
A native of South Bend, Indiana, Jacobson moved to Butte in 1973 with her husband, physician John Jacobson, who came to work at the Murray Clinic.
John Jacobson said Saturday that Judy Jacobson quickly fell in love with Butte.
"Butte was less physically attractive than it is now, but that wasn't an issue for her," he said. "For her, it was the very special people she met who went out of their way to make her feel comfortable and welcome here."
She had attended the University of Wisconsin for three years, working toward a degree in social work, but it would not be until many years later, in 1995 — after her own children were in college — that she would return to Montana Tech and complete her degree. As her role in the state Senate grew larger, she would become a critical ally for Tech, as well as for Butte as a whole.
Fritz Daily, who served with her in the Legislature, said Saturday, "Judy was chairman of the Finance and Claims Committee in the Senate, and was very helpful in passing bills and projects that were important to Butte.
"Butte was facing some very difficult economic times because of the closing of the smelter and the Berkeley Pit. It was very important," Daily said, to have Jacobson in such a key position.
"Judy ... was critical to keeping Montana Tech a viable entity," Daily said. "Major attempts were being made to cut funding, close the facility or turn it into a junior college."
Bob Pavlovich, who was another of her Butte colleagues in the Legislature, said Saturday, "She got along with everybody. She worked great with our delegation but she worked across the aisle too."
Debbie Shea became very close to Jacobson while they served together in the Legislature, rooming together in Helena during the sessions.
"It's so significant that she was the first woman state senator from Butte, and she was also the first woman to head Finance and Claims," Shea said. "That's such a big deal. The money flows through there and you're deciding what the state spends revenue on. It's a tremendous job and she was well up to the task.
"She was so bright, and so well respected on both sides of the aisle. That's essential in that committee, and she handled it beautifully."
Republican Bob Brown of Whitefish served in the Senate with Jacobson, and echoed Shea's comments.
"She was a longtime, greatly respected friend," Brown said. "She was easy to work with because she was thoughtful. She enjoyed discussing ideas, thoughts and innovations across party lines."
He recalled partnering with Jacobson on a bill to protect the state teachers' retirement system from being "raided."
"Judy and I cosponsored legislation to keep that from happening, and we got it through," he said.
"She was tenacious," said Lt. Gov. Mike Cooney. "She did't give up. People of both parties liked and respected her. She could be hard-nosed by she knew how to treat people, and that's a very good combination. She stood firm when she had to, but she knew how to make compromise work."
Cooney remembered working with Jacobson on her first election campaign to retain the seat to which she had been appointed.
"One of the big issues facing Butte at the time was the highway between Butte and Helena, which hadn't been completed," he said. "She made that a big priority and we went out there and took a photo for her campaign.
"And that road did get completed."
Shea said that "Judy was very aware of the needs of children and women. That was important. She was very progressive, but she knew that part of the process was working with people who weren't."
Don Judge, a longtime labor leader and advocate in Montana, remembered Jacobson fondly Saturday. "What a great lady," he said. "She always listened. She was extremely supportive of working families and the labor movement, but she was able to talk to people on both sides of every issue.
"When it came to dealing with labor issues, whether it was minimum wage, right to work, prevailing wages, or healthcare for workers, Judy was always right there."
Shea stressed Jacobson's ability to multitask. Through her political career, Jacobson managed to be a great mother and, later, a grandmother, Shea said. "I taught her kids in school, and so I knew how attentive she was to them, how involved in their lives. Through it all she was a hands-on mother."
John Jacobson echoed that Saturday. But he also said her political career was, in a way, a blessing for him. "Because I had been so involved in my career, I was fortunate that when Judy went to the Legislature, I got to reenter the children's lives. I hadn't always been available and I worked to become available."
In 1996, after 15 years in the Senate, Jacobson was tapped to run for lieutenant governor on the ticket with Democrat Chet Blaylock. When Blaylock died of a heart attack three weeks before the election, on his way to debate Republican incumbent Marc Racicot, the party chose Jacobson to fill his spot at the top of the ticket — a measure of the respect she had earned.
John Jacobson said Saturday that she made the decision not to run for reelection to her Senate seat in part because she mourned the increasingly sharp partisanship in state politics.
"She felt that the atmosphere in the Senate was much less cordial than it had been through the years. It had been possible for her to be very bipartisan, to work collaboratively, and that kind of atmosphere was becoming less common," he said.
After running, she co-authored a book, "Montana Almanac," with Andrea Merrill. But Jacobson was not done with politics yet. Four years later, she decided to run for chief executive of Butte-Silver Bow.
"She was still very interested in government," John Jacobson said. "She felt government could and should have positive impacts on people's lives, and she thought it would be a challenge."
Zena Beth McGlashan managed the publicity side of Jacobson's campaign. "Our theme was 'It's time for a change,'" McGlashan remembers. "And it was. It was time for a change from the good old boys."
McGlashan said that, in typical serious fashion, Jacobson kept a tight eye on campaign finances. "I would tell her, 'Here's what we should do and here's what it will cost,' McGlashan said, "and she was always interested in that cost factor."
McGlashan said that she got involved with the campaign after she saw a Jacobson ad "with a picture that made her look like a prom queen.
"I told her, 'You're not going to win with that kind of campaign,' and I sent her out to get a new picture, looking straight at the camera, serious."
McGlashan said that Jacobson "had a dry, wonderful sense of humor. We were always getting after her on the campaign to smile, and one day she responded, 'Well, I'll tell you, they love me at Albertson's,'" McGlashan remembered. "But she didn't take guff from anybody."
The campaign was a tough one. Jacobson and fellow veteran legislator J.D. Lynch were neck and neck in the primary, beating out Bob Worley and Dave Palmer. Worley would endorse her in the general election campaign — as did The Montana Standard — and "that had a significant effect on the outcome of the race," John Jacobson said.
McGlashan remembers election night vividly.
"There was a big party for J.D. at the Elks ... and we had a little tiny TV in a small room, with some snacks. I think I brought a few balloons. It was not exactly lavish.
"Then, all of a sudden, Judy said, 'We can go home now. I won.' We were shocked, it was still early. And we asked her, 'What do mean?'
"And she said simply, 'It's been my experience that the person who wins on the absentee ballots wins the election.' And so we went home."
As chief executive, she was as advertised: Effective, studious, no-nonsense.
"She was a great boss," said Jon Sesso, who had been hired into his county role by Jack Lynch, but then worked for Jacobson. "I really liked working for her because she was a manager who drove responsibility downward to everybody, challenging them to be the best they could be as county officials.
"She was one of my mentors," Sesso added. "She had sort of quiet, cool, calm and collected approach to everything. She never let emotions get in the way of good decision-making, and I learned from that."
Sesso said Jacobson urged him to run for the Legislature. "Brad Newman was chief deputy county attorney and with him being in the Legislature too we had a straight line in there. He understood everything and he was in our corner. And when he decided in 2003 not to run for reelection, Judy said, 'Jon, you ought to run.'"
"She gave me a great piece of advice," Sesso said. "She told me, 'Now Jon, when you get up there, rely on and trust the staff. They've been there, they've seen a lot, they can help you make good policy.'
"And she was right. The professional nonpartisan staff can be a real asset when you're trying to figure something out."
About the same time, Jacobson decided not to run for reelection.
"I had just retired," John Jacobson said. "We had not spent a lot of time together over the previous 25 years, and she decided she would like to have that opportunity. 'Would that be all right with you?' she asked me. I said, 'Oh, yeah.'"
So they took that time. "We were able to travel," he said. "We went to China, to Argentina, and we took our three granddaughters to Europe. We had a lot of opportunity."
John and Judy Jacobson were married for 55 years.
John Jacobson stressed Saturday that "We can't say enough about the competent and compassionate care she received at St. James Healthcare. It's as good as care can be delivered."
Services for Judy Jacobson will be Tuesday, July 2 at 11 a.m. at Gold Hill Lutheran Church.
Get local news delivered to your inbox!
Subscribe to our Daily Headlines newsletter.