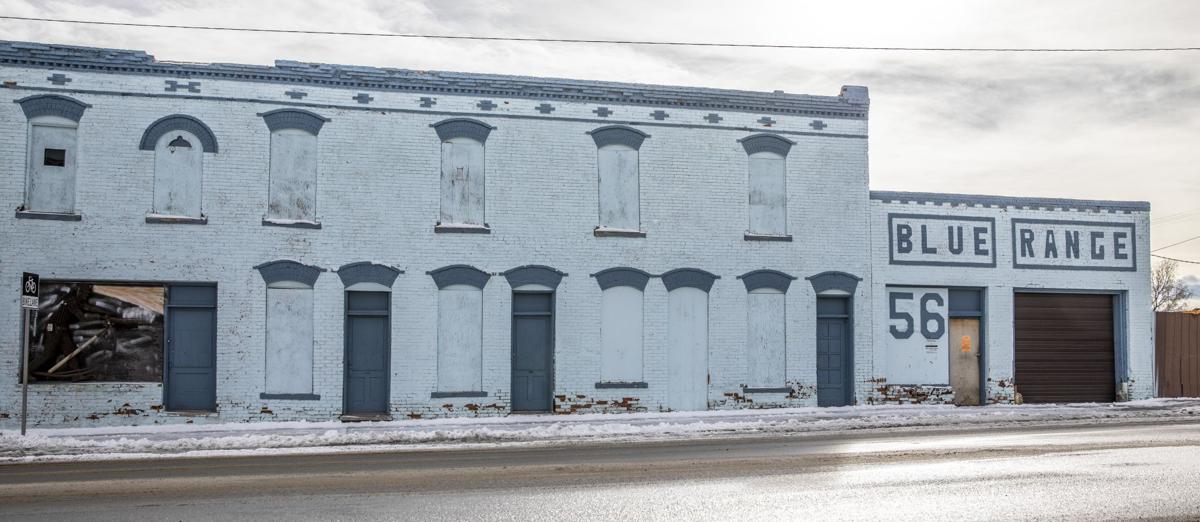 A county board voted Tuesday to steer nearly $25,000 toward demolition of the so-called Blue Range prostitution cribs, despite outside objections about giving public money to a private business for tearing down buildings.
The grant from the Urban Revitalization Agency will fund up to 25% of costs Staack's Motor Sports incurs for having most of the cribs building and an adjacent warehouse on East Mercury Street torn down while saving and renovating a garage building on the west end.
Staack's, URA staff and URA board members said the demolition work is part of a bigger project that will allow an established Butte business to expand — a worthy use of tax-increment dollars in the Uptown district.
But Butte-Silver Bow Commissioners Cindi Shaw and Dan Callahan raised concerns about giving public money to a private demolition project, as did Historic Preservation Commission members Mitzi Rossillon and Russell O'Leary.
O'Leary said he was especially troubled the URA board OK'd the grant based on a single $97,629 bid for the demolition, when it usually requires at least two bids for projects costing more than $10,000.
URA Director Karen Byrnes said the agency has given tax money to demolition work in the past and accepted single bids for some projects, and in this case, the work was intricate and staff felt comfortable with Butte contractor Martin Salusso doing the work.
URA Board Chairman Dale Mahugh said after the meeting that the two-bid process was a guideline, not a bylaw, and agency staff felt Salusso was experienced and his bid was reasonable.
O'Leary said the two-bid requirement was sound policy for doling out public dollars and suggested the move sets a bad precedent.
"I am concerned about the lack of a competitive bid process," O'Leary told The Montana Standard after the meeting. "I'm in the construction business and there are probably five other legitimate firms that could have bid on this."
It was a new twist to controversy over the cribs and the overall demolition and historic preservation process in Butte-Silver Bow that has played out for weeks.
The "cribs" were a series of small prostitutes' rooms in a two-story masonry building constructed around 1897 at 56 E. Mercury St. The building has had other uses over the years, including apartments.
There's an old warehouse on the east end and an old auto repair shop on the west end, and Butte mining engineer Larry Hoffman has owned all three buildings for decades.
Staack's Motor Sports plans to purchase the buildings, tear down the warehouse and all but the west and south walls of the cribs. The repair shop would be restored for expanded business use and the rest of the property would be cleaned up with future use to be determined.
Staack's commissioned a structural engineer to inspect the buildings and he said the cribs and warehouse are in horrible shape and unsafe. He said it could cost up to $2 million to save the building.
Numerous preservationists opposed demolition, saying the cribs were an iconic part of Butte's history and once-infamous Red Light District, and the Historic Preservation Commission, or HPC, imposed a 90-day stay on demolition.
The Council of Commissioners reduced that to 45 days, but the county's building official, who had already declared the building dangerous, ended debate in late February by exercising a public safety provision that was final and cleared the way for demolition.
But a new controversy emerged when the URA agenda was posted a few days ago with the $24,407 demolition grant request.
Staack's owner, Ed Staack, told the URA board the partial demolition would allow him to save and restore the garage building so he could store more ATVs and other vehicles he sells. The rest of the property would be cleaned up but he said he hasn't decided what to do with the vacant space.
He said the project was very intricate since it involved saving two walls, and asbestos removal and dirt work would cost $20,000 alone. He acknowledged he only got one bid for the demolition work but said Salusso was qualified and familiar with the project.
He told the Standard after the meeting that they might use an excavator Larry Hoffman owns, but Hoffman would not get any of the $97,000 for the demolition work.
Byrnes was quarantined at home because of COVID-19 but attended the meeting via conference call. She said the URA evaluates all proposals on a case-by-case basis and this one fit within the agency's goals of improving the tax district.
"Sometimes a demolition or partial demolition is part of that," she said. "It's not something we, you know, strive for. We're not about tearing things down, we're about revitalization and sometimes a partial demolition has to take place before we are able to actually rebuild.
"This is just one portion of a major redevelopment for this site," she said. "This is major investment by a very good businessman in our community who has been working very hard to put a project together."
Board members expressed similar sentiments and voted 4-0 to approve the $24,407 grant. Mahugh, as the board chairman, did not vote because of protocol but supported the grant.
But Commissioners Shaw and Callahan voiced opposition before the vote, as did O'Leary.
Callahan noted that before the demolition was a done deal, a woman had proposed to buy and save the cribs building. Some commissioners and officials said the county had no business entertaining that late proposal because it interfered with a private transaction and private project.
Now those private parties were seeking public money, Callahan told the Standard Monday.
"I think it's pretty bold that they would insist on tearing this building down when somebody wanted to purchase it and save it, and then turn around and ask for tax money to help them pay to tear it down," Callahan said.
Shaw told the URA board she has attended its meetings for 14 years and could not recall previous occasions when it steered tax dollars toward demolitions. She also said that during previous debate on the cribs, nobody said public dollars would be part of the project.
She said she had great respect for the URA board and it had helped many great projects, but funding a private demolition with taxpayer dollars in a renewal district was "a slippery slope."
O'Leary noted that URA grant application forms say that "one architectural estimate or two contractor estimates are required" with each proposal in excess of $10,000.
But Byrnes said no bad precedents were being set and provided further explanation to the Standard after the meeting.
"The URA often accepts one bid for a project over the $10,000 participation level," she said. "This is dependent on staff consultation, the complexity of the project and the ability to obtain bids. In this case the applicant has worked extensively with a qualified contractor, has hired an engineer and others to obtain the estimate for the work. We are very confident moving forward with this estimate."
She said URA programs and applications do ask for two estimates and that makes sense in most cases, but it's not always possible. She noted that the board also approved a $150,000 restoration project grant on Tuesday that only had one bid.
She also said the URA fully funded a demolition at 88 E. Park St. sometime around 2008 and believed the amount was close to $100,000.
Mahugh said the URA had worked with Staack's on previous occasions and they were "exemplary" applicants. They look at applications on an individual basis, and even though this one was contentious to some, he said, "it has been very well thought out."
County Chief Executive J.P. Gallagher has pledged to fix what many believe is a broken demolition approval process that often gets tied up with historic preservation ordinances and efforts. But he said that had nothing to do with the URA's actions Tuesday.
"The URA will make a determination based on the qualification of the applicant," he told the Standard in a text. "The Staacks fall into the (tax-increment) district and have been a contributing member of the district.
"The application should be determined on the merit of the application, not on the emotion of the Blue Range-historic preservation issue."