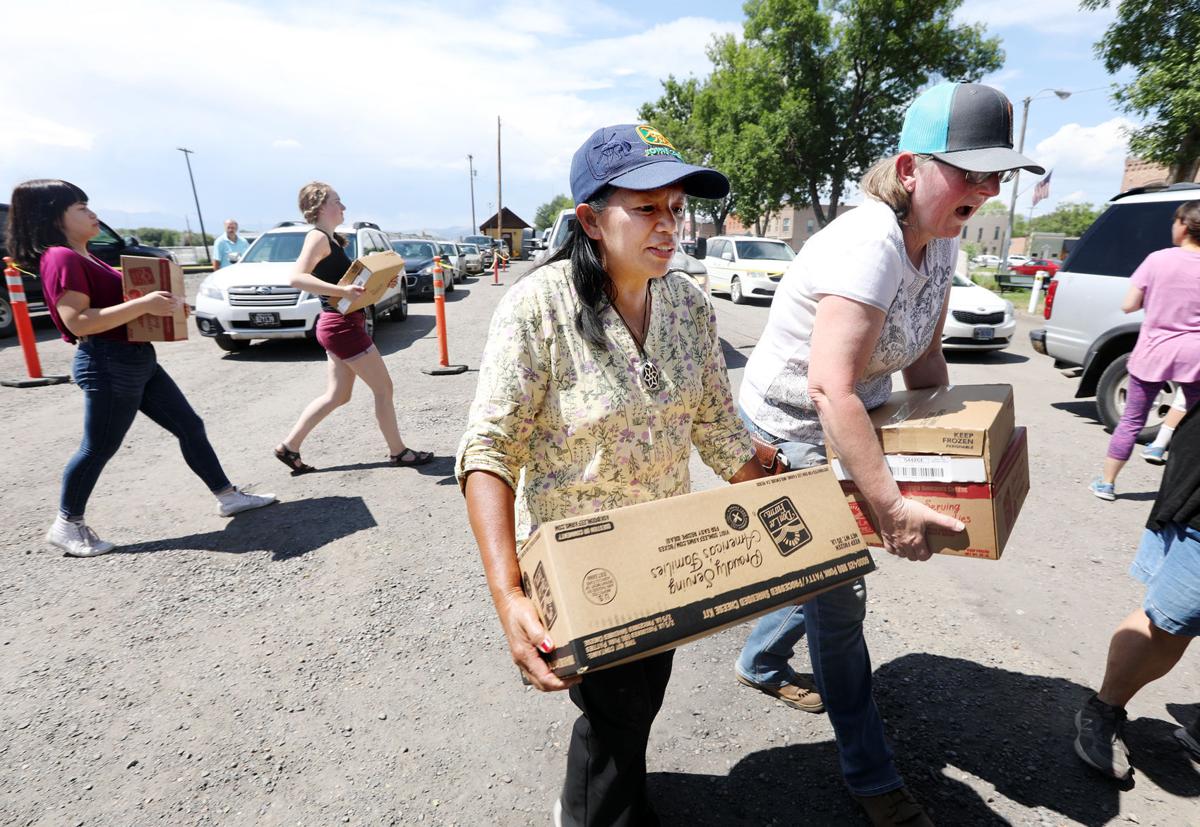 WHITEHALL — On Thursday afternoon, the normally quiet town of Whitehall was humming with activity. 
At Legion Park, some 39,000 pounds of food supplied by the United States Department of Agriculture and distributed by worldwide non-profit organization Convoy of Hope was distributed by a team of 25 volunteers to families in multiple lines of cars that stretched from the park through downtown.
Bill Lanes, the events organizer and lead pastor of Whitehall Assembly of God for the past 13 years, said he was awestruck by the turnout which saw people from all over southwest Montana descend on Whitehall. 
"Oh my, it blew all the doors off," Lanes said of the response. "It was an incredible outreach event. It was almost breathtaking to see the amount of people that turned out for it." 
There were no income requirements to receive the food and no questions asked. Anyone who wanted food was given it. 
Lanes said that the food given out was pork, chicken and cheese with 620 cases of each item being distributed. He said that he had originally planned for the event to stretch over two days between Thursday and Friday. If any food was remaining after Friday, he had planned to take it to Sheridan on Monday. 
But after less than four hours had elapsed on Thursday afternoon, all of the donated food had been claimed. 
Lanes, who estimated that over 1,000 families received food, said he had felt "an inkling of suspicion" that the event would be successful, especially after a Facebook post he wrote on Wednesday gained a lot of traction. 
The food given out in Whitehall was part of the USDA's $19 billion Coronavirus Food Assistance Program which was announced in April. The USDA purchased and processed food from dairies and ranchers that would have otherwise been discarded as restaurant closures caused demand for those products to collapse.  
The food was then given to Convoy of Hope, a humanitarian-relief organization founded in 1994, to be circulated. 
Lanes, who has worked with Convoy of Hope before, said that he received a call a few months ago asking if he'd like to be given a semi truck full of food to give out. 
"I said, 'Let's take it on," he said.  
The food was delivered Wednesday evening from California and was stored in a refrigerated trailer that was donated by Whitehall Truck and Trailer. 
Lanes and his team of volunteers from area churches then prepared for Thursday, waiting to see just how big of a crowd they would draw.
Needless to say, their expectations were exceeded.   
"It turned out awesome," Lane said.  
Get local news delivered to your inbox!
Subscribe to our Daily Headlines newsletter.